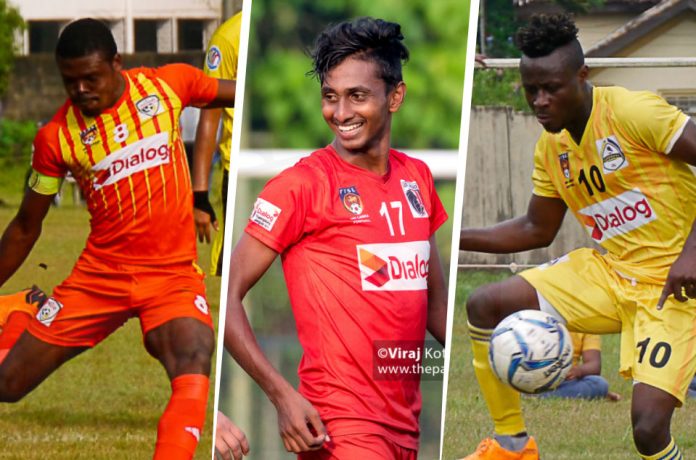 Struggling Crystal Palace FC continued their search of the first win of the season while Super Sun SC put an end to Up Country Lions recent good run of form in the week 6 fixtures of the Dialog Champions League 2018.
Mohamed Nafrees was the hero for Pelicans SC as they drew 1-1 …
Crystal Palace FC v Red Stars FC
Crystal Palace were held to a 1-1 draw by the travelling Red Stars FC at the Digana Grounds, Kandy.
Crystal Palace came into this, yet to register a win, while newly promoted Red Stars had a decent start to the season in 9th place.
Read: Defenders and Crystal Palace share points in epic battle
The hosts got off to a blistering start when Perumal Praveen opened the scoring for the lads from Gampola in the 3rd minute. Midway through the half the chances kept coming for both sides, but neither side were able to get a telling touch.
Half Time – Crystal Palace FC 1 – 0 Red Stars FC
On numerous occasions in the season thus far, Palace had failed to hold onto a lead due to poor defensive work. The 53rd minute showcased this again when Idowu Hameed found the back of the net to equalize for Red Stars.
The visitors had a few chances to score goals, with the best being a one on one opportunity against the goalkeeper which fell to Ismail Abumere, but all were missed due to poor finishing.
Full Time – Crystal Palace FC 1 – 1 Red Stars FC
Goal Scorers
Crystal Palace FC – Perumal Praveen 3'
Red Stars FC – Idowu Hameed 53'
Up Country Lions SC v Super Sun SC
Super Sun SC defeated Up Country Lions 2-0 amidst heavy rain at the Jayathilake Stadium, Nawalapitiya.
Lions came into this clash in 7th place after a huge 3-0 win against rivals Crystal Palace in the Hill Country Derby. Super Sun meanwhile had an average start to the season, sat in 10th place after 4 games.
Read: Up Country pick up first win at expense of Java Lane
The Lions had the home advantage as the match was hampered due to heavy rain and poor ground conditions.
S.Osahon got Super Sun off to a super start when he opened the scoring in the 7th minute, heading in from a corner. Star man Afis Olayemi doubled their advantage in the closing minutes of the half.
Half Time – Up Country Lions SC 0 – 2 Super Sun SC
Super Sun were more defensive in the second half as they looked to hold onto the win, while the Lions struggled in attack to break through the visitors' defense.
Dinesh Abeyrathna, who is having a great season for the Lions continued his form when finally, in the 81st minute, he pulled one back helping the Lions fans to find their voices again.
Full Time – Up Country Lions 1 – 2 Super Sun SC
Goal Scorers
Up Country Lions SC – Dinesh Abeyrathna 81'
Super Sun SC – G. Osahon 7', Afis Olayemi 44'
>>For more Dialog Champions League News Click Here<<