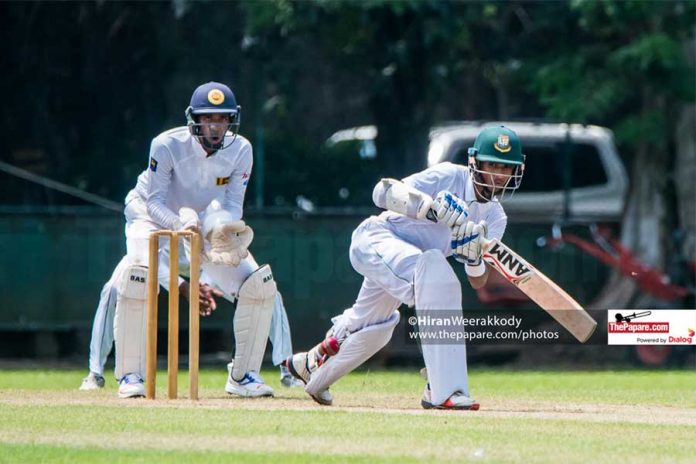 Sri Lanka U19s declared their innings late on day three to set the Bangladesh U19s 351 for victory, before the visitors accepted the challenge to end the day on 75/1 in just 18 overs.
Sri Lanka U19s were in a commanding position at the start of day three and their batsmen continued to consolidate their position in the match.
Sonal Dinusha and Sandun Mendis made useful 30's in the middle order to help Sri Lanka carry their lead over the 250 run mark, as the surface at the Marians Cricket grounds (MCG) continued to take more and more spin.
Rakibul Hasan's slow left spin had the Sri Lankan middle order in shambles as Bangladesh put up a spirited display in the field to make sure they didn't have to chase too much come the fourth innings.
However Sri Lanka's fast bowling all-rounder Chamindu Wijesinghe had other ideas as he continued to take the attack along with the lower middle order as Sri Lanka reached 233/9 before deciding to declare their innings. Wijesinghe went on to top score with 55 runs while Rakibul Hasan had impressive returns of 7/93 though Bangladesh U19s failed to bowl out the hosts.
The visitors came out with a very positive intent as they raced to 75/1 in just 18 overs when the umpires decided to call off play on day three. Rohan Sanjaya the hero from first innings was the onlyman to pick up a wicket for Sri Lanka U19s with Bangladesh needing a further 276 runs for an almost improbable outright win.
Sri Lanka U19's 1st Innings
Batting
R
B
Navod Paranavithana
c T Hridoy b S Alam
79
153
Nipun Dananjaya
c R Hossain b S Alam
0
13
Kamil Mishara
lbw by R Hasan
52
96
Mohomed Shamaz
b S Alam
10
34
Sonal Dinusha
c A Ali b M Chowdhury
8
36
Janishka Perera
c A Ali b S Alam
0
1
Sandun Mendis
c S Hossain b S Alam
10
26
Chaminda Wijesinghe
c M Hasan b R Hossain
17
66
Ashan Daniel
c R Hossain b M Chowdhury
3
26
Naveen Fernando
not out
20
64
Rohan Sanjaya
b M Chowdhury
14
33
Extras
13 (b 6, lb 3, nb 2, w 2)
Fall of Wickets:
1-0 (N Dananjaya, 5.1 ov), 2-122 (K Mishara, 37.5 ov), 3-144 (N Paranavithana, 48.3 ov), 4-149 (M Shamaz, 50.1 ov), 5-149 (J Perera, 50.2 ov), 6-167 (S Mendis, 58.1 ov), 7-167 (S Dinusha, 60.6 ov), 8-176 (A Daniel, 68.5 ov), 9-195 (C Wijesinghe, 80.1 ov), 10-226 (N Fernando, 90.6 ov)
| Bowling | O | M | R | W | E |
| --- | --- | --- | --- | --- | --- |
| Mittunjoy Chowdhury | 25 | 6 | 52 | 2 | 2.08 |
| Sahin Alam | 14 | 4 | 37 | 5 | 2.64 |
| Shamim Hossain | 9 | 3 | 16 | 0 | 1.78 |
| Towhid Hridoy | 7 | 2 | 25 | 0 | 3.57 |
| Rishad Hossain | 15 | 2 | 50 | 1 | 3.33 |
| Rakibul Hasan | 21 | 6 | 37 | 1 | 1.76 |
Ban U19's 1st Innings
Batting
R
B
Tanzid Hasan
c N Fernando b R Sanjaya
50
55
Sajd Hossain
c K Mishara b R Sanjaya
22
37
Hassan Joy
b A Daniel
0
3
Towhid Hridoy
b A Daniel
1
8
Shamim Hossain
lbw by A Daniel
3
11
Akbar Ali
c K Mishara b R Sanjaya
1
16
Amite Hasan
c A Daniel b R Sanjaya
0
7
Rakibul Hasan
not out
15
44
Mittunjoy Chowdhury
lbw by A Daniel
3
14
Rishad Hossain
b A Daniel
0
4
Sahin Alam
lbw by R Sanjaya
0
19
Extras
14 (b 8, lb 4, nb 2)
Fall of Wickets:
1-77 (S Hossain, 11.5 ov), 2-78 (H Joy, 12.5 ov), 3-82 (T Hridoy, 14.6 ov), 4-90 (S Hossain, 18.2 ov), 5-90 (T Hasan, 19.2 ov), 6-90 (A Hasan, 21.3 ov), 7-91 (A Ali, 23.1 ov), 8-94 (M Chowdhury, 26.4 ov), 9-94 (R Hossain, 28.2 ov), 10-109 (S Alam, 35.6 ov)
| Bowling | O | M | R | W | E |
| --- | --- | --- | --- | --- | --- |
| Naveen Fernando | 3 | 0 | 19 | 0 | 6.33 |
| Chamindu Wijesinghe | 5 | 1 | 22 | 0 | 4.40 |
| Ashan Daniel | 15 | 4 | 37 | 5 | 2.47 |
| Rohan Sanjaya | 11 | 4 | 17 | 5 | 1.55 |
| Sandun Mendis | 2 | 0 | 2 | 0 | 1.00 |
Sri Lanka U19's 2nd Innings
Batting
R
B
Navod Paranavithana
st. A Ali b T Hridoy
36
62
Nipun Dananjaya
c T Hasan b R Hasan
23
28
Kamil Mishara
c T Hasan b R Hasan
13
70
Mohomed Shamaz
st. A Ali b R Hasan
14
84
Sonal Dinusha
c T Hasan b R Hasan
37
98
Janishka Perera
c A Hasan b S Alam
0
24
Sandun Mendis
c S Hossain b R Hasan
36
71
Chamindu Wijesinghe
lbw by R Hasan
55
69
Naveen Fernando
c T Hasan b R Hasan
0
3
Ashan Daniel
not out
10
29
Rohan Sanjaya
not out
1
16
Extras
8 (b 4, lb 1, nb 2, w 1)
Fall of Wickets:
1-47 (N Dananjaya, 10.5 ov), 2-61 (N Paranavithana, 20.5 ov), 3-82 (K Mishara, 33.4 ov), 4-111 (M Shamaz, 48.5 ov), 5-120 (J Perera, 55.6 ov), 6-134 (S Dinusha, 56.1 ov), 7-215 (C Wijesinghe, 80.3 ov), 8-215 (N Fernando, 81.6 ov), 9-222 (S Mendis, 85.1 ov)
| Bowling | O | M | R | W | E |
| --- | --- | --- | --- | --- | --- |
| Sahin Alam | 14 | 1 | 31 | 1 | 2.21 |
| Shamim Hossain | 4 | 1 | 12 | 0 | 3.00 |
| Rakibul Hasan | 42 | 10 | 93 | 7 | 2.21 |
| Towhid Hridoy | 8 | 2 | 24 | 1 | 3.00 |
| Rishad Hossain | 10 | 1 | 41 | 0 | 4.10 |
| Mittunjoy Chowdhury | 14 | 7 | 27 | 0 | 1.93 |
Ban U19's 2nd Innings
Batting
R
B
Tanzid Hasan
lbw by R Sanjaya
37
48
Sajd Hossain
not out
29
54
Towhid Hridoy
not out
2
7
Extras
7 (b 3, nb 1, w 3)
Fall of Wickets:
1-66 (T Hasan, 13.4 ov)
| Bowling | O | M | R | W | E |
| --- | --- | --- | --- | --- | --- |
| Naveen Fernando | 2 | 0 | 6 | 0 | 3.00 |
| Chamindu Wijesinghe | 2 | 0 | 11 | 0 | 5.50 |
| Ashan Daniel | 6 | 1 | 33 | 0 | 5.50 |
| Rohan Sanjaya | 7 | 2 | 15 | 1 | 2.14 |
| Sandun Mendis | 1 | 0 | 7 | 0 | 7.00 |