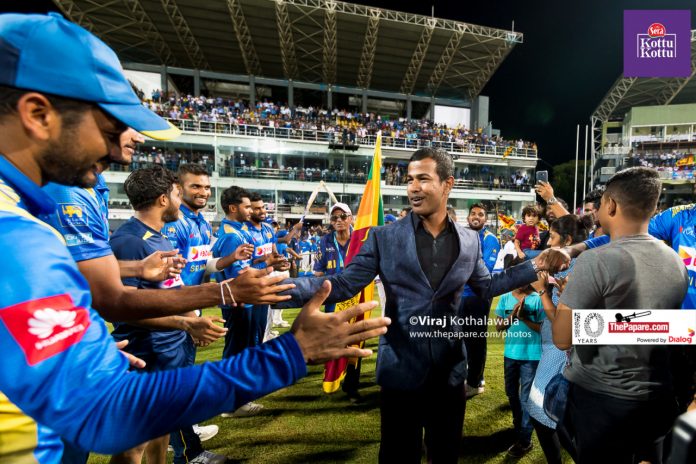 The choice for Sri Lanka's most underrated cricketer is a toss-up between Prasanna Jayawardene and Nuwan Kulasekara. The former faded into obscurity without much fanfare while the latter was given a rousing send-off at RPS earlier this week. These two fine players have achieved some unique feats for Sri Lanka and went about their business without a fuss.  The sport will remember them as some of the finest ambassadors the country has produced. 
Sri Lanka Cricket needs to be commended for the way they handled the Kulasekara farewell. They had a tough choice to make as giving Kulasekara a farewell game would have set a bad precedent. Instead, they borrowed a leaf out of Cricket Australia's book and gave the fans an opportunity to say thank you for his contributions.
This was what Cricket Australia did in the cases of Ian Healey and Mark Waugh. Dropped from the side in 1999 and 2002 respectively in favour of Adam Gilchrist and Darren Lehmann, they were given farewells at their respective cities – Brisbane and Sydney – although they didn't feature in the game.
Tributes poured in as Kulasekara visited RPS with his family. SLC CEO Ashley de Silva perhaps summed up the man.  "He was an exemplary figure, both on and off the field and a role model, which the young cricketers can emulate. Simplicity and decency were a hallmark of Kulasekara's cricketing career," De Silva, another man who played the sport and administered it with a straight bat said in a statement.
Why Kulasekara is one of Sri Lanka's most underrated cricketers is for the simple reason that he dominated the bowling charts for nearly two years, a decade ago, having been named by the ICC as world's number one ranked bowler in ODIs without much attention. Dialog, the national cricket team's sponsor, seized on the opportunity, making him a brand ambassador but other than that, Kulasekara went about his business silently.
There were no social media warriors to lift him up as one of the greats of Sri Lankan sport. After the early impact he made, many thought that Kulasekara would fade away. He had none of the attributes of a fast bowler. He wasn't tall and muscular but short and skinny. That didn't prevent him from being effective however, as he would provide breakthroughs with the new ball. When two new balls were introduced to ODI cricket, it was the perfect scenario for Kulasekara as he would still be handful by the 30th over because the ball, effectively was only 15 overs old.
>>Kane Williamson – most liked man in cricket<<
His physical attributes gave you the impression that his success will not be long lived. But he got better with every game with his ability to swing the ball. He was mighty effective until the point the swing deserted him.
His handy contributions with the bat were a welcome addition to the team as well. Those were the days when Sri Lanka batted deep, very deep. Even last man Muttiah Muralitharan boasted a Test half-century. One of Kulasekara's finest rearguard actions came at the Home of Cricket in the summer of 2006. Sri Lanka were fighting tooth and nail to save the game and went into the final day with four wickets in hand.
England knocked off overnight batsman T. M. Dilshan and debutant Chamara Kapugedera early but couldn't go past Kulasekara. Together with Chaminda Vaas, he added 105 runs for the ninth wicket and more importantly batted out a session and half to ensure a hard-fought draw. Kulasekara finished with 64, his highest score in Test cricket.
He was an ever-reliable fielder as well, doing a fine job on the boundary. Slip ups on the field by him were few. One drop catch he will regret is the chance he put down off Gautam Gambhir in the World Cup final in Bombay in 2011. But then again, given the way M.S. Dhoni batted that night, nothing looked beyond India's reach.
Kulasekara finished as the fifth highest wicket taker for Sri Lanka in ODIs. Such a shame that he finished on 199 wickets to join other star performers who missed out on key milestone. Mohammad Azharuddin, the former Indian skipper finished on 99 Test matches while Martin Crowe's Test highest score remains 299.
More than Kulasekara's contributions with the ball, the manner in which he played the sport will be admired and remembered by fans.
Here's yet another guy who didn't make a significant impact in school cricket but rose through the ranks in domestic cricket and seized his opportunities. The platform for late developers needs to remain open rather than heavily depending on school talent alone. Bowlers, in particular, tend to develop as they mature. There's no better example for that than Kulasekara himself.