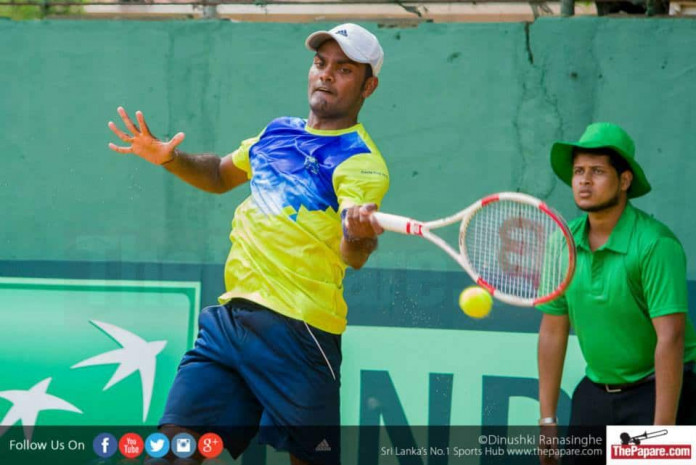 Sri Lanka will be playing in Group II of the Asia Oceania division after they survived the relegation draw by defeating Lebanon last October.
This will be Sri Lanka's second consecutive year in the Group II draw after they got promoted in 2013.
Standing at 63rd position in the Davis Cup world rankings, the Sri Lanka team will be put to test when they face Thailand in the first draw for the 2016 calendar year. The encounter will be played in Thailand from the 4th to the 6th of March.
Thailand who were in the top group in 2014 were relegated to Tier II in 2015 and later had to lose out to Pakistan in the promotional draw last year as the latter moved on to the top division. Thailand will be looking to get themselves back in the top tier and it will be a tester for the Lankans when they travel to Thailand.
Sri Lanka faced a disaster in Philippines in March last year, where they were thrashed 5-0 in the opening draw and with Thailand too being a tough competitor in the segment, the Lankans will have to work hard and perform to their true potential if they wish to give their opponents a fight.
Sri Lanka won't be making any huge changes in their main team lineup with the top performers in the country making the Davis Cup team. Sri Lanka will need the assistance of Harshana Godamanne who would make his trip back to the island from the United States while local champion Dineshkanthan Thangarajah is back in form. While Sanka Athukorale and Sharmal Dissanayaka will be the others in the line up, proper practice will make Sri Lanka a competitive force against Thailand.
If Sri Lanka wins the draw, they will be face a promotion fixture that will decide whether they go forward to the top draw. Failing which, they will have to play a relegation draw that would decide whether they survive in the division or not.