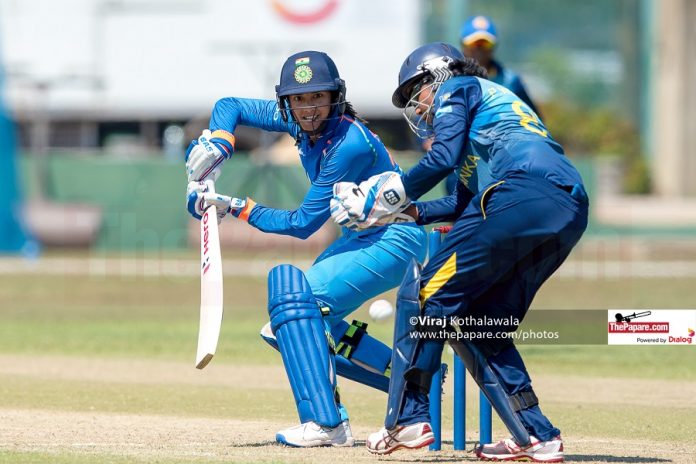 Sri Lanka's 1st Women's Championship ODI against India lasted exactly 55 overs in total as the visitors claimed a comfortable 9-wicket win at the Galle International Cricket Stadium.
After a disappointing series against Pakistan, where…
Sri Lanka skipper Chamari Atapattu won the toss and elelcted to bat first. She walked out to open the innings alongside wicket-keeper Prasadini Weerakkody but the pair struggled to get going before the latter was caught behind by Mansi Joshi for 2.
India's opening bowlers Joshi and the experienced Jhulan Goswami kept things tight and the wickets kept coming as Nipuni Hansika and Shashikala Siriwardene also fell within the 1st 10 overs.
Sri Lanka struggled to get going in the middle as familiar batting problems resurfaced. Atapattu watched as the wickets tumbled around her. The ordinarily aggressive batter struggled to find the boundary and the wickets falling at the other end did not help.
Photo Album – Sri Lanka – India Women's Cricket Series 2018 | Media Briefing
When she was dismissed for 33 off 93 deliveries, Sri Lanka had already eaten up 29.5 overs for 78 runs. None of the other batters made any significant contributions as the hosts succumbed to 98 all out in 35 overs.
Mansi Joshi accounted for 3 wickets while 5 of the other 6 bowlers used by Indian skipper Mithali Raj saw to the rest of Sri Lanka's lineup.
Smrithi Mandhana and Poonam Raut came out in pursuit of the target with aggressive intent. Raut kept one end occupied while the graceful Mandhana kept the scoreboard ticking over as India raced towards the target.
Read: India Women's tour of Sri Lanka
The pitch was dry and taking some turn but Sri Lanka's abundance of spin-bowling options did them no favors as the runs flowed freely. Raut was dismissed by Inoka Ranaweera with just 3 runs required for the win but India eventually got home with a boundary from Mandhana who top-scored with 73.
Sri Lanka have thus far lost all 7 of their ICC Women's Championship games and will be hoping to get a win under their belts and get off the mark in the tournament which serves as a qualifier for the Women's World Cup in 2021.
// var socket=io('http://localhost:8080'); var socket=io('http://202.124.184.250:8080');
jQuery( document ).ready(function() { console.log( "ready" ); var prev_bat_team = 0;
socket.on('message',function (message) { message = JSON.parse(message); console.log(message); if( message.data.cric.commentary){ jQuery('#cmt_wrap').prepend('
'+message.data.cric.commentary.event+'
'+message.data.cric.commentary.comment+'
'); } if(message.data.cric.match){ console.log(message.data.cric.match.teams_1_inn2_r[0]); function ove(balls) { var overs = 0; if(balls %6 == 0){ overs = balls/6; }else{ overs = parseInt(balls/6)+"."+(+balls - +parseInt(balls/6)*6); } console.log(overs); return overs; }
if(!message.data.cric.match.teams_1_inn2_r[0]){
jQuery('#score_1_'+message.data.cric.match.teams_1_r[0]['id']).html(message.data.cric.match.teams_1_r[0]['score'] + " / " + message.data.cric.match.teams_1_r[0]['wkts']); jQuery('#over_1_'+message.data.cric.match.teams_1_r[0]['id']).html("("+ove(message.data.cric.match.teams_1_r[0]['balls'])+" overs)"); }else { jQuery('#score_1_'+message.data.cric.match.teams_1_r[0]['id']).html(message.data.cric.match.teams_1_r[0]['score'] + " / " + message.data.cric.match.teams_1_r[0]['wkts']+" & "+message.data.cric.match.teams_1_inn2_r[0]['score']+" / "+message.data.cric.match.teams_1_inn2_r[0]['wkts']); jQuery('#over_1_'+message.data.cric.match.teams_1_r[0]['id']).html("("+ove(message.data.cric.match.teams_1_inn2_r[0]['balls'])+" overs)"); } if(!message.data.cric.match.teams_2_inn2_r[0]){
jQuery('#score_2_'+message.data.cric.match.teams_2_r[0]['id']).html(message.data.cric.match.teams_2_r[0]['score'] + " / " + message.data.cric.match.teams_2_r[0]['wkts']); jQuery('#over_2_'+message.data.cric.match.teams_2_r[0]['id']).html("("+ove(message.data.cric.match.teams_2_r[0]['balls'])+" overs)"); }else { jQuery('#score_2_'+message.data.cric.match.teams_2_r[0]['id']).html(message.data.cric.match.teams_2_r[0]['score'] + " / " + message.data.cric.match.teams_2_r[0]['wkts']+" & "+message.data.cric.match.teams_2_inn2_r[0]['score']+" / "+message.data.cric.match.teams_2_inn2_r[0]['wkts']); jQuery('#over_2_'+message.data.cric.match.teams_2_r[0]['id']).html("("+ove(message.data.cric.match.teams_2_inn2_r[0]['balls'])+" overs)"); }
if(message.data.cric.match.teams_1_r[0]['extras']!=null){ jQuery('#extras_1_r_'+message.data.cric.match.teams_1_r[0]['id']).html("("+ove(message.data.cric.match.teams_1_r[0]['extras'])); } if(message.data.cric.match.teams_2_r[0]['extras']!=null){ jQuery('#extras_2_r_'+message.data.cric.match.teams_1_r[0]['id']).html("("+ove(message.data.cric.match.teams_2_r[0]['extras'])); } if(message.data.cric.match.teams_1_inn2_r[0]['extras']!=null){ jQuery('#extras_1_r_2_'+message.data.cric.match.teams_1_inn2_r[0]['id']).html("("+ove(message.data.cric.match.teams_1_inn2_r[0]['extras'])); } if(message.data.cric.match.teams_2_inn2_r[0]['extras']!=null){ jQuery('#extras_1_r_2_'+message.data.cric.match.teams_2_inn2_r[0]['id']).html("("+ove(message.data.cric.match.teams_2_inn2_r[0]['extras'])); }
//extras_1_r_2_ // if(prev_bat_team != message.data.cric.team_id){ jQuery('#widget_wrapper').load(document.URL + ' #widget_wrapper'); // } // prev_bat_team = message.data.cric.team_id // }
}); });
India Women won by 9 wickets
Sri Lanka Women's Innings
Batting
R
B
Prasadani Weerakkody
c T.Bhatia b M.Joshi
2
11
Chamari Athapaththu
c J.Goswami b D.Sharma
33
93
Nipuni Hansika
c T.Bhatia b J.Goswami
2
11
Shashikala Siriwardene
c S.Mandhana b M.Joshi
1
8
Dilani Manodara
b R.Gayakwad
12
19
Anushka Sanjeewani
c J.Goswami b P.Yadav
4
16
Nilakshi de Silva
c & b P.Yadav
1
2
Sripali Weerakkody
c M.Raj b M.Joshi
26
32
Udeshika Prabodhani
c D.Hemalatha b J.Goswami
1
2
Sugandika Kumari
c & b D.Hemalatha
1
5
Inoka Ranaweera
not out
5
12
Fall of Wickets:
1-8 (PM Weerakkody, 5.2 ov), 2-16 (MDN Hansika, 8.2 ov), 3-18 (HASD Siriwardene, 9.5 ov), 4-37 (MADD Surangika, 15.4 ov), 5-47 (MAA Sanjeewani, 19.3 ov), 6-49 (NND de Silva, 19.6 ov), 7-78 (AC Jayangani, 29.5 ov), 8-80 (KDU Prabodhani, 30.1 ov), 9-87 (BMSM Kumari, 31.3 ov), 10-98 (SS Weerakkody, 35.1 ov)
| Bowling | O | M | R | W | E |
| --- | --- | --- | --- | --- | --- |
| Jhulan Goswami | 8 | 1 | 13 | 2 | 1.63 |
| Mansi Joshi | 6.1 | 0 | 16 | 3 | 2.62 |
| Deepthi Sharma | 6 | 1 | 16 | 1 | 2.67 |
| Rajeshwari Gayakwad | 6 | 0 | 18 | 1 | 3.00 |
| Dayalan Hemalatha | 4 | 0 | 19 | 1 | 4.75 |
| Poonam Yadav | 4 | 0 | 13 | 2 | 3.25 |
| Harmanpreet Kaur | 1 | 0 | 2 | 0 | 2.00 |
India Women's Innings
Batting
R
B
Punam Raut
c D.Manodhara b I.Ranaweera
24
41
Smriti Mandhana
not out
73
76
Mithali Raj
not out
0
2
Fall of Wickets:
1-96 (P Raut, 18.4 ov)
| Bowling | O | M | R | W | E |
| --- | --- | --- | --- | --- | --- |
| Udeshika Prabodhani | 4 | 0 | 17 | 0 | 4.25 |
| Shashikala Siriwardene | 6.5 | 0 | 29 | 0 | 4.46 |
| Sugandika Kumari | 5 | 0 | 29 | 0 | 5.80 |
| Sripali Weerakody | 2 | 0 | 19 | 0 | 9.50 |
| Inoka Ranaweera | 2 | 0 | 5 | 1 | 2.50 |