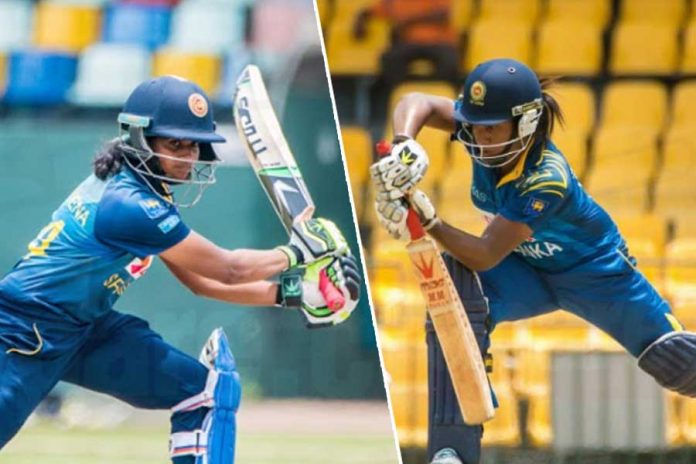 The third and last T20I of the tour ended in another loss as Sri Lanka suffered a 3-0 clean sweep at the hands of South Africa women, at Centurion.
The visitors won the toss and put the host to bat on a decent batting pitch in the hope of restricting them to a low total. But, Sri Lanka captain Chamari Atapattu instantly realized it was a bad decision when South African Counterpart Dane van Niekerk went all guns blazing with her opening partner and wicket keeper-batter Brits to put 58 runs in the first 8 overs.
Read More : ICC Women's T20 World Cup 2020 Fixtures – Sri Lanka Women placed in Group A
Brits departed early for a brisk 36 runs after hitting 4 boundaries and 1 six. All-rounder Marizanne Kapp then joined her captain to continue the charge before falling for 13-ball 19. A last over flourish was provided by exciting young talents, Lara Goodall and Sune Luus. Skipper Niekerk held one end of the wicket as she was the last one to depart for 38 runs in the final over.
South Africa set a target of 163 runs to win for the women from Sri Lanka at the loss of 5 wickets.
Read More : All-round Dane van Niekerk guides South Africa women to victory
Sri Lankan opening partnership failed in their duties, once again, as wicket keeper-batter Prasadini Weerakkody went back to the dressing room in just two balls into their inning, off Marizanne Kapp's furious pace. But unlike the previous two games, Sri Lanka's batting rejuvenated to see them score more than at a run-a-ball in the middle over period. Captain Chamari Atapattu and the newest 1000 T20I runs club entrée, former captain Shashikala Siriwardene, were the stars with the bat for Sri Lanka with their knocks of 43 off 36 balls and 29 off 21 balls respectively.
Watch: Sri Lanka Women vs India Women – 3rd ODI
But eventually, Sri Lanka had to satisfy with only 124 runs at the 20 over mark, 39 runs behind the original target for the loss of 8 wickets. 19-year-old Nadine De Klerk was able to record her career best figures of 3/27.
2nd T20I: South Africa seal the series despite Sri Lanka's valiant fight
With this defeat South Africa completed the 3-0 victory over Sri Lanka women in the T20I series and the 3-match one-day series which is part of the ODI championship,  scheduled to commence on the 11th of February at Potchefstroom.
SAW won by 39 runs
South Africa Women's Innings
Batting
R
B
Dane van Niekerk
c A Kulasuriya b C Athapatthu
38
29
Tazmin Brits
c S Siriwardene b I Ranaweera
36
30
Marizanne Kapp
c I Mendis b O Ranasinghe
19
13
Lara Goodall
c C Athapatthu b K Dilhari
35
30
Sune Luus
(runout) Madavi
26
15
Nadine de Klerk
not out
1
1
Faye Tunnicliffe
not out
5
2
Fall of Wickets:
1-58 (T Brits, 7.6 ov), 2-110 (M Kapp, 13.5 ov), 3-153 (L Goodall, 18.6 ov), 4-156 (S Luus, 19.2 ov), 5-156 (D van Niekerk, 19.3 ov)
| Bowling | O | M | R | W | E |
| --- | --- | --- | --- | --- | --- |
| Oshadi Ranasinghe | 4 | 0 | 35 | 1 | 8.75 |
| Achini Kulasuriya | 2 | 0 | 17 | 0 | 8.50 |
| Chamari Athapatthu | 4 | 0 | 25 | 1 | 6.25 |
| Shashikala Siriwardene | 4 | 0 | 30 | 0 | 7.50 |
| Inoka Ranaweera | 2 | 0 | 24 | 1 | 12.00 |
| Kavisha Dilhari | 4 | 0 | 32 | 1 | 8.00 |
Sri Lanka Women's Innings
Batting
R
B
Prasadini Weerakkody
b M Kapp
0
2
Chamari Athapatthu
b S Ismail
43
36
Hasini Perera
b N Klerk
13
24
Harshitha Madavi
c & b S Luus
11
13
Shashikala Siriwardena
c L Goodall b M Klaas
29
21
Imalka Mendis
b N Klerk
6
9
Nilakshi de Silva
c S Ismail b N Klerk
0
1
Kavisha Dilhari
c N Klerk b S Ismail
9
8
Oshadi Ranasinghe
not out
4
8
Extras
9 (b 1, lb 1, w 7)
Fall of Wickets:
1-0 (PM Weerakkody, 0.2 ov), 2-36 (GWHM Perera, 7.4 ov), 3-72 (AC Jayangani, 12.1 ov), 4-74 (H Madavi, 13.2 ov), 5-96 (HIS Mendis, 16.2 ov), 6-96 (NND de Silva, 16.3 ov), 7-111 (HASD Siriwardene, 17.5 ov), 8-124 (WK Dilhari, 19.6 ov)
| Bowling | O | M | R | W | E |
| --- | --- | --- | --- | --- | --- |
| Marizanne Kapp | 2 | 0 | 3 | 1 | 1.50 |
| Shabnim Ismail | 4 | 0 | 11 | 2 | 2.75 |
| Masabata Klaas | 3 | 0 | 33 | 1 | 11.00 |
| Tumi Sekhukhune | 2 | 0 | 16 | 0 | 8.00 |
| Sune Luus | 4 | 0 | 23 | 1 | 5.75 |
| Nadine de Klerk | 4 | 0 | 27 | 3 | 6.75 |
| Dane van Niekerk | 1 | 0 | 9 | 0 | 9.00 |