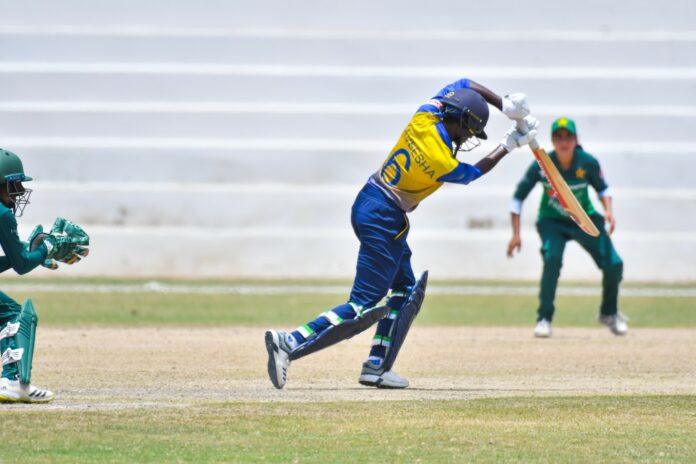 Sri Lanka suffered an 8-wicket loss to Pakistan in the 1st ODI of their 3-match series at the Southend Club in Karachi earlier today (1).
The series kicks off the ICC Women's Championship cycle for 2022-25.
Sri Lanka struggled to compete in the T20I series last week, where they lost 3-0, but despite losing, they did have Pakistan in trouble when they had the ball in hand throughout the series. However, today's game saw them completely outplayed by the hosts, who looked in no trouble throughout the game.
Kavisha Dilhari was the only bright spark in Sri Lanka's performance, scoring 49 not out at No. 6 as the visitors finished with 169. Dilhari looked in good touch – she was the top run-scorer at the recently concluded domestic 50 over competition – comfortably surpassing her highest score in International Cricket, which stood at 25 (16* in ODIs).
Familiar problems plagued the Lankan batters as they struggled to keep the scoreboard moving, getting bogged down throughout the innings; only Dilhari was going at a strike-rate of above 70. The tactics were once again questionable, with the batters showing no intent to score runs and instead looking to bat long. Even skipper Chamari Athapaththu looked off colour, perhaps now feeling the pressure with the responsibility of carrying the batting line-up.
With the ball, Sri Lanka managed to get an early wicket once again, with Achini Kulasuriya removing Muneeba Ali, but from then on it was all Pakistan as Sidra Ameen and Bismah Maroof put on a mammoth 143-run partnership to take the hosts to within one run of the Sri Lankan score before Ameen fell for 76.
The 2nd ODI will be at the same venue on the 3rd of June


Batsmen
R
B
4s
6s
SR
Hasini Perera
run out (Sidra Nawaz)
4
11
0
0
36.36
Chamari Athapaththu
c Muneeba Ali b Sadia Iqbal
25
39
3
1
64.10
Hansima Karunarathne
c Bismah Maroof b Ghulam Fatima
12
40
1
0
30.00
Prasadani Weerakkody
st Sidra Nawaz b Ghulam Fatima
30
44
3
0
68.18
Nilakshi de Silva
c Sidra Nawaz b Sadia Iqbal
16
46
0
0
34.78
Kavisha Dilhari
not out
49
50
5
0
98.00
Oshadi Ranasinghe
b Ghulam Fatima
0
1
0
0
0.00
Ama Kanchana
c Sidra Nawaz b Ghulam Fatima
3
16
0
0
18.75
Sugandika Kumari
run out (Sidra Nawaz)
3
12
0
0
25.00
Inoka Ranaweera
c Aliya Riaz b Fatima Sana
10
27
0
0
37.04
Achini Kulasuriya
lbw b Fatima Sana
0
2
0
0
0.00
| | |
| --- | --- |
| Extras | 17 (b 0 , lb 3 , nb 0, w 14, pen 0) |
| Total | 169/10 (47.5 Overs, RR: 3.53) |
| Bowling | O | M | R | W | Econ |
| --- | --- | --- | --- | --- | --- |
| Diana Baig | 9 | 0 | 37 | 0 | 4.11 |
| Fatima Sana | 7.5 | 0 | 24 | 2 | 3.20 |
| Nida Dar | 8 | 0 | 33 | 0 | 4.12 |
| Sadia Iqbal | 10 | 1 | 30 | 2 | 3.00 |
| Ghulam Fatima | 10 | 2 | 21 | 4 | 2.10 |
| Omaima Sohail | 2 | 0 | 13 | 0 | 6.50 |
| Bismah Maroof | 1 | 0 | 8 | 0 | 8.00 |


Batsmen
R
B
4s
6s
SR
Muneeba Ali
c Nilakshi de Silva b Achini Kulasuriya
14
28
2
0
50.00
Sidra Ameen
b Oshadi Ranasinghe
76
118
7
0
64.41
Bismah Maroof
not out
62
101
4
0
61.39
Omaima Sohail
not out
1
4
0
0
25.00
| | |
| --- | --- |
| Extras | 17 (b 0 , lb 1 , nb 1, w 15, pen 0) |
| Total | 170/2 (41.5 Overs, RR: 4.06) |
| Bowling | O | M | R | W | Econ |
| --- | --- | --- | --- | --- | --- |
| Sugandika Kumari | 4 | 0 | 28 | 0 | 7.00 |
| Achini Kulasuriya | 5 | 2 | 13 | 1 | 2.60 |
| Ama Kanchana | 4 | 0 | 10 | 0 | 2.50 |
| Oshadi Ranasinghe | 8.5 | 0 | 35 | 1 | 4.12 |
| Inoka Ranaweera | 9 | 0 | 30 | 0 | 3.33 |
| Chamari Athapaththu | 4 | 0 | 21 | 0 | 5.25 |
| Kavisha Dilhari | 7 | 0 | 32 | 0 | 4.57 |