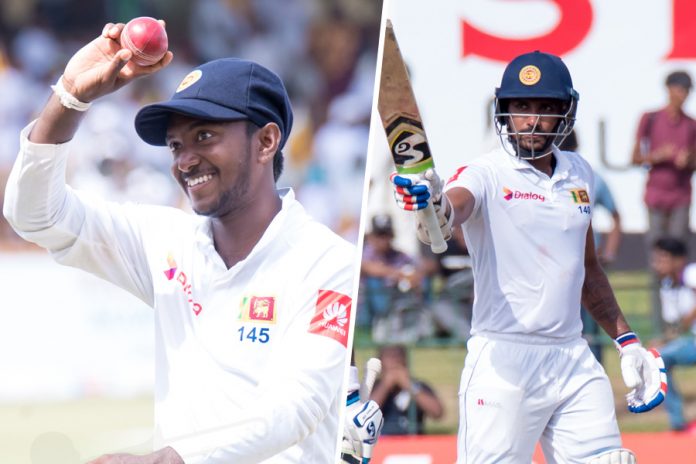 Sri Lanka today took authority of the 2nd and last Test between South Africa played at the SSC grounds in Colombo. The hosts were leading by 365 runs at the close of play.
The Sri Lankans resumed on their overnight score of 277/9 with Akila Dananjaya on 16 and Rangana Herath on 5. The Protea skipper handed the newish ball to Kehsav Maharaj who had taken 8 wickets on day 1 to bundle out the Lankan inning. But it didn't happen as soon as Faf du Plessis would have preferred as the couple added 61 more runs on day 2 making their partnership worth 74 runs to go down in history as the second highest 10th wicket partnership for Sri Lanka.
Eventually Keshav Maharaj ended the stubborn stand by dismissing Rangana Herath for a well-compiled 35. Akila Dananjaya unfortunately was denied of a well-deserved maiden fifty as he remained unbeaten on 43.
With a reasonably huge score of 338 the Lankans didn't take too much time to pick wickets as Akila Dananjaya who shared the new ball with Dilruwan Perera struck in his second ball. Dean Elgar was the one to be dismissed as he edged one to the other Dananjaya, Dananjaya de Silva at second slip.
Since Dimuth Karunaratne made his Test debut for Sri Lanka back in November 2012, he has had 9 different opening partners.
Theunis de Bruyn who was surprisingly sent ahead of Hashim Amla lasted just 8 balls as he nicked an Akila Dananjaya delivery which was comfortably taken by Dickwella behind the stumps.
Just before lunch Herath too struck as he trapped Aiden Markram right in front of the stumps to keep the Saffs reeling on 19/3 at lunch.
The most experienced batsmen for South Africa, Faf du Plessis and Hashim Amla started proceedings really well for their team after lunch. The 2 star batsmen added 55 runs for the 4th wicket before the latest member of the 9000-test-run Club Hashim Amla was dismissed to a Dilruwan Perera in the same fashion he got out twice at Galle. In fact Dilruwan Perera was the bowler in the previous occasions too. It was also the 5th time Amla had been dismissed by Perera in his Test career.
Perera once again struck to leave the visitors clueless as du Plessis nicked one trying to slog, a shot he successfully used to score the most of his runs. It was the second time in the series du Plessis got out in the 40s.
Temba Bavuma and Quinton de Kock then showed some resistance sweeping almost every delivery. The duo was successful to a certain extent but patient and consistent bowling from the Lankan spinners rewarded them with Bavuma's wicket. In fact it was a sharp Kusal Mendis catch at short-leg which ended Bavuma's inning on 11.
De Kock on the other end swiftly accumulated some useful runs for his team with his wonderful sweeping ability. It was Akila Dananjaya's last spell which stood against their progress as he took 3 quick wickets to register his 2nd 5-wicket haul.
Maharaj miscued a sweep off an Akila googly to start the mini-collapse. De Kock soon in Akila's next over missed a straight one to be given out LBW after a fairly good knock of 32. Akila didn't wait too long to complete his fifer as he trapped Dale Steyn in the same over.
2nd Test Day 1 Report: Keshav Maharaj sweeps through Sri Lankan batting
The Protea last pair couldn't match-up to the heroics of the Lankan last pair as Rabada edged one to the safe hands of Angelo Mathews at slips to give Perera his 4th wicket.
With a 214-run 1st innings lead after bundling out the Proteas for 124 the Lankan openers once again put up a stellar performance by almost putting up another century stand. Both the openers, Karunaratne and Gunathilaka scored 50s. Gunathilaka was the first to fall on 61 being the 10th scalp of Maharaj in the match.
Maharaj struck soon again to get his 11th wicket, trapping Sri Lanka's highest run-scorer in the 1st inning Dananjaya de Silva for a duck.
Kusal Mendis once again couldn't score big as he was run out courtesy a mix-up between Karunaratne and himself. His full stretch dive also couldn't save him.
Karunaratne on the other hand stood strong for his unbeaten 59 along with former skipper Mathews who is also unbeaten on 18.
The Proteas used as much as 7 bowlers in the 2nd inning as part-time medium pacer de Bruyn was also made to bowl few overs of spin. The part-time spins of openers Elgar and Markram was also tried out without any dividend.
The hosts will start tomorrow with a massive lead of 365 and 7 wickets in hand.    
Full Scorecard
124/10 & 290/10
(86.4 overs)
Srilanka won by 199 runs
Sri Lanka's 1st Innings
Batting
R
B
Danushka Gunathilake
c K.Rabada b K.Maharaj
57
107
Dimuth Karunaratne
c Q.De Kock b K.Maharaj
53
110
Dananjaya de Silva
lbw by K.Maharaj
60
109
Kusal Mendis
c K.Rabada b K.Maharaj
21
34
Angelo Mathews
c F.Du Plesis b K.Maharaj
10
24
Roshen Silva
b K.Rabada
22
46
Niroshen Dickwella
c F.Du Plesis b K.Maharaj
5
9
Dilruwan Perera
c L.Nigidi b K.Maharaj
17
24
Akila Dananjaya
not out
43
91
Suranga Lakmal
c A.Markram b K.Maharaj
0
4
Rangana Herath
c Dean Elgar b Keshav Maharaj
35
68
Extras
15 (b 4, lb 2, nb 1, w 8)
Total
338/10 (104.1 overs)
Fall of Wickets:
1-116 (D Karunaratne, 34.3 ov), 2-117 (D Gunathilaka, 36.3 ov), 3-153 (K Mendis, 48.3 ov), 4-169 (A Mathews, 54.3 ov), 5-223 (R Silva, 69.6 ov), 6-238 (N Dickwella, 72.4 ov), 7-247 (D de Silva, 74.2 ov), 8-264 (D Perera, 80.1 ov), 9-264 (S Lakmal, 80.5 ov), 10-338 (R.Herath, 104.1 ov)
| Bowling | O | M | R | W | E |
| --- | --- | --- | --- | --- | --- |
| Dale Steyn | 17 | 3 | 60 | 0 | 3.53 |
| Kagiso Rabada | 20 | 3 | 55 | 1 | 2.75 |
| Lungi Ngidi | 14.2 | 1 | 54 | 0 | 3.80 |
| Keshav Maharaj | 41.1 | 10 | 129 | 9 | 3.14 |
| Aiden Markram | 8.4 | 1 | 24 | 0 | 2.86 |
| Dean Elgar | 3 | 1 | 10 | 0 | 3.33 |
South Africa's 1st Innings
Batting
R
B
Aiden Markram
lbw by Rangana Herath
7
20
Dean Elgar
c Dananjaya De Silva b Akila Dhananjaya
0
4
Theunis de Bruyn
c Niroshan Dickwella b Akila Dhananjaya
3
8
Hashim Amla
c Kusal Mendis b Dilruwan Perera
19
58
Faf du Flessis
c Niroshan Dickwella b Dilruwan Perera
48
51
Temba Bavuma
c Kusal Mendis b Dilruwan Perera
11
20
Quinton de Kock
lbw by Akila Dhananjaya
32
31
KA Maharaj
c Dimuth Karunaratne b Akila Dhananjaya
2
4
Kagiso Rabada
c Anjelo Mathews b Dilruwan Perera
1
10
Dale Steyn
lbw by Akila Dhananjaya
0
2
Lungi Ngidi
not out
0
2
Total
124/10 (34.5 overs)
Fall of Wickets:
1-4 (D Elgar, 1.2 ov), 2-8 (T Bruyn, 3.2 ov), 3-15 (A Markram, 8.1 ov), 4-70 (H Amla, 21 ov), 5-85 (Du Plessis, 25 ov), 6-114 (T Bavuma, 30.3 ov), 7-119 (K Maharaj, 31.5 ov), 8-124 (De Kock, 33.2 ov), 9-124 (D Steyn, 33.4 ov), 10-124 (K Rabada, 34.5 ov)
| Bowling | O | M | R | W | E |
| --- | --- | --- | --- | --- | --- |
| Dilruwan Perera | 12.5 | 1 | 40 | 4 | 3.20 |
| Akila Dhananjaya | 13 | 2 | 52 | 5 | 4.00 |
| R. Herath | 9 | 1 | 32 | 1 | 3.56 |
Sri Lanka's 2nd Innings
Batting
R
B
MD Gunathilaka
c Dean Elgar b Keshav Maharaj
61
68
D. Karunaratne
c Quinton de Kock b Lungi Ngidi
85
136
D.De.Silva
lbw by Keshav Maharaj
0
3
BKG Mendis
(runout) Aiden Markram
18
27
A Mathews
c Faf du Flessis b Keshav Maharaj
71
147
R. Silva
not out
32
99
N. Dickwella
not out
7
7
Fall of Wickets:
1-91 (D Gunathilaka, 18.3 ov), 2-102 (De Silva, 20.2 ov), 3-136 (K Mendis, 28.4 ov), 4-199 (D Karunarathne, 48.1 ov), 5-263 (A Mathews, 79.1 ov)
| Bowling | O | M | R | W | E |
| --- | --- | --- | --- | --- | --- |
| KA Maharaj | 40 | 4 | 154 | 3 | 3.85 |
| Kagiso Rabada | 8 | 0 | 42 | 0 | 5.25 |
| Aiden Markram | 7 | 1 | 18 | 0 | 2.57 |
| Theunis de Bruyn | 5 | 0 | 20 | 0 | 4.00 |
| Dale Steyn | 11 | 2 | 30 | 0 | 2.73 |
| Lungi Ngidi | 9 | 5 | 9 | 1 | 1.00 |
| Dean Elgar | 1 | 0 | 2 | 0 | 2.00 |
South Africa's 2nd Innings
Batting
R
B
Dean Elgar
lbw by D.Perera
37
80
Aiden Markram
lbw by R.Herath
14
24
Theunis de Bruyn
b R.Herath
101
232
Hashim Amla
b R.Herath
6
18
Faf du Flessis
c Anjelo Mathews b A.Dhananjaya
7
13
KA Maharaj
lbw by A.Dhananjaya
0
1
Temba Bavuma
c N.Dickwella b R. Herath
63
98
Quinton de Kock
lbw by R.Herath
8
12
Kagiso Rabada
c A.Mathews b D.Perera
18
37
Dale Steyn
c D.Gunathilake b R.Herath
6
6
Lungi Ngidi
not out
4
4
Extras
26 (b 16, lb 5, nb 4, w 1)
Total
290/10 (86.4 overs)
Fall of Wickets:
1-23 (AK Markram, 8.1 ov), 2-80 (D Elgar, 23.3 ov), 3-100 (HM Amla, 30.1 ov), 4-113 (F du Plessis, 35.1 ov), 5-113 (KA Maharaj, 35.2 ov), 6-236 (T Bavuma, 73.1 ov), 7-246 (Q de Kock, 75.5 ov), 8-280 (TB de Bruyn, 84.5 ov), 9-280 (K Rabada, 85.2 ov),10-290 (DW Steyn, 86.5 ov)
| Bowling | O | M | R | W | E |
| --- | --- | --- | --- | --- | --- |
| R. Herath | 32.5 | 5 | 98 | 6 | 3.02 |
| Dilruwan Perera | 30 | 4 | 90 | 2 | 3.00 |
| Akila Dhananjaya | 19 | 2 | 67 | 2 | 3.53 |
| Suranga Lakmal | 2 | 0 | 8 | 0 | 4.00 |
| Dananjaya de Silva | 2 | 0 | 5 | 0 | 2.50 |
| Danushka Gunathilaka | 1 | 0 | 1 | 0 | 1.00 |