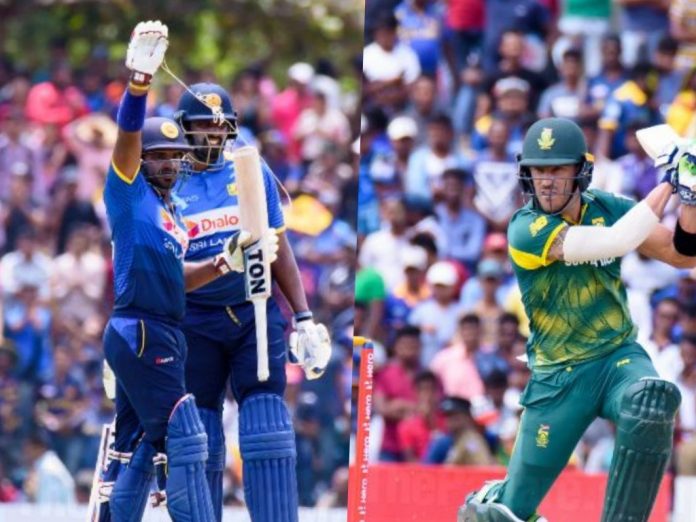 The ODI leg of South Africa's Tour of Sri Lanka kick-started today at the Rangiri Dambulla International Stadium, Dambulla with the visitors recording a 5-wicket win.

>>Sangakkara: Mathews is key to Sri Lanka's World Cup hopes<<
Earlier, Sri Lankan Captain Angelo Mathews won the toss and elected to bat first on a pitch which had not much for the bowlers according to Russel Arnold in his pitch report.
Left-handers Upul Tharanga and Niroshan Dickwella opened the inning for the hosts. Unfortunately the latter miscued a low full toss by Kagiso Rabada in the third ball of the match which popped up in the air, and was taken by a tumbling Tabraiz Shamsi at mid-on to push Sri Lanka onto the back foot early in the day.
Kusal Mendis soon followed Dickwella as he nicked a beautiful delivery by Rabada in his second over. 15 balls later the experienced Tharanga who was middling the ball nicely ran himself out trying to get a single which apparently was impossible.
Skipper Angelo Mathews, who is playing his 100th ODI as Captain and Shehan Jayasuriya, who is playing an ODI after 2016, both poked at deliveries which were well outside the off stump, without any feet movement. Sri Lanka were reeling at 36/5 in just 8.5 overs at this moment.
>>Photos: Sri Lanka practice session before 1st ODI against South Africa<<
Then paired up the two Pereras – Thisara and Kusal, who put on an entertaining rescue show to increase Sri Lanka's score from 36 to 128 in just 8.5 overs, the exact number of overs South Africa took to reduce Sri Lanka to 36/5. The duo had added 92 runs during that 8.5 overs when Thisara Perera edged a Shamsi delivery on 49.
During this stand the Proteas exhibited some unusual sloppy fielding which is not a common sighy. The back-up pacers, Willem Mulder and Andile Phelukwayo were the targeted bowlers by the 2 hard-hitting Lankan left-handers. Eventually, it was the spin of Shamsi which broke the partnership.
>>Sri Lanka vs South Africa ODI Series 2018 – Let's talk Numbers<<
Kusal Perera continued in his merry way as he reached his 10th half-century. Even though he kept on hitting boundaries, he couldn't make his stay big enough to reach a century as he perished for 81 trying to reverse-sweep Shamsi and finding David Miller at cover-point.
The Proteas just ran through the Lankan tail with ease. Kagiso Rabada and Tabraiz Shamsi were the chief destroyers of the Lankan inning as the duo picked up 4 wickets each. Sri Lanka were restricted for 193 facing just 34.3 overs.
The visitors started their chase swiftly with both openers, Hashim Amla and Quinton de Kock timing and middling the ball perfectly. Akila Dananjaya who shared the new ball with Suranga Lakmal struck twice in his 3rd over to send the Saffs stuttering at 37/2 in 6 overs for lunch. Both Hashim Amla and Aiden Markram were undone by brilliant googlies by Dananjaya. Amla was bowled for 19 while Markram was trapped in front in the first ball he faced.
Captain Faf du Plessis along with de Kock steered the South African chase with authority after lunch. The couple added 86 fluent runs for the 3rd wicket as they made defeat almost impossible for them in this match.
>>Sri Lanka's ODI bowling since the 2015 ICC World Cup – Let's Talk Numbers<<
Dananjaya struck back to break the partnership and brought Sri Lanka back into the game. Following de Kock's rush of blood du Plessis failed in trying to be cheeky against Lakshan Sandakan as he gave a simple catch to his counterpart at slip. Both the batsmen were dismissed inches before reaching their respective fifties.
Following du Plessis' fall the experienced ODI specialists JP Duminy and David Miller guided the chase adding 43 quick runs before Lakmal dismissed the silent partner in the partnership David Miller with a superb yorker. Miller who was dismissed LBW became Lakmal's 99th ODI wicket.
Young all-rounder Willem Mulder who had a very bad outing with the ball displayed some nice strokes to help his team achieve the required target along with Duminy who reached his 26th fifty in the cause. The Proteas reached the target in just 31 overs to lead the 5-match series 1-0.
SA won by 5 wickets
Sri Lanka's Innings
Batting
R
B
N Dickwella
c Tabraiz Shamsi b Kagiso Rabada
2
3
U Tharanga
(runout) JP Duminy
10
17
K Mendis
c Quinton de Kock b Kagiso Rabada
3
6
K Janith
c David Miller b Tabraiz Shamsi
81
72
A Mathews
c Hashim Amla b Lungi Ngidi
5
8
S Jayasuriya
c Quinton de Kock b Kagiso Rabada
0
8
NLTC Perera
c Quinton de Kock b Tabraiz Shamsi
49
30
A Dananjaya
b Tabraiz Shamsi
11
30
S Lakmal
c Quinton de Kock b Kagiso Rabada
5
16
L Sandakan
not out
5
13
L Kumara
st Quinton de Kock b Tabraiz Shamsi
3
6
Extras
19 (b 0, lb 4, w 13, nb 2)
Total
193/10 (34.3 overs)
Fall of Wickets:
1-2 (N Dickwella, 0.3 ov), 2-11 (K Mendis, 2.4 ov), 3-22 (U Tharanga, 5.1 ov), 4-35 (A Mathews, 7.2 ov), 5-36 (S Jayasuriya, 8.5 ov), 6-128 (T Perera, 17.4 ov), 7-166 (A Dananjaya, 26.4 ov), 8-179 (K Janith, 30.3 ov), 9-189 (S Lakmal, 33.2 ov), 10-193 (L Kumara, 34.3 ov)
| Bowling | O | M | R | W | E |
| --- | --- | --- | --- | --- | --- |
| K Rabada | 8 | 0 | 41 | 4 | 5.13 |
| L Ngidi | 8 | 1 | 29 | 1 | 3.63 |
| W Mulder | 3 | 0 | 34 | 0 | 11.33 |
| A Phehlukwayo | 3 | 0 | 30 | 0 | 10.00 |
| T Shamsi | 8.3 | 0 | 33 | 4 | 3.98 |
| JP Duminy | 4 | 0 | 22 | 0 | 5.50 |
South Africa's Innings
Batting
R
B
H Amla
b Akila Dhananjaya
19
14
Quinton de Kock
c Suranga Lakmal b Akila Dhananjaya
47
59
A Markram
lbw by Akila Dhananjaya
0
1
Faf du Flessis
c Anjelo Mathews b Lakshan Sandakan
47
56
JP Duminy
not out
53
32
D Miller
lbw by Suranga Lakmal
10
13
W Mulder
not out
14
11
Fall of Wickets:
1-31 (H Amla, 4.3 ov), 2-31 (A Markram, 4.4 ov), 3-117 (De Kock, 20.4 ov), 4-129 (Du Flessis, 23.1 ov), 5-172 (D Miller, 28 ov)
| Bowling | O | M | R | W | E |
| --- | --- | --- | --- | --- | --- |
| A Dananjaya | 10 | 0 | 50 | 3 | 5.00 |
| S Lakmal | 6 | 0 | 37 | 1 | 6.17 |
| S Jayasuriya | 4 | 0 | 23 | 0 | 5.75 |
| L Kumara | 3 | 0 | 11 | 0 | 3.67 |
| L Sandakan | 8 | 0 | 74 | 1 | 9.25 |