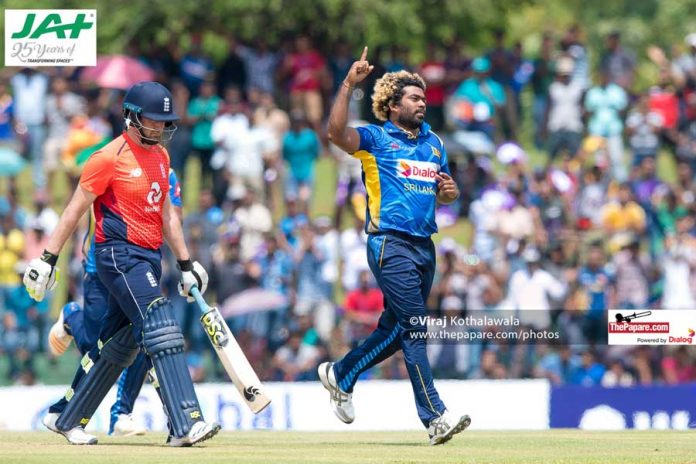 England defeated Sri Lanka by 31 runs (D/L) in the rain-shortened 2nd ODI in Dambulla to take a 1-0 lead in the five-match series on Saturday.

>>Visit the #SLvENG Cricket HUB<<
Experienced slinger Lasith Malinga's eight five-wicket haul restricted the visitors to 278 after Eoin Morgan and Joe Root dominated proceedings early on with 92 and 71 respectively.
England new ball partners, Chris Woakes and Olly Stone demolished the Lankan top order in an electrifying opening spell to restrict the hosts to 31 for 4.
Thisara Perera and Dhananjaya De Silva added 66 for the 6th wicket to rebuild the innings when monsoon rains brought a pre-mature end to the game at around 3.45pm local time when Sri Lanka were 140 for 5 in 29 overs.
Read More: First ODI abandoned due to heavy rain and wet outfield
Chasing 279 runs, Niroshan Dickwella brought his 'Dick-Scoop' in the very first over but his partner Upul Tharanga fell for a golden duck as Woakes got slight movement off the pitch, angled across – enough to take the outside edge.
Stone, who made his ODI debut in the abandoned first game last Wednesday, finally showcased the world what he can deliver, extracting steep bounce on a good line and length. He bounced out Dickwella in the fourth over while Woakes got the better of Chandimal, who chopped one onto the stumps in the next over.
At the end of the innings, Lasith Malinga said, "I just want to focus on the next match and I am not thinking too far towards the World Cup. I don't know what is in their (selectors) mind. Whenever I get an opportunity, I want to give my best."
Dasun Shanaka, playing purely as a batsman at number five, lasted only 15 balls as he nicked behind and became Woakes' third victim in the first powerplay.
Kusal Janith Perera weathered the fast-bowling storm adding 43 runs with De Silva for the fifth wicket but fell to the left-arm spin of Liam Dawson as the visitors rushed through to complete the minimum requirement of 20 overs.
The target was always challenging for Thisara Perera and Dhananajaya De Silva but they kept on fighting for 13 overs before heavens opened up, allowing no play thereafter.
Earlier, England were asked to bat first by skipper Dinesh Chandimal, and Malinga gave the best possible start as Jason Roy chipped to mid-wicket in only the fourth ball of the match. Jonny Bairstow and Root added 72 runs and in the process Bairstow became the first player this year to reach 1,000 ODI runs.
Thisara cleaned up Bairstow with a seam-up delivery in the 14th over which brough Morgan to the crease. Root and Morgan found no difficulty in putting away Lankan bowlers despite some assistance to the spinners as the odd one, gripped and turned as they constructed a 68-run stand.
ThePapare.com | Viraj Kothalawala | 13/10/2018 | Editing and re-using images without permission of ThePapare.com…
Root was dropped on 48 by Dhananjaya De Silva off Lakshan Sandakan at mid-wicket, but the Lankan all-rounder got his man, this time by bowling off-spin as the England Test captain gave a leading edge to extra-cover.
Ben Stokes, coming out to bat for the first time on tour provided able supper to his captain but was bamboozled by an Akila Dananjaya 'googly'.
With Morgan and Jos Buttler at the crease for the final lap, Chandimal brought back his seasoned campaigner Malinga to the attack in the 40th over to stem the run-flow.
Malinga was exceptional to deceive the Englishmen, using all his experience and guile. First, well-set Morgan chipped one right back to Malinga and then followed it up with a brilliant, slower yorker which dipped and rattled Moeen Ali's stumps in the very next ball.
Malinga could not take a hat-trick as he delivered a waist-high full-toss, deemed 'no-ball' to Chris Woakes, which slipped off his hand. Buttler missed a full toss, only to be castled by Nuwan Pradeep, who complimented Malinga well as a new-ball and death-overs partner.
35-year old Malinga completed his five-fer, fourth oldest fast bowler in ODI history to take a 5-wicket haul and oldest since Wasim Akram in 2003 by taking out Chris Woakes and Liam Dawson in the 47th over to peg England back, who at one time was looking a 300+ score.
Teams will now move to Pallekelle for the third and fourth ODIs, which will be played on 17th and 20th October.  
// var socket=io('http://localhost:8080'); var socket=io('http://202.124.184.250:8080');
jQuery( document ).ready(function() { console.log( "ready" ); var prev_bat_team = 0;
socket.on('message',function (message) { message = JSON.parse(message); console.log(message); if( message.data.cric.commentary){ jQuery('#cmt_wrap').prepend('
'+message.data.cric.commentary.event+'
'+message.data.cric.commentary.comment+'
'); } if(message.data.cric.match){ console.log(message.data.cric.match.teams_1_inn2_r[0]); function ove(balls) { var overs = 0; if(balls %6 == 0){ overs = balls/6; }else{ overs = parseInt(balls/6)+"."+(+balls - +parseInt(balls/6)*6); } console.log(overs); return overs; }
if(!message.data.cric.match.teams_1_inn2_r[0]){
jQuery('#score_1_'+message.data.cric.match.teams_1_r[0]['id']).html(message.data.cric.match.teams_1_r[0]['score'] + " / " + message.data.cric.match.teams_1_r[0]['wkts']); jQuery('#over_1_'+message.data.cric.match.teams_1_r[0]['id']).html("("+ove(message.data.cric.match.teams_1_r[0]['balls'])+" overs)"); }else { jQuery('#score_1_'+message.data.cric.match.teams_1_r[0]['id']).html(message.data.cric.match.teams_1_r[0]['score'] + " / " + message.data.cric.match.teams_1_r[0]['wkts']+" & "+message.data.cric.match.teams_1_inn2_r[0]['score']+" / "+message.data.cric.match.teams_1_inn2_r[0]['wkts']); jQuery('#over_1_'+message.data.cric.match.teams_1_r[0]['id']).html("("+ove(message.data.cric.match.teams_1_inn2_r[0]['balls'])+" overs)"); } if(!message.data.cric.match.teams_2_inn2_r[0]){
jQuery('#score_2_'+message.data.cric.match.teams_2_r[0]['id']).html(message.data.cric.match.teams_2_r[0]['score'] + " / " + message.data.cric.match.teams_2_r[0]['wkts']); jQuery('#over_2_'+message.data.cric.match.teams_2_r[0]['id']).html("("+ove(message.data.cric.match.teams_2_r[0]['balls'])+" overs)"); }else { jQuery('#score_2_'+message.data.cric.match.teams_2_r[0]['id']).html(message.data.cric.match.teams_2_r[0]['score'] + " / " + message.data.cric.match.teams_2_r[0]['wkts']+" & "+message.data.cric.match.teams_2_inn2_r[0]['score']+" / "+message.data.cric.match.teams_2_inn2_r[0]['wkts']); jQuery('#over_2_'+message.data.cric.match.teams_2_r[0]['id']).html("("+ove(message.data.cric.match.teams_2_inn2_r[0]['balls'])+" overs)"); }
if(message.data.cric.match.teams_1_r[0]['extras']!=null){ jQuery('#extras_1_r_'+message.data.cric.match.teams_1_r[0]['id']).html("("+ove(message.data.cric.match.teams_1_r[0]['extras'])); } if(message.data.cric.match.teams_2_r[0]['extras']!=null){ jQuery('#extras_2_r_'+message.data.cric.match.teams_1_r[0]['id']).html("("+ove(message.data.cric.match.teams_2_r[0]['extras'])); } if(message.data.cric.match.teams_1_inn2_r[0]['extras']!=null){ jQuery('#extras_1_r_2_'+message.data.cric.match.teams_1_inn2_r[0]['id']).html("("+ove(message.data.cric.match.teams_1_inn2_r[0]['extras'])); } if(message.data.cric.match.teams_2_inn2_r[0]['extras']!=null){ jQuery('#extras_1_r_2_'+message.data.cric.match.teams_2_inn2_r[0]['id']).html("("+ove(message.data.cric.match.teams_2_inn2_r[0]['extras'])); }
//extras_1_r_2_ // if(prev_bat_team != message.data.cric.team_id){ jQuery('#widget_wrapper').load(document.URL + ' #widget_wrapper'); // } // prev_bat_team = message.data.cric.team_id // }
}); });
England won by 31 runs (D/L)
England 's Innings
Batting
R
B
Jason Roy
c A Dananjaya b L Malinga
0
4
Jonny Bairstow
b T Perera
26
40
Joe Root
c A Dananjaya b D De Silva
71
83
Eoin Morgan
c & b L Malinga
92
91
Ben Stokes
c D De Silva b A Dananjaya
15
22
Jos Butler
b N Pradeep
28
25
Moeen Ali
b L Malinga
0
1
Chris Woakes
lbw by L Malinga
5
10
Liam Dawson
b L Malinga
4
4
Adil Rashid
not out
19
15
Olly Stone
not out
9
7
Extras
9 (lb 3, w 4, nb 2)
Fall of Wickets:
1-0 (J Roy, 0.4 ov), 2-72 (J Bairstow, 13.6 ov), 3-140 (J Root, 28.6 ov), 4-190 (B Stokes, 36.5 ov), 5-218 (E Morgan, 41.4 ov), 6-218 (M Ali, 41.5 ov), 7-245 (J Butler, 45.3 ov), 8-249 (C Woakes, 46.1 ov), 9-254 (L Dawson, 46.6 ov)
| Bowling | O | M | R | W | E |
| --- | --- | --- | --- | --- | --- |
| Lasith Malinga | 10 | 1 | 44 | 5 | 4.40 |
| Nuwan Pradeep | 10 | 0 | 52 | 1 | 5.20 |
| Akila Dananjaya | 10 | 0 | 64 | 1 | 6.40 |
| Thisara Perera | 7 | 0 | 37 | 1 | 5.29 |
| Lakshan Sandakan | 9 | 0 | 59 | 0 | 6.56 |
| Dananjaya de Silva | 4 | 0 | 19 | 1 | 4.75 |
Sri Lanka's Innings
Batting
R
B
Niroshan Dickwella
c J Butler b O Stone
9
9
Upul Tharanga
c J Butler b C Woakes
0
1
Dinesh Chandimal
b C Woakes
6
13
Kusal Janith
c J Roy b L Dawson
30
37
Dasun Shanaka
c J Butler b C Woakes
8
15
Dananjaya de Silva
not out
36
50
Thisara Perera
not out
44
49
Extras
7 (b 1, lb 2, w 4)
Fall of Wickets:
1-9 (U Tharanga, 0.6 ov), 2-16 (N Dickwella, 3.1 ov), 3-20 (D Chandimal, 4.4 ov), 4-31 (D Shanaka, 8.5 ov), 5-74 (K Janith, 15.6 ov)
| Bowling | O | M | R | W | E |
| --- | --- | --- | --- | --- | --- |
| Chris Woakes | 5 | 0 | 26 | 3 | 5.20 |
| Olly Stone | 6 | 0 | 23 | 1 | 3.83 |
| Liam Dawson | 6 | 0 | 26 | 1 | 4.33 |
| Moeen Ali | 10 | 0 | 47 | 0 | 4.70 |
| Adil Rashid | 2 | 0 | 15 | 0 | 7.50 |