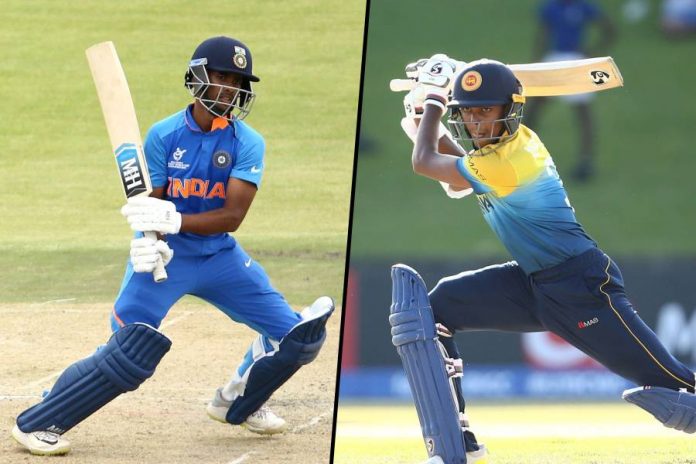 Sri Lanka U19s participated in their first match of the ICC U19 World Cup 2020 today (19th January) at Bloemfontein and failed to register a win, going down by 90 runs against tournament favorites India.
Sri Lanka skipper Nipun Dhananjaya won the toss and invited Priyam Garg's team to have a crack at the pitch and that's exactly what the Indians did.
From beginning to end, the Indian youngsters paced the innings so well they almost carried the team over 300. IPL millionaire Yashashvi Jaiswal laid the foundation for a huge score with a glorious half-century while skipper Garg also mustered half-century in the first match.
>>Watch – SL U19 captain Nipun Dananjaya's fifty<<
Indian youngsters Yashasvi Jaiswal, Priyam Garg and Dhruv Jurel were the stars of the batting unit, as bad fielding efforts also helped India to 290+. Sri Lanka U19s granted 17 extras in their bowling effort against the defending champions. 
The Sri Lankan death bowling looked clueless as the Indian U19s stole 98 runs in the last 10 overs from Sri Lanka.
Skipper Nipun Dhananjaya was the sole batsman to reach 50-mark in Sri Lanka's 207 during the reply innings. The Sri Lanka captain was on his way to the target as he balanced the required run rate. 
Ravindu Rashanstha also played well as he missed a half-century by 1 run.
>>Watch – Ravindu De Silva's blistering 85 vs Pakistan U19<<
Ultimately, the Indians were too good for Sri Lanka as the islanders were dismissed for 207 inside 46 overs, to hand India U19s a comfortable victory in their title defense.
Sri Lanka U19s will play their 2nd match in the ICC U19 World Cup against New Zealand on 22nd January at the same venue and that fixture will be vital for Sri Lanka to qualify for the knockout stages.


Batsmen
R
B
4s
6s
SR
Yashasvi Jaiswal
c Kamil Mishara b Dilshan Madusanka
59
74
8
0
79.73
Divyansh Saxena
c Nipun Dananjaya b Amshi De Silva
23
27
3
0
85.19
Thakur Tilak Varma
st Kamil Mishara b Ashian Daniel
46
53
3
0
86.79
Priyam Garg
st Kamil Mishara b Kavindu Nadeeshan
56
72
2
0
77.78
Dhruv Jurel
not out
52
48
3
1
108.33
Siddhesh Veer
not out
44
27
6
1
162.96
| | |
| --- | --- |
| Extras | 17 (b 0 , lb 1 , nb 1, w 15, pen 0) |
| Total | 297/4 (50 Overs, RR: 5.94) |
| Fall of Wickets | 1-66 (11.5) Divyansh Saxena, 2-112 (21.4) Yashasvi Jaiswal, 3-171 (31.3) Thakur Tilak Varma, 4-234 (42.2) Priyam Garg, |
| Bowling | O | M | R | W | Econ |
| --- | --- | --- | --- | --- | --- |
| Amshi De Silva | 6 | 0 | 40 | 1 | 6.67 |
| Matheesha Pathirana | 8 | 0 | 49 | 0 | 6.12 |
| Ashian Daniel | 10 | 1 | 39 | 1 | 3.90 |
| Dilshan Madusanka | 10 | 0 | 69 | 1 | 6.90 |
| Kavindu Nadeeshan | 10 | 0 | 58 | 1 | 5.80 |
| Navod Paranavithana | 6 | 0 | 41 | 0 | 6.83 |


Batsmen
R
B
4s
6s
SR
Navod Paranavithana
c Akash Singh b Sushant Mishra
6
13
0
0
46.15
Kamil Mishara
b Siddhesh Veer
39
59
4
1
66.10
Ravindu De Silva
b Yashasvi Jaiswal
49
70
5
0
70.00
Thaveesha Abhishek
c Thakur Tilak Varma b Karthik Tyagi
15
33
0
0
45.45
Nipun Dananjaya
lbw b Akash Singh
50
59
2
1
84.75
Sonal Dinusha
c Dhruv Jurel b Akash Singh
16
16
0
1
100.00
Kavindu Nadeeshan
b Ravi Bishnol
4
11
0
0
36.36
Ashian Daniel
lbw b Ravi Bishnol
0
1
0
0
0.00
Amshi De Silva
c Priyam Garg b Siddhesh Veer
5
4
1
0
125.00
Dilshan Madusanka
not out
4
4
1
0
100.00
Matheesha Pathirana
run out (Divyansh Saxena)
0
3
0
0
0.00
| | |
| --- | --- |
| Extras | 19 (b 4 , lb 1 , nb 1, w 13, pen 0) |
| Total | 207/10 (45.2 Overs, RR: 4.57) |
| Fall of Wickets | 1-19 (3.6) Navod Paranavithana, 2-106 (22.5) Ravindu De Silva, 3-113 (24.5) Kamil Mishara, 4-148 (33.2) Thaveesha Abhishek, 5-181 (38.2) Sonal Dinusha, 6-195 (41.5) Kavindu Nadeeshan, 7-195 (41.6) Ashian Daniel, 8-203 (43.4) Amshi De Silva, 9-203 (44.3) Nipun Dananjaya, 10-207 (45.2) Matheesha Pathirana, |
| Bowling | O | M | R | W | Econ |
| --- | --- | --- | --- | --- | --- |
| Karthik Tyagi | 7.2 | 0 | 27 | 1 | 3.75 |
| Sushant Mishra | 7 | 0 | 34 | 1 | 4.86 |
| Akash Singh | 9 | 1 | 29 | 2 | 3.22 |
| Siddhesh Veer | 6 | 0 | 34 | 2 | 5.67 |
| Ravi Bishnol | 10 | 0 | 44 | 2 | 4.40 |
| Subhang Hegde | 2 | 0 | 10 | 0 | 5.00 |
| Yashasvi Jaiswal | 3 | 0 | 18 | 1 | 6.00 |
| Tilak Varma | 1 | 0 | 6 | 0 | 6.00 |