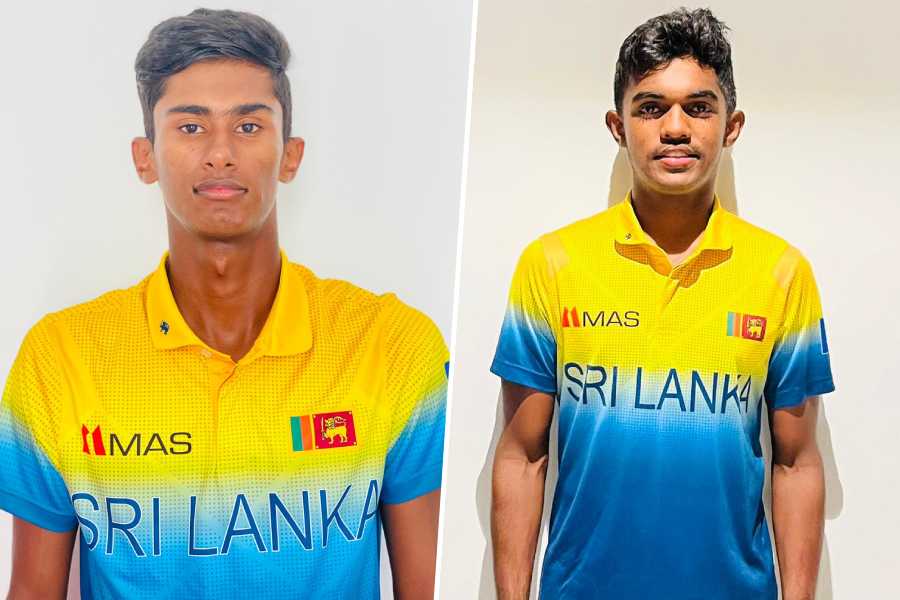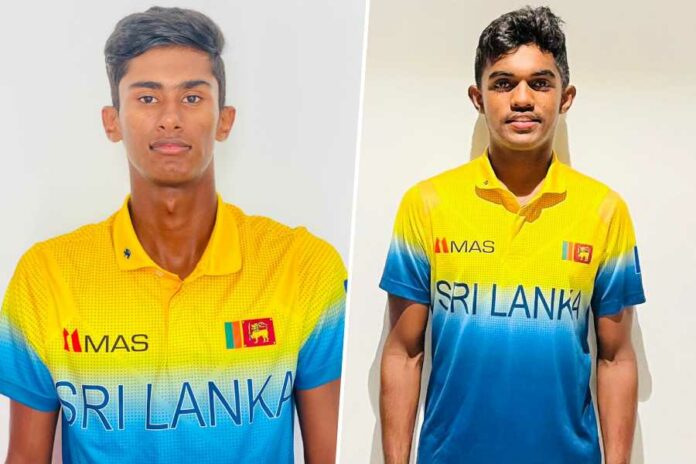 Ranuda Somarathne stroked a brilliant century, helping Sri Lanka U19s register a 3-wicket win over England U19s in the first Youth Test between the sides at County Ground, Chelmsford.
England U19s resumed their 2nd innings on day four at 199/3 with a 179-run lead but the hosts were not able to capitalize on the good start given by their top order batters as they were bowled out for 292 runs, losing 7 wickets for just 93 runs in the morning session.
Left arm spinner Wanuja Sahan bowled exceptionally well for the visitors, claiming 4 wickets for 89 runs while speedster Duvindu Ranatunga gave him good support at the other end, picking up 3 wickets for 34 runs.
Chasing 273 runs to win in 59 overs, Sri Lanka lost 4 top order wickets for just 48 runs including the in-form batter Asitha Wanninayake, pushing the visitors onto the back foot. Number 5 batter Ranuda Somarathne and skipper Raveen de Silva then steadied the Sri Lankan innings, putting on a 50-run stand for the 5th wicket.
The wicket-keeper batter Lahiru Dawatage then joined Somarathne with de Silva dismissed and built a match defining partnership of 89 runs off 80 balls for the 6th wicket, keeping the visitors' hopes alive in the run-chase. Dawatage's busy knock of 49 runs off 49 balls with 8 fours kept the required run-rate under a manageable level for the Sri Lankans.
With all the top guns with the bat, back in the hut, Somarathne held his nerve to put Sri Lanka U19s over the line, building vital 40+ run partnerships with tail-enders Vinuja Ranpul and Wanuja Sahan for the 7th and 8th wicket respectively.
Somarathne produced a masterclass with the bat, scoring an unbeaten 120 runs off 115 balls with 12 fours and a six. With this win, Sri Lanka U19s now lead the 2-match Youth Test series 1-0, with the 2nd game scheduled to be played from 28th to 31st August at Derby.
387/10 (78.3) & 292/10 (75.5)
407/10 (141.1) & 276/7 (57.1)


Batsmen
R
B
4s
6s
SR
Harry Singh
c Lahiru Dewatage b Duvindu Ranatunga
27
46
2
0
58.70
Ben McKinney
c Vinuja Ranpul b Dulaj Samuditha
33
34
6
0
97.06
Ross Whitfield
c Wanuja Sahan b Vinuja Ranpul
86
106
8
1
81.13
George Bell
c Dulaj Samuditha b Vinuja Ranpul
107
96
16
0
111.46
Matthew Hurst
c Duvindu Ranatunga b Vinuja Ranpul
8
18
1
0
44.44
Alex Horton
c & b Wanuja Sahan
0
5
0
0
0.00
Dominic Kelly
st Lahiru Dewatage b Raveen de Silva
14
42
1
0
33.33
George Thomas
c Vinuja Ranpul b Dulaj Samuditha
19
24
2
0
79.17
Bertie Foreman
not out
58
56
4
2
103.57
Eddie Jack
c Lahiru Dewatage b Shevon Daniel
8
23
1
0
34.78
Benjamin Cliff
c Pawan Pathiraja b Wanuja Sahan
18
21
3
0
85.71
| | |
| --- | --- |
| Extras | 9 (b 4 , lb 4 , nb 0, w 1, pen 0) |
| Total | 387/10 (78.3 Overs, RR: 4.93) |
| Bowling | O | M | R | W | Econ |
| --- | --- | --- | --- | --- | --- |
| Dulaj Samuditha | 17 | 1 | 105 | 2 | 6.18 |
| Vinuja Ranpul | 10 | 0 | 62 | 0 | 6.20 |
| Wanuja Sahan | 18.3 | 5 | 56 | 2 | 3.06 |
| Duvindu Ranatunga | 17 | 1 | 100 | 4 | 5.88 |
| Raveen De Silva | 9 | 1 | 31 | 1 | 3.44 |
| Sadisha Rajapaksa | 1 | 0 | 6 | 0 | 6.00 |
| Shevon Daniel | 6 | 0 | 19 | 1 | 3.17 |


Batsmen
R
B
4s
6s
SR
Sadisha Rajapaksa
c Alex Horton b Benjamin Cliff
11
24
2
0
45.83
Asitha Wanninayake
b Thomas Aspinwall
132
315
19
0
41.90
Shevon Daniel
lbw b Benjamin Cliff
22
33
3
0
66.67
Pawan Pathiraja
lbw b Bertie Foreman
32
95
5
0
33.68
Ranuda Somarathne
c Bertie Foreman b Eddie Jack
65
114
6
0
57.02
Raveen de Silva
b Eddie Jack
62
135
7
0
45.93
Lahiru Dewatage
lbw b Thomas Aspinwall
0
1
0
0
0.00
Vinuja Ranpul
c Thomas Aspinwall b Bertie Foreman
42
85
4
2
49.41
Wanuja Sahan
b Bertie Foreman
13
29
2
0
44.83
Duvindu Ranatunga
lbw b Bertie Foreman
1
13
0
0
7.69
Dulaj Samuditha
not out
0
4
0
0
0.00
| | |
| --- | --- |
| Extras | 27 (b 11 , lb 9 , nb 1, w 6, pen 0) |
| Total | 407/10 (141.1 Overs, RR: 2.88) |
| Bowling | O | M | R | W | Econ |
| --- | --- | --- | --- | --- | --- |
| Benjamin Cliff | 28 | 5 | 68 | 2 | 2.43 |
| Thomas Aspinwall | 31 | 8 | 98 | 2 | 3.16 |
| Dominic Kelly | 23 | 6 | 65 | 0 | 2.83 |
| Eddie Jack | 23 | 6 | 62 | 2 | 2.70 |
| Bertie Foreman | 36.1 | 11 | 94 | 4 | 2.60 |


Batsmen
R
B
4s
6s
SR
Harry Singh
lbw b Wanuja Sahan
2
8
0
0
25.00
Ben McKinney
c Lahiru Dewatage b Wanuja Sahan
56
99
3
0
56.57
Ross Whitfield
b Vinuja Ranpul
110
134
12
1
82.09
George Bell
c Duvindu Ranatunga b Wanuja Sahan
29
27
3
1
107.41
Matthew Hurst
b Duvindu Ranatunga
39
105
0
1
37.14
Alex Horton
c Wanuja Sahan b Raveen De Silva
14
18
2
0
77.78
Dominic Kelly
b Wanuja Sahan
3
11
0
0
27.27
Thomas Aspinwall
c Shevon Daniel b Raveen De Silva
13
22
2
0
59.09
Bertie Foreman
c Vinuja Ranpul b Duvindu Ranatunga
12
14
2
0
85.71
Eddie Jack
c Vinuja Ranpul b Duvindu Ranatunga
7
16
1
0
43.75
Benjamin Cliff
not out
1
1
0
0
100.00
| | |
| --- | --- |
| Extras | 6 (b 0 , lb 5 , nb 0, w 1, pen 0) |
| Total | 292/10 (75.5 Overs, RR: 3.85) |
| Bowling | O | M | R | W | Econ |
| --- | --- | --- | --- | --- | --- |
| Dulaj Samuditha | 3 | 0 | 16 | 0 | 5.33 |
| Wanuja Sahan | 27 | 2 | 89 | 4 | 3.30 |
| Sadisha Rajapaksa | 6 | 1 | 15 | 0 | 2.50 |
| Vinuja Ranpul | 11 | 1 | 45 | 1 | 4.09 |
| Duvindu Ranatunga | 7.5 | 0 | 34 | 3 | 4.53 |
| Asitha Wanninayake | 4 | 0 | 13 | 0 | 3.25 |
| Raveen De Silva | 16 | 0 | 70 | 2 | 4.38 |
| Shevon Daniel | 1 | 0 | 5 | 0 | 5.00 |


Batsmen
R
B
4s
6s
SR
Sadisha Rajapaksa
b Thomas Aspinwall
4
9
1
0
44.44
Asitha Wanninayake
c Ben McKinney b Dominic Kelly
22
51
3
0
43.14
Shevon Daniel
b Thomas Aspinwall
6
13
1
0
46.15
Pawan Pathiraja
lbw b Thomas Aspinwall
4
14
0
0
28.57
Ranuda Somarathne
not out
120
115
12
1
104.35
Raveen De Silva
lbw b Ben McKinney
22
38
3
0
57.89
Lahiru Dewatage
lbw b Dominic Kelly
49
49
8
0
100.00
Vinuja Ranpul
c Harry Singh b Thomas Aspinwall
18
31
1
0
58.06
Wanuja Sahan
not out
23
23
1
0
100.00
| | |
| --- | --- |
| Extras | 8 (b 0 , lb 6 , nb 0, w 2, pen 0) |
| Total | 276/7 (57.1 Overs, RR: 4.83) |
| Bowling | O | M | R | W | Econ |
| --- | --- | --- | --- | --- | --- |
| Benjamin Cliff | 10.1 | 0 | 43 | 0 | 4.26 |
| Thomas Aspinwall | 16 | 3 | 67 | 4 | 4.19 |
| Dominic Kelly | 11 | 1 | 52 | 2 | 4.73 |
| Eddie Jack | 4 | 0 | 13 | 0 | 3.25 |
| Bertie Foreman | 13 | 0 | 74 | 0 | 5.69 |
| Ben McKinney | 3 | 0 | 21 | 1 | 7.00 |