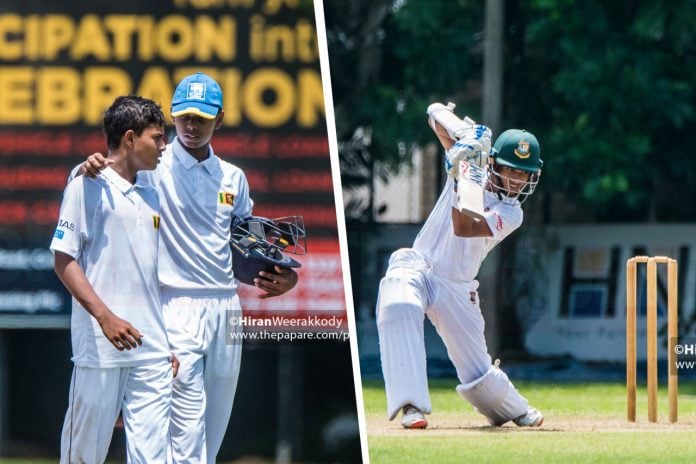 The Sri Lanka U19s were made to toil the entire day on the field as Bangladesh took complete control of the game with a healthy first innings lead of 137 by the end of day 2 of the 2nd and last Youth Test between the two teams at the Sheikh Abu Naser Stadium in Khulna.
Resuming their 1st innings from 71/2 in reply to the 184 made by the visitors, the overnight batting pair of Prantik Nawrose and Alvi Haque took Bangladesh almost past the Lankan 1st innings score. After batting through the first session unseparated, Nawrose was unfortunately caught behind 2 runs short of a well-deserved century when Bangladesh were trailing by just 1 run.
The 2nd and last Youth Test between Sri Lanka U19 and hosts Bangladesh U19 kick-started today at the….
Haque continued to maintain the Bangladeshi dominance over the tourists from then onwards as he was very well supported by Shahadat Hossain. The 81-run 4th wicket stand between Haque and Hossain made things worse for the Lions who were trying to recover after conceding a mammoth partnership of 135 runs for the 3rd wicket.
The dismissal of Haque for 72 runs by debutant pacie Amshi de Silva, however helped Sri Lanka to creep back with a few more quick wickets. From 264/3, the hosts lost 5 wickets for just 46 runs within a space of 15 overs or so. The rejuvenated Lankan bowlers hunted as a pack as Captain Nipun Dananjaya led the way, claiming 2 out of the 5 wickets which fell in that period of the game.
Bangladesh were still in the driving seat despite some late strikes as they finished the day on 321/8 with Meharab Hasan unbeaten on 15, holding the key for them. 
In bowling for Sri Lanka, Dunith Wellalage's efforts emerged to be brilliant as he did the bulk of the bowling. The 2 wickets during his marathon effort of 30 overs included the crucial wicket of Nawrose. 
The Lions will now have to put up something special with the bat tomorrow if they are to finish this game on a high. 
184/10 (54.3) & 346/9 (149)
354/10 (120.4) & 37/3 (14)


Batsmen
R
B
4s
6s
SR
Chamindu Wickramasinghe
c Shahadat Hossain b Ashiqur Rahman Ruhit
73
105
11
0
69.52
Thaveesha Abhishek
c Ashraful Islam b Shahin Alom
8
43
0
0
18.60
Ravindu De Silva
c Shahadat Hossain b Shahin Alom
2
5
0
0
40.00
Sonal Dinusha
c Pritom Kumar b Shahin Alom
0
3
0
0
0.00
Nipun Dananjaya
c Pritom Kumar b Shahin Alom
29
41
5
0
70.73
Avishka Perera
c Ashiqur Rahman Ruhit b Mehedi Hasan
2
24
0
0
8.33
Lakshan Gamage
c Meherab Hossain Ahin b Shahin Alom
47
68
5
1
69.12
Dunith Wellalage
c Pritom Kumar b Shahin Alom
17
27
3
0
62.96
Raveen De Silva
b Shahin Alom
0
10
0
0
0.00
Amshi De Silva
b Ashiqur Rahman Ruhit
0
1
0
0
0.00
Ruvin Peiris
not out
0
3
0
0
0.00
| | |
| --- | --- |
| Extras | 6 (b 1 , lb 0 , nb 3, w 2, pen 0) |
| Total | 184/10 (54.3 Overs, RR: 3.38) |
| Fall of Wickets | 1-46 (16.1) Thaveesha Abhishek, 2-57 (18.3) Ravindu De Silva, 3-58 (18.5) Sonal Dinusha, 4-115 (32.2) Nipun Dananjaya, 5-115 (33.1) Chamindu Wickramasinghe, 6-132 (40.5) Avishka Perera, 7-154 (48.2) Dunith Wellalage, 8-163 (50.6) Raveen De Silva, 9-168 (51.4) Amshi De Silva, 10-184 (54.3) Lakshan Gamage, |
| Bowling | O | M | R | W | Econ |
| --- | --- | --- | --- | --- | --- |
| Mehedi Hasan | 14 | 1 | 36 | 1 | 2.57 |
| Shahin Alom | 17.3 | 5 | 62 | 7 | 3.58 |
| Ashiqur Rahman Ruhit | 14 | 0 | 60 | 2 | 4.29 |
| Ashraful Islam | 8 | 2 | 23 | 0 | 2.88 |
| Meherab Hossain Ahin | 1 | 0 | 2 | 0 | 2.00 |


Batsmen
R
B
4s
6s
SR
Prantik Nawrose Nabil
c Avishka Perera b Dunith Wellalage
98
181
15
0
54.14
Sajid Hossain Seam
c Avishka Perera b Chamindu Wickramasinghe
26
32
4
0
81.25
Pritom Kumar
c Dunith Wellalage b Chamindu Wickramasinghe
6
14
1
0
42.86
Alvi Hoque
c Sonal Dinusha b Amshi De Silva
72
226
2
1
31.86
Shahadat Hossain
c Thaveesha Abhishek b Nipun Dananjaya
50
121
3
0
41.32
Amite Hasan
lbw b Ruvin Peiris
18
23
3
0
78.26
Meherab Hossain Ahin
not out
33
77
5
0
42.86
Ashraful Islam
lbw b Dunith Wellalage
6
11
1
0
54.55
Mehedi Hasan
c Lakshan Gamage b Nipun Dananjaya
0
6
0
0
0.00
Ashiqur Rahman Ruhit
lbw b Nipun Dananjaya
11
40
1
0
27.50
Shahin Alom
c Amshi De Silva b Nipun Dananjaya
0
5
0
0
0.00
| | |
| --- | --- |
| Extras | 34 (b 10 , lb 2 , nb 12, w 10, pen 0) |
| Total | 354/10 (120.4 Overs, RR: 2.93) |
| Fall of Wickets | 1-41 (11.1) Sajid Hossain Seam, 2-48 (13.5) Pritom Kumar, 3-183 (62.5) Prantik Nawrose Nabil, 4-264 (88.4) Alvi Hoque, 5-287 (95.3) Amite Hasan, 6-298 (100.1) Shahadat Hossain, 7-309 (103.2) Ashraful Islam, 8-310 (104.6) Mehedi Hasan, 9-340 (118.3) Ashiqur Rahman Ruhit, 10-354 (120.4) Shahin Alom, |
| Bowling | O | M | R | W | Econ |
| --- | --- | --- | --- | --- | --- |
| Amshi De Silva | 21 | 3 | 79 | 1 | 3.76 |
| Ruvin Peiris | 20 | 5 | 46 | 1 | 2.30 |
| Chamindu Wickramasinghe | 9 | 3 | 19 | 2 | 2.11 |
| Dunith Wellalage | 31 | 7 | 68 | 2 | 2.19 |
| Lakshan Gamage | 13 | 0 | 53 | 0 | 4.08 |
| Raveen De Silva | 10 | 1 | 42 | 0 | 4.20 |
| Nipun Dananjaya | 16.4 | 5 | 35 | 4 | 2.13 |


Batsmen
R
B
4s
6s
SR
Chamindu Wickramasinghe
c Pritom Kumar b Mehedi Hasan
24
16
4
1
150.00
Thaveesha Abhishek
c Pritom Kumar b Mehedi Hasan
18
29
3
0
62.07
Ravindu De Silva
b Meherab Hossain Ahin
33
84
4
0
39.29
Sonal Dinusha
c Alvi Hoque b Mehedi Hasan
55
148
4
0
37.16
Nipun Dananjaya
c Amite Hasan b Ashraful Islam
81
318
4
0
25.47
Avishka Perera
c Pritom Kumar b Prantik Nawrose Nabil
18
62
2
0
29.03
Lakshan Gamage
c Shahin Alom b Ashiqur Rahman Ruhit
45
96
7
0
46.88
Dunith Wellalage
c Pritom Kumar b Ashraful Islam
45
92
7
0
48.91
Raveen De Silva
not out
4
46
0
0
8.70
Amshi De Silva
lbw b Ashraful Islam
2
7
0
0
28.57
Ruvin Peiris
not out
0
2
0
0
0.00
| | |
| --- | --- |
| Extras | 21 (b 7 , lb 6 , nb 6, w 2, pen 0) |
| Total | 346/9 (149 Overs, RR: 2.32) |
| Fall of Wickets | 1-33 (4.6) Chamindu Wickramasinghe, 2-44 (8.5) Thaveesha Abhishek, 3-107 (31.5) Ravindu De Silva, 4-156 (58.3) Sonal Dinusha, 5-187 (74.6) Avishka Perera, 6-255 (104.6) Lakshan Gamage, 7-327 (133.2) Dunith Wellalage, 8-342 (145.5) Nipun Dananjaya, 9-346 (147.4) Amshi De Silva, |
| Bowling | O | M | R | W | Econ |
| --- | --- | --- | --- | --- | --- |
| Mehedi Hasan | 20 | 3 | 52 | 3 | 2.60 |
| Shahin Alom | 25 | 8 | 70 | 0 | 2.80 |
| Ashiqur Rahman Ruhit | 25 | 8 | 44 | 1 | 1.76 |
| Ashraful Islam | 34 | 6 | 76 | 3 | 2.24 |
| Meherab Hossain Ahin | 24 | 4 | 44 | 1 | 1.83 |
| Shahadat Hossain | 2 | 0 | 5 | 0 | 2.50 |
| Prantik Nawrose Nabil | 16 | 5 | 20 | 1 | 1.25 |
| Sajid Hossain Seam | 3 | 0 | 22 | 0 | 7.33 |


Batsmen
R
B
4s
6s
SR
Prantik Nawrose Nabil
lbw b Amshi De Silva
6
6
1
0
100.00
Sajid Hossain Seam
not out
18
46
2
0
39.13
Pritom Kumar
c Sonal Dinusha b Amshi De Silva
4
6
1
0
66.67
Alvi Hoque
b Raveen De Silva
7
23
0
0
30.43
Shahadat Hossain
not out
1
4
0
0
25.00
| | |
| --- | --- |
| Extras | 1 (b 0 , lb 0 , nb 1, w 0, pen 0) |
| Total | 37/3 (14 Overs, RR: 2.64) |
| Fall of Wickets | 1-10 (2.1) Prantik Nawrose Nabil, 2-15 (2.6) Pritom Kumar, 3-36 (13.2) Alvi Hoque, |
| Bowling | O | M | R | W | Econ |
| --- | --- | --- | --- | --- | --- |
| Amshi De Silva | 3 | 1 | 10 | 2 | 3.33 |
| Ruvin Peiris | 3 | 0 | 14 | 0 | 4.67 |
| Dunith Wellalage | 4 | 2 | 4 | 0 | 1.00 |
| Nipun Dananjaya | 2 | 1 | 4 | 0 | 2.00 |
| Raveen De Silva | 2 | 0 | 5 | 1 | 2.50 |