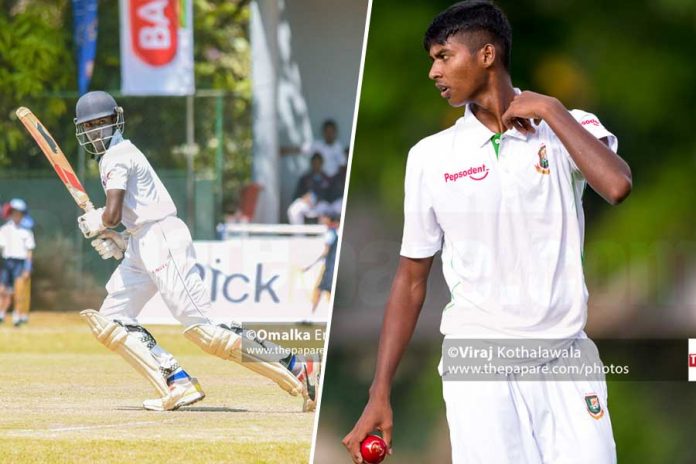 The 2nd and last Youth Test between Sri Lanka U19 and hosts Bangladesh U19 kick-started today at the Sheikh Abu Naser Stadium in Khulna. The home team ended day 1 in a strong position as they were on 71/2 after bundling out the visitors for 184.
The Sri Lanka U19s were put into bat first after the home Captain won the toss on day 1. The tourists made just 1 change to the batting order which scored 300+ in the 1st Youth Test in Barisal, replacing wicket-keeper Chihan Kalindu with Nalanda College skipper Avishka Perera. Along with Avishka, fellow Nalandian Raveen de Silva and Richmondite Amshi de Silva were also handed their maiden Youth Test caps. Trinity College skipper Ruvin Peiris was also included to the final playing XI as the bowling attack underwent a total of 3 changes from the 1st game in Barisal.
Read More : Malinga-like Matheesha steals the limelight in youth international debut
Sri Lanka faced an early loss of momentum when they lost 3 quick wickets after a modest opening stand of 46 between Chamindu Wickramasinghe and Thaveesha Abhishek. Half-centurion in the previous game, Sonal Dinusha was sent back for a duck to put Sri Lanka in deep trouble, as they were struggling on 58/3 with his dismissal.
Skipper Nipun Dananjaya together with Wickramasinghe rescued the Lankans from trouble at that point, adding 57 runs for the 4th wicket between them, before Shahin Alam, who had taken all 3 wickets to have fallen, completed his 5-wicket haul, dismissing both the set batsmen. 
Sri Lanka were able to add just 69 more runs from that point onwards as they were bundled out for a modest 184. After Wickramasinghe fell for 73 as the 5th wicket, spin bowler Avishka Lakshan took on the responsibility and accumulated 47 valuable runs with little support from the other end. Even with a batting order which had 9 capable batsmen Sri Lanka disappointingly failed to go past 200. Alam completed the Lankan collapse with impressive figures of 7/62.
In reply Bangladesh got off to a good start, scoring 41 runs for no loss in the first 11 overs. It was once again the Antonian Wickramasinghe who stood up for Sri Lanka as he provided them the much needed breakthrough with his right-arm pace bowling as the first change bowler.
The all-rounder who dismissed Bangladeshi opener Sajid Hossain for 26 struck again in his next over to dismiss Pritom Kumar for 6. Opener Prantik Nawrose and Alvi Haque batted the remaining 10 overs cautiously to see through the day with no further damage done. The duo will resume tomorrow with Bangladesh on 71/2, trailing Sri Lanka by 113 runs.
Interestingly, Sri Lanka used 7 bowlers in their 23 overs with Dunith Wellalage bowling 7, the most, for just 7 runs. Opening pacie Ruvin Peiris finished the day on the expensive side with an economy of 5.5.
>>Click Here For More Cricket News<<
184/10 (54.3) & 346/9 (149)
354/10 (120.4) & 37/3 (14)


Batsmen
R
B
4s
6s
SR
Chamindu Wickramasinghe
c Shahadat Hossain b Ashiqur Rahman Ruhit
73
105
11
0
69.52
Thaveesha Abhishek
c Ashraful Islam b Shahin Alom
8
43
0
0
18.60
Ravindu De Silva
c Shahadat Hossain b Shahin Alom
2
5
0
0
40.00
Sonal Dinusha
c Pritom Kumar b Shahin Alom
0
3
0
0
0.00
Nipun Dananjaya
c Pritom Kumar b Shahin Alom
29
41
5
0
70.73
Avishka Perera
c Ashiqur Rahman Ruhit b Mehedi Hasan
2
24
0
0
8.33
Lakshan Gamage
c Meherab Hossain Ahin b Shahin Alom
47
68
5
1
69.12
Dunith Wellalage
c Pritom Kumar b Shahin Alom
17
27
3
0
62.96
Raveen De Silva
b Shahin Alom
0
10
0
0
0.00
Amshi De Silva
b Ashiqur Rahman Ruhit
0
1
0
0
0.00
Ruvin Peiris
not out
0
3
0
0
0.00
| | |
| --- | --- |
| Extras | 6 (b 1 , lb 0 , nb 3, w 2, pen 0) |
| Total | 184/10 (54.3 Overs, RR: 3.38) |
| Fall of Wickets | 1-46 (16.1) Thaveesha Abhishek, 2-57 (18.3) Ravindu De Silva, 3-58 (18.5) Sonal Dinusha, 4-115 (32.2) Nipun Dananjaya, 5-115 (33.1) Chamindu Wickramasinghe, 6-132 (40.5) Avishka Perera, 7-154 (48.2) Dunith Wellalage, 8-163 (50.6) Raveen De Silva, 9-168 (51.4) Amshi De Silva, 10-184 (54.3) Lakshan Gamage, |
| Bowling | O | M | R | W | Econ |
| --- | --- | --- | --- | --- | --- |
| Mehedi Hasan | 14 | 1 | 36 | 1 | 2.57 |
| Shahin Alom | 17.3 | 5 | 62 | 7 | 3.58 |
| Ashiqur Rahman Ruhit | 14 | 0 | 60 | 2 | 4.29 |
| Ashraful Islam | 8 | 2 | 23 | 0 | 2.88 |
| Meherab Hossain Ahin | 1 | 0 | 2 | 0 | 2.00 |


Batsmen
R
B
4s
6s
SR
Prantik Nawrose Nabil
c Avishka Perera b Dunith Wellalage
98
181
15
0
54.14
Sajid Hossain Seam
c Avishka Perera b Chamindu Wickramasinghe
26
32
4
0
81.25
Pritom Kumar
c Dunith Wellalage b Chamindu Wickramasinghe
6
14
1
0
42.86
Alvi Hoque
c Sonal Dinusha b Amshi De Silva
72
226
2
1
31.86
Shahadat Hossain
c Thaveesha Abhishek b Nipun Dananjaya
50
121
3
0
41.32
Amite Hasan
lbw b Ruvin Peiris
18
23
3
0
78.26
Meherab Hossain Ahin
not out
33
77
5
0
42.86
Ashraful Islam
lbw b Dunith Wellalage
6
11
1
0
54.55
Mehedi Hasan
c Lakshan Gamage b Nipun Dananjaya
0
6
0
0
0.00
Ashiqur Rahman Ruhit
lbw b Nipun Dananjaya
11
40
1
0
27.50
Shahin Alom
c Amshi De Silva b Nipun Dananjaya
0
5
0
0
0.00
| | |
| --- | --- |
| Extras | 34 (b 10 , lb 2 , nb 12, w 10, pen 0) |
| Total | 354/10 (120.4 Overs, RR: 2.93) |
| Fall of Wickets | 1-41 (11.1) Sajid Hossain Seam, 2-48 (13.5) Pritom Kumar, 3-183 (62.5) Prantik Nawrose Nabil, 4-264 (88.4) Alvi Hoque, 5-287 (95.3) Amite Hasan, 6-298 (100.1) Shahadat Hossain, 7-309 (103.2) Ashraful Islam, 8-310 (104.6) Mehedi Hasan, 9-340 (118.3) Ashiqur Rahman Ruhit, 10-354 (120.4) Shahin Alom, |
| Bowling | O | M | R | W | Econ |
| --- | --- | --- | --- | --- | --- |
| Amshi De Silva | 21 | 3 | 79 | 1 | 3.76 |
| Ruvin Peiris | 20 | 5 | 46 | 1 | 2.30 |
| Chamindu Wickramasinghe | 9 | 3 | 19 | 2 | 2.11 |
| Dunith Wellalage | 31 | 7 | 68 | 2 | 2.19 |
| Lakshan Gamage | 13 | 0 | 53 | 0 | 4.08 |
| Raveen De Silva | 10 | 1 | 42 | 0 | 4.20 |
| Nipun Dananjaya | 16.4 | 5 | 35 | 4 | 2.13 |


Batsmen
R
B
4s
6s
SR
Chamindu Wickramasinghe
c Pritom Kumar b Mehedi Hasan
24
16
4
1
150.00
Thaveesha Abhishek
c Pritom Kumar b Mehedi Hasan
18
29
3
0
62.07
Ravindu De Silva
b Meherab Hossain Ahin
33
84
4
0
39.29
Sonal Dinusha
c Alvi Hoque b Mehedi Hasan
55
148
4
0
37.16
Nipun Dananjaya
c Amite Hasan b Ashraful Islam
81
318
4
0
25.47
Avishka Perera
c Pritom Kumar b Prantik Nawrose Nabil
18
62
2
0
29.03
Lakshan Gamage
c Shahin Alom b Ashiqur Rahman Ruhit
45
96
7
0
46.88
Dunith Wellalage
c Pritom Kumar b Ashraful Islam
45
92
7
0
48.91
Raveen De Silva
not out
4
46
0
0
8.70
Amshi De Silva
lbw b Ashraful Islam
2
7
0
0
28.57
Ruvin Peiris
not out
0
2
0
0
0.00
| | |
| --- | --- |
| Extras | 21 (b 7 , lb 6 , nb 6, w 2, pen 0) |
| Total | 346/9 (149 Overs, RR: 2.32) |
| Fall of Wickets | 1-33 (4.6) Chamindu Wickramasinghe, 2-44 (8.5) Thaveesha Abhishek, 3-107 (31.5) Ravindu De Silva, 4-156 (58.3) Sonal Dinusha, 5-187 (74.6) Avishka Perera, 6-255 (104.6) Lakshan Gamage, 7-327 (133.2) Dunith Wellalage, 8-342 (145.5) Nipun Dananjaya, 9-346 (147.4) Amshi De Silva, |
| Bowling | O | M | R | W | Econ |
| --- | --- | --- | --- | --- | --- |
| Mehedi Hasan | 20 | 3 | 52 | 3 | 2.60 |
| Shahin Alom | 25 | 8 | 70 | 0 | 2.80 |
| Ashiqur Rahman Ruhit | 25 | 8 | 44 | 1 | 1.76 |
| Ashraful Islam | 34 | 6 | 76 | 3 | 2.24 |
| Meherab Hossain Ahin | 24 | 4 | 44 | 1 | 1.83 |
| Shahadat Hossain | 2 | 0 | 5 | 0 | 2.50 |
| Prantik Nawrose Nabil | 16 | 5 | 20 | 1 | 1.25 |
| Sajid Hossain Seam | 3 | 0 | 22 | 0 | 7.33 |


Batsmen
R
B
4s
6s
SR
Prantik Nawrose Nabil
lbw b Amshi De Silva
6
6
1
0
100.00
Sajid Hossain Seam
not out
18
46
2
0
39.13
Pritom Kumar
c Sonal Dinusha b Amshi De Silva
4
6
1
0
66.67
Alvi Hoque
b Raveen De Silva
7
23
0
0
30.43
Shahadat Hossain
not out
1
4
0
0
25.00
| | |
| --- | --- |
| Extras | 1 (b 0 , lb 0 , nb 1, w 0, pen 0) |
| Total | 37/3 (14 Overs, RR: 2.64) |
| Fall of Wickets | 1-10 (2.1) Prantik Nawrose Nabil, 2-15 (2.6) Pritom Kumar, 3-36 (13.2) Alvi Hoque, |
| Bowling | O | M | R | W | Econ |
| --- | --- | --- | --- | --- | --- |
| Amshi De Silva | 3 | 1 | 10 | 2 | 3.33 |
| Ruvin Peiris | 3 | 0 | 14 | 0 | 4.67 |
| Dunith Wellalage | 4 | 2 | 4 | 0 | 1.00 |
| Nipun Dananjaya | 2 | 1 | 4 | 0 | 2.00 |
| Raveen De Silva | 2 | 0 | 5 | 1 | 2.50 |