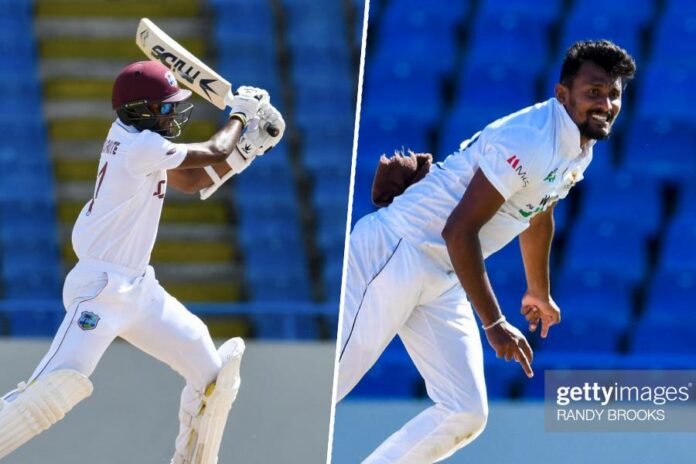 West Indian skipper Kraigg Brathwaite composed a brilliant innings on the opening day of the second Test match against Sri Lanka at Sir Vivian Richards Stadium in Antigua to present the day 01 honours for the hosts.
Sri Lanka skipper Dimuth Karunaratne won the toss and invited West Indian skipper Kraigg Brathwaite to bat first, expecting to fully utilize the early movement of the duke ball. Both teams were unchanged from the 1st Test match. 
Sri Lanka XI: Dimuth Karunaratne (C), Lahiru Thiramanne, Oshada Fernando, Dinesh Chandimal, Dhananjaya de Silva, Pathum Nissanka, Niroshan Dickwella (wk), Suranga Lakmal, Vishwa Fernando, Lasith Embuldeniya, Dushmantha Chameera

West Indies XI: Kraigg Brathwaite (C), John Campbell, Nkrumah Bonner, Kyle Mayers, Jermaine Blackwood, Joshua Da Silva (wk), Jason Holder, Rahkeem Cornwall, Alzarri Joseph, Kemar Roach, Shannon Gabriel.
The leader of Sri Lanka's bowling attack Suranga Lakmal launched a brilliant consecutive 10 over spell up-front troubling the West Indian top order constantly. He was working like a robot bowling a lengthy spell, each ball more or less in the same length and line, frustrating the opposition and drawing a mistake from them.
Sublime Suranga
Lakmal bowled his first 6 overs without conceding any runs and picking up the wickets of John Campbell and last match's centurion Nkrumah Bonner as the pair failed to reached double figures. It was in Lakmal's 7th over when the West Indians managed to score runs even though it came from an edge. Unfortunately, youngster Pathum Nissanka failed to grab on to a low catch at 2nd slip of Kyle Mayers who was on 12 in the same over.
"A bowling masterclass on a slow pitch by the 34-tear-old evergreen Suranga Lakmal" was the exact wordings former West Indian fast bowler Ian Bishop used on commentary to praise Lakmal's effort in the morning. 
After that initial burst, Brathwaite and Kyle Mayers took the attack to the bowling unit as the pair stretched the total to 86/2 when the umpires called for lunch. 
Even-Stevens at Tea
Sri Lanka managed to pick up a wicket just after the lunch break courtesy of Vishwa Fernando's probing spell as Mayers edged one to the keeper Niroshan Dickwella who grabbed a sharp low catch. Next man in, Jermaine Blackwood tried to counter attack Sri Lankan bowlers with his aggressive nature but the genius Lakmal drew him to a check drive which only edged and ended at the hands of Dickwella.
Former Caribbean skipper Jason Holder looked in golden touch from the get-go as he bludgeoned five boundaries in no time but was deceived by a loopy off-spinner from Dhananjaya de Silva who brought Sri Lanka right back into the game with a wicket just before the Tea break. (171/5)
Dhananjaya de Silva bowled with more control than the leading spinner Lasith Embuldeniya and almost earned another wicket in the same over but unfortunately a controversial DRS decision overturned the on-field umpire's LBW decision of Joshua da Silva.  
Brathwaite – The Wall
Even though Sri Lankan managed to chip in with wickets at regular intervals, one end of the wicket was safely secured thanks to West Indian skipper Brathwaite's patience innings. He scored his 21st Test half century and continued to anchor the innings, also bringing up his highest individual innings as the skipper. (Previous Best – 76 vs Bangladesh at Chattogram) He also reached 4000 Test runs becoming the 6th West Indian to do so.
Unsurprisingly, other batsmen continued to play expensive strokes since there was a guarantee at one end in the form of Brathwaite. He remained unbeaten on 99 at the stumps of day 01.
However, West Indian skipper was given a reprieve by Oshada Fernando at gully when he was 37 off Vishwa Fernando's bowling but that was the only chance Brathwaite presented throughout his innings. Sri Lanka dropped total of 3 catches in day 01 which didn't help their cause to bundle out the opposition after inviting to bat first.
Cornwall Charge – again?
First innings hero of the first Test, Rakheem Cornwall continued from where he left off in the previous innings as he started to plunder the Lankan attack comfortably. At one stage WI were 222/7 but thanks to Cornwall's rapid innings they ended the day on 287/7. The big Antiguan scored 43 runs including six boundaries and one six.
Sri Lanka speedster Vishwa Fernando deserves a mention here as two catches off his bowling was dropped by Sri Lanka fielders and few LBW shouts went for opposition's way on umpire's call. Fernando also received two warnings by the on-filed umpire Joel Wilson for running on the pitch and will be out of the attack for this innings if he receives another one.
Karunaratne's men will have a hard task ahead today to pick up these three remaining wickets and put on a competitive total on the board to keep dreaming of becoming the first Sri Lankan outfit to complete a Test series win in the Caribbean.
258/10 (108) & 193/2 (79)
354/10 (111.1) & 280/4 (72.4)


Batsmen
R
B
4s
6s
SR
Kraig Brathwaite
b Dushmantha Chameera
126
311
13
0
40.51
John Campbell
c Niroshan Dickwella b Suranga Lakmal
5
24
1
0
20.83
Nkrumah Bonner
b Suranga Lakmal
0
6
0
0
0.00
Kyle Mayers
c Niroshan Dickwella b Vishwa Fernando
49
61
8
0
80.33
Jermaine Blackwood
c Niroshan Dickwella b Suranga Lakmal
18
29
2
1
62.07
Jason Holder
c Lahiru Thirimanne b Dhananjaya de Silva
30
34
5
0
88.24
Joshua Da Silva
c Niroshan Dickwella b Dushmantha Chameera
1
35
0
0
2.86
Alzarri Joseph
lbw b Lasith Embuldeniya
29
41
3
1
70.73
Rahkeem Cornwall
c Vishwa Fernando b Suranga Lakmal
73
92
10
1
79.35
Kemar Roach
c Niroshan Dickwella b Dushmantha Chameera
9
36
1
0
25.00
Shannon Gabriel
not out
1
5
0
0
20.00
| | |
| --- | --- |
| Extras | 13 (b 0 , lb 6 , nb 7, w 0, pen 0) |
| Total | 354/10 (111.1 Overs, RR: 3.18) |
| Bowling | O | M | R | W | Econ |
| --- | --- | --- | --- | --- | --- |
| Suranga Lakmal | 28 | 11 | 94 | 4 | 3.36 |
| Vishwa Fernando | 27 | 4 | 71 | 1 | 2.63 |
| Lasith Embuldeniya | 25 | 5 | 88 | 1 | 3.52 |
| Dushmantha Chameera | 21.1 | 4 | 69 | 3 | 3.27 |
| Dhananjaya de Silva | 10 | 3 | 26 | 1 | 2.60 |


Batsmen
R
B
4s
6s
SR
Dimuth Karunarathne
c Nkrumah Bonner b Alzarri Joseph
1
17
0
0
5.88
Lahiru Thirimanne
b Kemar Roach
55
106
6
0
51.89
Oshada Fernando
lbw b Kyle Mayers
18
71
1
0
25.35
Dinesh Chandimal
c Hayden Walsh b Shannon Gabriel
44
101
5
0
43.56
Dhananjaya de Silva
lbw b Jermaine Blackwood
39
140
1
0
27.86
Pathum Nissanka
c Hayden Walsh b Kemar Roach
51
131
0
0
38.93
Niroshan Dickwella
c Joshua Da Silva b Jason Holder
20
25
0
0
80.00
Suranga Lakmal
c Kraig Brathwaite b Alzarri Joseph
6
9
0
0
66.67
Dushmantha Chameera
c Joshua Da Silva b Jason Holder
2
26
0
0
7.69
Lasith Embuldeniya
not out
5
21
0
0
23.81
Vishwa Fernando
c Joshua Da Silva b Kemar Roach
0
2
0
0
0.00
| | |
| --- | --- |
| Extras | 17 (b 4 , lb 5 , nb 7, w 1, pen 0) |
| Total | 258/10 (108 Overs, RR: 2.39) |
| Bowling | O | M | R | W | Econ |
| --- | --- | --- | --- | --- | --- |
| Kemar Roach | 19 | 5 | 59 | 3 | 3.11 |
| Shannon Gabriel | 16 | 3 | 37 | 1 | 2.31 |
| Alzarri Joseph | 22 | 4 | 64 | 2 | 2.91 |
| Jason Holder | 21 | 3 | 39 | 2 | 1.86 |
| Kyle Mayers | 11 | 7 | 10 | 1 | 0.91 |
| Rahkeem Cornwall | 15 | 5 | 25 | 0 | 1.67 |
| Jermaine Blackwood | 4 | 0 | 16 | 1 | 4.00 |


Batsmen
R
B
4s
6s
SR
Kraig Brathwaite
b Dushmantha Chameera
85
196
4
0
43.37
John Campbell
c Niroshan Dickwella b Suranga Lakmal
10
25
1
0
40.00
Jermaine Blackwood
c Niroshan Dickwella b Dushmantha Chameera
18
41
2
0
43.90
Kyle Mayers
lbw b Suranga Lakmal
55
76
8
0
72.37
Jason Holder
not out
71
88
7
0
80.68
Joshua Da Silva
not out
20
16
2
0
125.00
| | |
| --- | --- |
| Extras | 21 (b 2 , lb 12 , nb 6, w 1, pen 0) |
| Total | 280/4 (72.4 Overs, RR: 3.85) |
| Did not bat | Nkrumah Bonner, Alzarri Joseph, Rahkeem Cornwall, Kemar Roach, Shannon Gabriel, |
| Bowling | O | M | R | W | Econ |
| --- | --- | --- | --- | --- | --- |
| Suranga Lakmal | 14 | 3 | 62 | 2 | 4.43 |
| Vishwa Fernando | 12.4 | 1 | 49 | 0 | 3.95 |
| Dhananjaya de Silva | 28 | 3 | 81 | 0 | 2.89 |
| Dushmantha Chameera | 18 | 0 | 74 | 2 | 4.11 |


Batsmen
R
B
4s
6s
SR
Lahiru Thirimanne
c Rahkeem Cornwall b Alzarri Joseph
39
114
5
0
34.21
Dimuth Karunarathne
lbw b Kyle Mayers
75
176
9
0
42.61
Oshada Fernando
not out
66
119
8
0
55.46
Dinesh Chandimal
not out
10
66
1
0
15.15
| | |
| --- | --- |
| Extras | 3 (b 0 , lb 1 , nb 1, w 1, pen 0) |
| Total | 193/2 (79 Overs, RR: 2.44) |
| Did not bat | Dhananjaya de Silva, Pathum Nissanka, Niroshan Dickwella, Suranga Lakmal, Lasith Embuldeniya, Dushmantha Chameera, Vishwa Fernando, |
| Bowling | O | M | R | W | Econ |
| --- | --- | --- | --- | --- | --- |
| Kemar Roach | 12 | 2 | 33 | 0 | 2.75 |
| Jason Holder | 10 | 3 | 24 | 0 | 2.40 |
| Rahkeem Cornwall | 26.4 | 8 | 53 | 0 | 2.01 |
| Shannon Gabriel | 5.2 | 2 | 20 | 0 | 3.85 |
| Alzarri Joseph | 10 | 2 | 33 | 1 | 3.30 |
| Jermaine Blackwood | 6 | 1 | 17 | 0 | 2.83 |
| Kraig Brathwaite | 3 | 0 | 7 | 0 | 2.33 |
| Kyle Mayers | 6 | 4 | 5 | 1 | 0.83 |