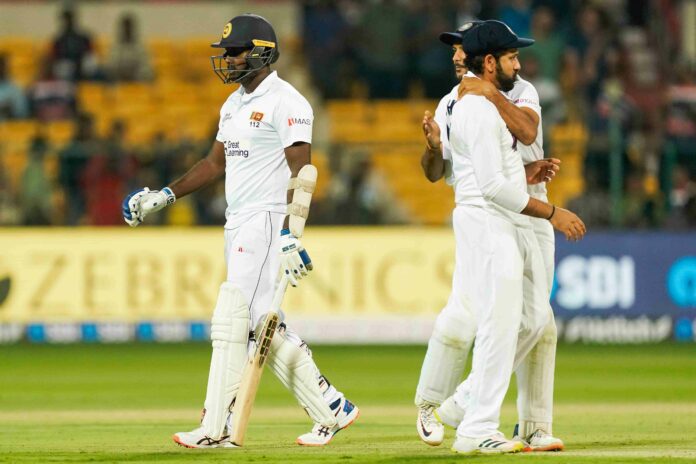 Sri Lanka were left tottering on 86/6 in response to India's 252 at stumps on day 1 of the 2nd Test between the sides at the Chinnaswamy Stadium in Bengaluru.
A low-scoring game seemed inevitable when signs of deterioration in the pitch became apparent as early as the 8th over of the game. With this being the case, Sri Lanka would have hoped they could restrict the hosts to below 200 but it wasn't to be as their nemesis from the T20I leg of the tour, Shreyas Iyer, played the innings of his life to lift India to 252.
While wickets fell around him, Iyer took the attack to the opposition, going at a strikerate above 90 for most of his innings. With the ball keeping low and being dismissed thanks to something happening off the pitch seeming an inevitability, Iyer took on the mantle to push India towards what now seems like a match-winning total.
Earlier in the day, Suranga Lakmal, in his final game for Sri Lanka, moved the ball both ways, but was unable to get the Indian batters to play as many as he would have liked. Regardless, he was the most economical bowler for Sri Lanka, while the spinners went for plenty, particularly off the bats of Iyer and Rishabh Pant.
Pant came in ahead of Iyer, to negate the effect of the two left-arm spinners, and once again shifted the momentum of the game decidedly towards India with 39 off 26 before Iyer took over. It didn't help that Pant was dropped on 4 by Suranga Lakmal at deep mid-wicket – a trap set for the new batter as he came up against spin.
While the track spun prodigiously in the 2 evening sessions, the seamers had their time in the last session of the day, with the ball seeming around consistently. Jasprit Bumrah was as menacing as ever alongside Mohammed Shami.
Angelo Mathews looked the most assured of the Sri Lankan batters but will be disappointed he didn't kick on, guiding a Bumrah slower ball straight into the hands of Rohit Sharma at slip with just 2 overs to go in the day.
Sri Lanka will commence day 2 with Niroshan Dickwella and Lasith Embuldeniya looking to get Sri Lanka as close to India's 252 as possible.
109/10 (35.5) & 208/10 (59.3)
252/10 (59.1) & 303/9 (68.5)


Batsmen
R
B
4s
6s
SR
Rohit Sharma
c Dhananjaya Lakshan b Lasith Embuldeniya
15
25
1
1
60.00
Mayank Agarwal
run out (Niroshan Dickwella)
4
7
1
0
57.14
Hanuma Vihari
c Niroshan Dickwella b Praveen Jayawickrama
31
81
4
0
38.27
Virat Kohli
lbw b Dhananjaya de Silva
23
48
2
0
47.92
Rishab Pant
b Lasith Embuldeniya
39
26
7
0
150.00
Shreyas Iyer
st Niroshan Dickwella b Praveen Jayawickrama
92
98
10
4
93.88
Ravindra Jadeja
c Lahiru Thirimanne b Lasith Embuldeniya
4
14
1
0
28.57
Ravichandran Ashwin
c Niroshan Dickwella b Dhananjaya de Silva
13
33
1
0
39.39
Axar Patel
b Suranga Lakmal
9
7
0
1
128.57
Mohammed Shami
c Dhananjaya de Silva b Praveen Jayawickrama
5
8
1
0
62.50
Jasprit Bumrah
b
0
10
0
0
0.00
| | |
| --- | --- |
| Extras | 17 (b 7 , lb 8 , nb 2, w 0, pen 0) |
| Total | 252/10 (59.1 Overs, RR: 4.26) |
| Fall of Wickets | 1-10 (1.3) Mayank Agarwal, 2-29 (9.3) Rohit Sharma, 3-76 (26.2) Hanuma Vihari, 4-86 (27.3) Virat Kohli, 5-126 (32.4) Rishab Pant, 6-148 (36.4) Ravindra Jadeja, 7-183 (47.1) Ravichandran Ashwin, 8-215 (49.6) Axar Patel, 9-229 (53.5) Mohammed Shami, 10-252 (59.1) Shreyas Iyer, |
| Bowling | O | M | R | W | Econ |
| --- | --- | --- | --- | --- | --- |
| Vishwa Fernando | 3 | 0 | 18 | 0 | 6.00 |
| Suranga Lakmal | 8 | 3 | 12 | 1 | 1.50 |
| Lasith Embuldeniya | 24 | 2 | 94 | 3 | 3.92 |
| Praveen Jayawickrama | 17.1 | 3 | 81 | 3 | 4.74 |
| Dhananjaya de Silva | 7 | 1 | 32 | 2 | 4.57 |


Batsmen
R
B
4s
6s
SR
Kusal Mendis
c Shreyas Iyer b Jasprit Bumrah
2
7
0
0
28.57
Dimuth Karunaratne
b Mohammed Shami
4
13
1
0
30.77
Lahiru Thirimanne
c Shreyas Iyer b Jasprit Bumrah
8
6
2
0
133.33
Angelo Mathews
c Rohit Sharma b Jasprit Bumrah
43
85
3
2
50.59
Dhananjaya de Silva
lbw b Mohammed Shami
10
24
1
0
41.67
Charith Asalanka
c Ravichandran Ashwin b Axar Patel
5
8
1
0
62.50
Niroshan Dickwella
c Rishab Pant b Jasprit Bumrah
21
38
1
0
55.26
Lasith Embuldeniya
c Rishab Pant b Jasprit Bumrah
1
16
0
0
6.25
Suranga Lakmal
b Ravichandran Ashwin
5
9
0
0
55.56
Praveen Jayawickrama
not out
1
1
0
0
100.00
Vishwa Fernando
st b
8
8
0
0
100.00
| | |
| --- | --- |
| Extras | 1 (b 1 , lb 0 , nb 0, w 0, pen 0) |
| Total | 109/10 (35.5 Overs, RR: 3.04) |
| Fall of Wickets | 1-2 (2.1) Kusal Mendis, 2-14 (4.2) Lahiru Thirimanne, 3-14 (5.1) Dimuth Karunaratne, 4-28 (11.5) Dhananjaya de Silva, 5-50 (17.3) Charith Asalanka, 6-85 (28.1) Angelo Mathews, |
| Bowling | O | M | R | W | Econ |
| --- | --- | --- | --- | --- | --- |
| Jasprit Bumrah | 10 | 4 | 24 | 5 | 2.40 |
| Ravichandran Ashwin | 8.5 | 1 | 30 | 2 | 3.53 |
| Mohammed Shami | 6 | 1 | 18 | 2 | 3.00 |
| Ravindra Jadeja | 6 | 1 | 15 | 0 | 2.50 |
| Axar Patel | 5 | 1 | 21 | 1 | 4.20 |


Batsmen
R
B
4s
6s
SR
Mayank Agarwal
c Dhananjaya de Silva b Lasith Embuldeniya
22
34
0
0
64.71
Rohit Sharma
c Angelo Mathews b Dhananjaya de Silva
46
79
0
0
58.23
Hanuma Vihari
b Praveen Jayawickrama
35
79
0
0
44.30
Virat Kohli
lbw b Praveen Jayawickrama
13
16
0
0
81.25
Rishab Pant
c & b Praveen Jayawickrama
50
31
0
0
161.29
Shreyas Iyer
lbw b Lasith Embuldeniya
67
87
0
0
77.01
Ravindra Jadedja
b Avishka Fernando
22
45
0
0
48.89
Ravichandran Ashwin
c Niroshan Dickwella b Praveen Jayawickrama
13
25
0
0
52.00
Axar Patel
b
9
10
0
0
90.00
Mohammed Shami
not out
16
8
0
0
200.00
| | |
| --- | --- |
| Extras | 10 (b 8 , lb 1 , nb 1, w 0, pen 0) |
| Total | 303/9 (68.5 Overs, RR: 4.4) |
| Bowling | O | M | R | W | Econ |
| --- | --- | --- | --- | --- | --- |
| Suranga Lakmal | 10 | 2 | 34 | 0 | 3.40 |
| Lasith Embuldeniya | 20.5 | 1 | 87 | 3 | 4.24 |
| Vishwa Fernando | 10 | 2 | 48 | 1 | 4.80 |
| Dhananjaya de Silva | 9 | 0 | 47 | 1 | 5.22 |
| Praveen Jayawickrama | 19 | 2 | 78 | 4 | 4.11 |


Batsmen
R
B
4s
6s
SR
Lahiru Thirimanne
lbw b Jasprit Bumrah
0
3
0
0
0.00
Dimuth Karunaratne
b
107
174
0
0
61.49
Kusal Mendis
st b
54
30
0
0
180.00
Angelo Mathews
b
1
5
0
0
20.00
Dhananjaya de Silva
c & b
4
21
0
0
19.05
Niroshan Dickwella
st b
12
39
0
0
30.77
Charith Asalanka
c & b
5
20
0
0
25.00
Lasith Embuldeniya
lbw b
2
22
0
0
9.09
Suranga Lakmal
b
1
4
0
0
25.00
Vishwa Fernando
c & b
2
6
0
0
33.33
Praveen Jayawickrama
not out
0
4
0
0
0.00
| | |
| --- | --- |
| Extras | 20 (b 16 , lb 3 , nb 1, w 0, pen 0) |
| Total | 208/10 (59.3 Overs, RR: 3.5) |
| Bowling | O | M | R | W | Econ |
| --- | --- | --- | --- | --- | --- |
| Jasprit Bumrah | 9 | 4 | 23 | 3 | 2.56 |
| Mohammed Shami | 6 | 0 | 26 | 0 | 4.33 |
| Ravichandran Ashwin | 19.3 | 3 | 55 | 4 | 2.85 |
| Ravindra Jadedja | 14 | 2 | 48 | 1 | 3.43 |
| Axar Patel | 11 | 1 | 37 | 2 | 3.36 |