With the clock ticking down for the FIBA U18 Asian Championships to be played from 13th-20th November, ThePapare.com sat down with Nirma Sasanthi, the Captain of the Girls' U18 team, on the segment, The Future Today, ThePapare.com`s hunting ground for new talent.
The path to basketball was not an easy one for Nirma, as like a secret love, she had to keep basketball a secret from her parents.
"I first played netball, when I was at Holy Family Convent, Wennappuwa. After a little while my present coach Susil Udukumbura asked me whether I would like to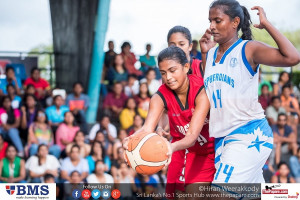 play basketball. I said yes, but my parents did not like it at all, so I told them I am going for netball practices but went for basketball instead".
It was a lie, but not one told to deceive her parents and engage in something mischievous but to unite with a sport she would grow to love.
"Eventually I was asked to settle down in one sport, so I told my parents that I love to play basketball and not netball. That annoyed them a bit but they said okay and I commenced my journey with their blessings when I was in grade nine. One year later, in grade ten I joined Good Shepherd Convent – Kotahena to further improve and pursue the sport".
So what was it about the game that drew Nirma to it? We asked her,
"Netball was a boring game for me when compared to basketball. I love the speed the game is played with and the fact that we get to dribble the ball all the time in basketball. That is what I liked in basketball over netball."
The journey was not an easy one, but the battles she fought have ultimately paid rich dividends for the youngster. Appointed Captain of the Youth Basketball Team, which will be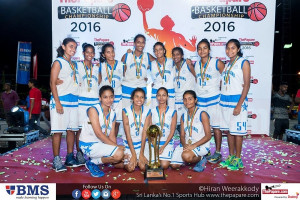 representing the country at the U18 Asian Championships in Thailand from the 13th– 20th of November, she is one of the most experienced campaigners in the team. In an overall count, this will be the sixth time she will be representing the country in the international arena.
"I first represented the country in 2012, that was when I was in grade nine. That was my first tour with the youth basketball team. Since then I was a part of the youth team in 2014 and 2016. This is my fourth year with the youth team. I also participated in the U16 FIBA Championship in 2013 and was a part of the 3×3 team which toured Malaysia for the U18 3×3 championship earlier this year".   
Having six national tours under her name and in her fourth year representing the youth team she has been handed over the duty of leading the nation up-front. We asked her how she feels about this and what the preparations for the tournament have been like.
"Well, I am proud of it. I was once appointed vice-captain of the U16 team in the year 2013 and so this is the 1st time where I will be captaining. The plan for the tournament with the team is to win all five matches and qualify for the level one stage. I speak to my team all the time and make sure that everyone attends the practice sessions accordingly. The rest of the team too gives me a lot of support and every one of us are in positive mind set".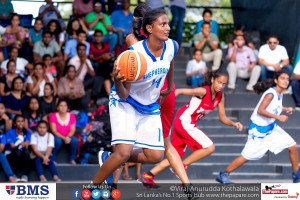 She has excelled in the sport for her age already having been on six national tours. Yet, today the present world is a place where you might need more than just a qualification to be established as a successful individual. The balance between studies and sports is an equation that is hard to balance. How does she do it?
"Well it is quite tough but my friends and teachers support me a lot. When I miss school I go to the teachers and learn the lessons once again. I attend extra classes when needed to so that I will be on track with my studies as well, just like the sport".
Sporting careers are mostly filled with unforgettable moments. But some are closer to your heart, some you dream about always and wish you could relive them. We asked her the moment that she would relive? Nirma smiled and said,
"We were in the finals of the All Island School games, which was held in Jaffna this year. We were trailing the game by five points with just forty seconds on the clock. One of my team mates shot a three pointer and still we were down by a couple of points. Then I get the chance to shoot two free-throws, which I did and the match went into over-time and we ended up winning it. Now that's a moment I will probably not forget.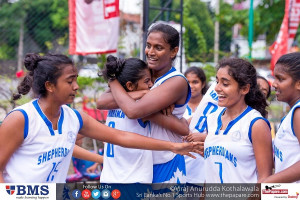 Nirma is very much an 'eat-sleep-breathe basketball' type of girl and this is reflected in the fact that she isn't even really interested in playing any other sport.
"I like to watch rugby but apart from that any other sport to engage in. I guess no. It will always be basketball that I love".
Couldn't have expected a better answer than that. Being faithful to her favorite thing in life, she said that basketball is even her hobby.
Nirma wants to be a part of senior women`s national team and pursue her basketball career in the club level as well sometime in the future.
There is no doubt that she will be one of the most valued assets in the Sri Lankan basketball franchise in the years to come. It is also the duty of the administrators to stand beside these future prospects and help them to develop in their game.
"Finally, I would like to thank my coach, Susil Udukumubura. Without him to I would have never played basketball. To my parents for agreeing with me on my choice of selecting basketball. If they never did agree I would not have achieved this. Also I would like to thank both the principals of Wennappuwa Holy Family Convent and Good Shepherd Convent – Kotahena for the immense support that they have rendered to me".
We thank her for her time and wish her all the best for the upcoming tournament with a sliver of hope that the future of basketball in Sri Lanka is in right hands.