The future today – ThePapare.com`s hunting ground for future talent, brings you Arnold Brent, who was named the Most Valuable Player at the recently concluded Inter-International Basketball Tournament, averaging thirty plus points per game in the tournament, creating quite the buzz in the basketball circles.
Clinton Thevakumar, his older brother, is one of the best in the business when it comes to the sport of basketball. So, as all stories are molded from the inspirations near to your heart, his tale begins with his brother.

"I used to go and watch my brother play when I was small. I was not interested at first but then with the time passing by and growing up around him coming home after practices and going for matches, it gradually got me interested me in the sport. Then I started playing in grade five for the U13 age category."
From taking up the sport at the under 13 level to representing Sri-Lanka at the youth level and now playing his final year for his school, this is his story.
Q: How is the support from your family?
It`s my mother and my brother who have been supporting to me throughout; especially my mother, who has helped me to strike a balance between sport and studies. My brother really helps with game tactics and shows me things I am doing right and wrong in games.
Q: The balance between studies and sports. How do you it?
Well my daily schedule goes in this manner; during the morning hours I have school and after school I attend a few classes till around 5.00 pm. After that I go for practices as well and then I go back home. I receive a lot of support from my mother to make sure that I don't let anything slip.    
Q: How is your practice schedule?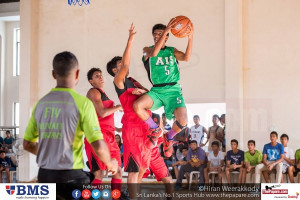 I practice five days a week. Three days I practice my shooting and all the basics in the sport. The remaining two days I practice different game situations. That is the normal practice schedule. But before a tournament, maybe a month before, I plan out my practice and pay more attention to fitness and stick to hard practice sessions.
Q: You started playing at St. Benedict`s College and now you are schooling at Asian International School. Why the change?
The sport wasn't really big at St. Benedict`s College even though as a team we were performing well; we ended up as semi-finalists in almost all the tournaments we played. Personally, I wanted to improve further and achieve more. So when I was offered a scholarship by Asian International School I opted to take it.
Q: You changed schools to achieve greater heights. Has it been worth it?
Well yes. The level I am at now compared to earlier is hugely different. After I came to AIS, my practice sessions changed and I began practicing five days a week, with more drills. Even though I am still in school, I can play with the players in the club level and go head-to-head with them. That is how much I have improved.
Q: Before a match and during the match what are the steps you follow to handle pressure and keep your focus on the game?
Before a match I have a chat with the coach on what the game plan is and what the work-outs we executing during the match will be. Then I rest myself well and listen to music to calm myself.
During the match it`s all about the focus you have on the game. I do not respond to anyone`s voices other than that of the coach and my team-mates when it comes to a work-out and of course the whistle of the referee.
Q: Tell us about an unforgettable moment you have experienced during your school career.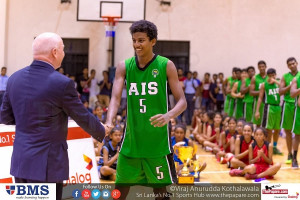 The best memory I have is when I got selected to play for the U18 national youth team where they toured Bangladesh in June this year for the U18 South Asian Basketball Championship. Winning my first club championship, the Hebert Cup, in Batticoloa earlier this year was also pretty special.   
Another unforgettable moment would be when I was awarded the most valuable player in the recently concluded Inter-International Basketball Championship. It was fabulous tournament.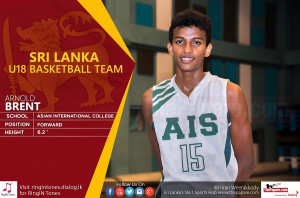 Q: Who are the toughest teams and players you have competed against?
School level it is St. Joseph`s College – Colombo 10 and in the club level the competition is very tough and every team is a challenge. If we take the toughest players that I have played against it would be my brother Clinton Thevakumar and Praneeth Udumalagala.          
Q: Who are your role models in the game, both locally and internationally?
Internationally I follow Tracy McGrady from the NBA. I focus a lot on my basics and I am not a fan of all the fancy playing. Tracy Mac Grady is also the same. He is a player who has excelled just doing the basics.
Locally without doubt it is my brother Clinton Thevakumar and Praneeth Udumalagala. They worked hard to get into the position that they are in today. I personally am a huge fan of working hard to achieve what we want in both life and sports.  
Q: What are your future plans in basketball?
Well, I want to develop my skills more and I have ample time for that. Then I want to play club level basketball. I have already started playing for the Colombo Basketball Club but I want to dominate it more with time and with the development of my skills. I would also like to represent my country at the national level and then move onto the international level as well.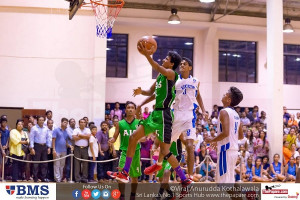 Q: How are you planning to achieve that?
I want to excel in my studies and hopefully if I can do well with my basketball as well I can apply for a scholarship to play and study abroad. Then with the scholarship opportunity I will hopefully be able to get exposure on the international level as well.
Q: Where does Sri Lanka basketball stand as you see it? What would you say to someone starting out?
Sri Lanka basketball is improving day by day. It is in a good place now but I hope the improvement will happen consistently and it will be in better place where we could play well at the international level as a country.
To anyone starting out, I think they have to believe in hard work. I never had this playing ability when I started playing. I worked hard every day. I listened to my coaches. I used my own free time to practice more and more of my basic skills. That is how I improved. So, there is nothing you cannot achieve. So if someone wants to start, hard work is the key. 
Q; Apart from basketball, do you have any other interests?
Nothing really. It's been only basketball and I think it will continue to be the same. If I did not play basketball I would have just pursued my studies.    
Q: Final words of gratitude?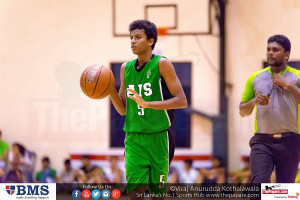 I would like to thank my mother and my brother for the endless support that they have been providing me with. I am also grateful to my coach when I was at St. Benedict`s College Asanga Perera and my two coaches at Asian International School, Ajith Kuruppu and Sivashakthi Selvaraja. Then my team-mates, friends and all the people who has supported me with even a word.  

ThePapare.com wishes this young star all the very best as he looks to achieve his dreams.