Sri Lanka moved up to 26th position in the International Netball Federation World Rankings which has been updated as at 30th June 2018.
Sri Lanka brushed aside hosts Singapore (69-50) with a …
Sri Lanka has moved above Hong Kong (27th) but are still behind Singapore and Malaysia who are in 21st and 25th positions respectively. Unfortunately for Sri Lanka, since the criteria has taken only the matches played up to 30th June, their Asian Netball triumph has not been considered.
Ranking period is from July 2015 – June 2018. During the period Singapore have played 43 matches while Malaysia and Hong Kong have played 14 and 19 matches respectively. Sri Lanka has played the least amongst the top four Asian teams with 11. Of those matches Singapore has played 29 matches in the last two years while Sri Lanka has only played 6 (Malaysia has 12 and Hong Kong has 15).
Sri Lanka's highest world ranking was 14th when the Island nation won the 2009 Asian Netball Championship. Since then Sri Lanka has been gradually going down in the rankings.
Read More: Sri Lanka defeat USA in World University Netball
Australia still reign supreme in rank 1 with 212 points. However, it is England who has taken the no.2 position from New Zealand after their recent shock win against Australia in the Commonwealth Games which has propelled them to 174 points. The biggest drop has been Fiji which has dropped from 7th place to 14th place.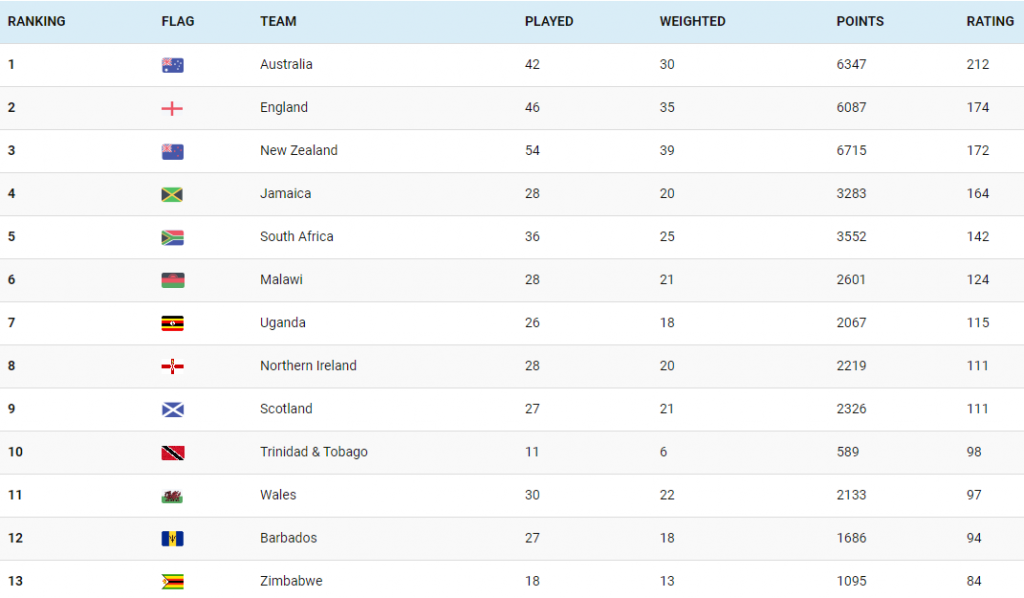 The first list was published on 11th February 2008. The latest list has been updated on 2nd July 2018 and includes matches up to 30th June 2018. The ranking list relates to senior teams of member countries that are playing regular international test matches.
A rating is a measure of the average performance of a team over a series of matches. Each team earns a certain number of points from each international match. Their rating is the total number of points earned divided by the number of matches played. The team with the highest rating is ranked first in the world. The next highest rating is ranked second and so on.
Read More: Sri Lanka goes down in Netball rankings
Weighting Matches played a long time ago are a poorer guide to current form than more recent results. Therefore, past results are weighted, giving a lower weighting to earlier results. For the purposes of this list, matches played since July 2017 currently have a full weighting (100%).
Matches played in the two previous years (July 2015-June 2016) have a weighting of 50%. Earlier matches are not directly included in the ratings at all.
Each July, the oldest year of results will drop out of the ratings and the weightings redistributed. This is the one annual occasion when the rankings list could alter other than through a match being played.
Points
The number of points earned by a team for any match depends on two factors. The result (won, tied or lost) and the opponent against whom the result was achieved. The higher an opponent's rating the more points are earned for beating them.
If a team wins a match they will earn 50 points more than their opponent's rating.  But if they lose, they will earn 50 points less than their opponent's rating.
Comment your thoughts on the recent success of Sri Lanka and what needs to be done for Sri Lanka Netball in the future!
>> For more Netball News Click Here <<