Sri Lanka finished 7th and last in the 3rd World University Netball Championship 2018 in Kampala, Uganda.
University of Sri Jayawardenapura (UoSJ) defeated University of Colombo to secure …
Sri Lanka's only win came against United States of America (USA). The score in that match read 50-48. In their other matches Sri Lanka lost to Zimbabwe (31-44), South Africa (6-116), Uganda (132-24), Kenya (33-62) & Singapore (37-62). This was the first time Sri Lanka participated in the World University Netball Championship.
Uganda beat South Africa 44-43 in a tense final to win the 3rd World University Netball Championship. Towering goal shooter Mary Nuba was the day's heroine as she made the decisive shot that gave Uganda the title.
"I have never felt better. This is the best day of my life," Nuba, who stands at 6ft 7in stated at the end of the final.
South Africa drew against Uganda 42-42 in the preliminary stage. According to the tournament structure each team played against each other, where at the end of the preliminary stage the top two teams moved into the final.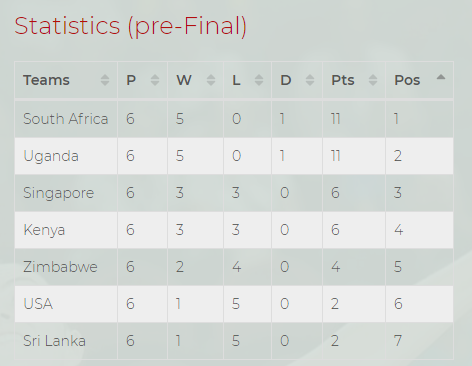 Sri Lanka was captained by Thushara Sankalpana Jayasekara from University of Sri Jayewardenepura and vice-captained by Tushani Ranawaka from University of Colombo. The team was coached by Surenthini Sithamparanathan.
Sri Lanka brushed aside hosts Singapore (69-50) with a characteristically …
Along with the captain and the vice-captain the Sri Lanka University Netball team had seven players who had represented the Sri Lanka Schools Team. They are, Maneesha Ranasinghe, Sonali Nanayakkara, Janathri Hiranya – all from University of Sri Jayewardenepura – Keyasha Siriwardana from University of Colombo and Sampavi Ramanan from University of Jaffna.
England won the inaugural edition in Cape Town, South Africa in 2012 while South Africa won in the second edition of the biennial championship in 2016.
Squad

Thushara Sankalpana Jayasekara (University of Sri Jayewardenepura) – Tushani Ranawaka (University of Colombo) – Maneesha Ranasinghe (University of Sri Jayewardenepura) – Sonali Nanayakkara (University of Sri Jayewardenepura) – Janathri Hiranya (University of Sri Jayewardenepura) – Keyasha Siriwardana (University of Colombo), Sampavi Ramanan (University of Jaffna) – Lakshmi Deepika Kumari (University of Kelaniya) – Tharuk Rajapksha (University of Kelaniya) – Yahani Wathsala (Wayamba University of Sri Lanka) – Anjalee Ruwanthika Amaradasa (Sabaragamuwa University of Sri Lanka) – Prasadini Vithanage (University of Peradeniya)
Results

South Africa 117 – 4 USA
Zimbabwe 44 – 31 Sri Lanka
Singapore 39 – 38 Kenya
Uganda 102 – 16 USA
Kenya 15 – 105 Uganda
South Africa 116 – 6 Sri Lanka
Zimbabwe 40 – 28 USA
Uganda 77 – 19 Singapore
Zimbabwe 36 – 54 Kenya
South Africa 92 – 11 Singapore
Uganda 132 – 24 Sri Lanka
USA 40 – 44 Kenya
South Africa 105 – 12 Zimbabwe
Singapore 37 – 41 USA
Sri Lanka 33 – 62 Kenya
Uganda 104 – 10 Zimbabwe
Singapore 62 – 37 Sri Lanka
South Africa 91 – 7 Kenya
Uganda 42 – 42 South Africa
Sri Lanka 50 – 48 USA
Singapore 45 – 40 Zimbabwe
>> For more Netball News Click Here <<