Anika Seneviratne and Yasitha De Silva have been crowned Nationals Champions at the 2020 Sri Lanka National Tennis Championship which commenced on the 9th of January.
2021 starts with a bang; Tennis Nationals to commence tomorrow
Both the Men's and Women's finals were scheduled today, 17th January, at the SLTA Hard courts. The Men's final took place at 9:00 am between Yasitha De Silva and Sharmal Dissanayake while the Women's final kicked off at 2:30 pm as Anika Seneviratne and Janali Manamperi took the court.
A 32-member draw saw Seneviratne as top rank and Manamperi starting as the second seed from the bottom of the draw.
Both players received a Bye in the first round. Seneviratne faced off against Dinethya Darmarathne while Manamperi took on Yasodara Koralage and breezed through in straight sets. The quarterfinal matches were similar and both women reached the semifinals quickly.
Seneviratne faced off against Savini Jayasuriya to win in straight sets 6,1 / 7,6(1) and booked her spot in the final. Manamperi from the bottom half was left with Hasali Gajaba who went down tamely with scores of 6,4 / 6,1. 
The final was dominated by Seneviratne as she took home a well-deserved title with scores of 6,0 / 6,4.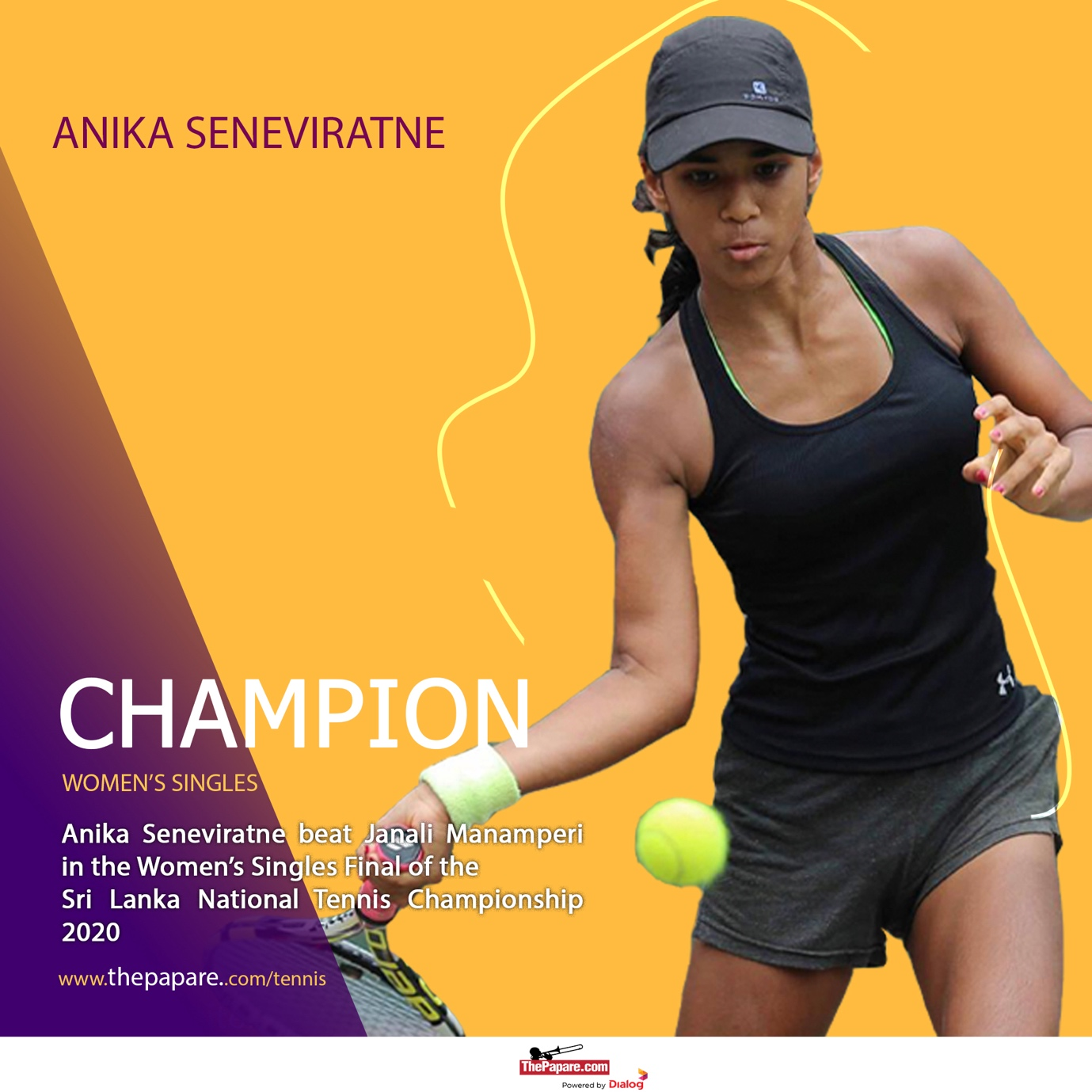 The Men's singles final saw Yasitha De Silva and Sharmal Dissanayake, two of the very best in Sri Lankan Men's Tennis take the court Sunday morning. 
In a 64-man draw named Dissanayake competing as top rank and De Silva the second seed who reached the final from the bottom half.
Dissanayake took on Kavisha Ratnayake in the Quarterfinal and flew through to the semifinal with a score of 6,2 /6,3. De Silva faced off against Dhilvan Herath of Royal College to book his Semifinal spot in 6,2 / 6,1.
Sankha Athukorala and Chathurya Nilaweera met Dissanayake and De Silva respectively in the semifinals. Coincidently both matches ended in scores of 7,6 / 6/3 resulting in the latter moving through to the final. 
The final started extremely close with the first set moving to a tie break. De Silva edged out with a 7,6 (3) score to win the set. This is when Dissanayake retired from the match awarding the win and crowning Yasitha De Silva as the new National Men's Champion for the year 2020.