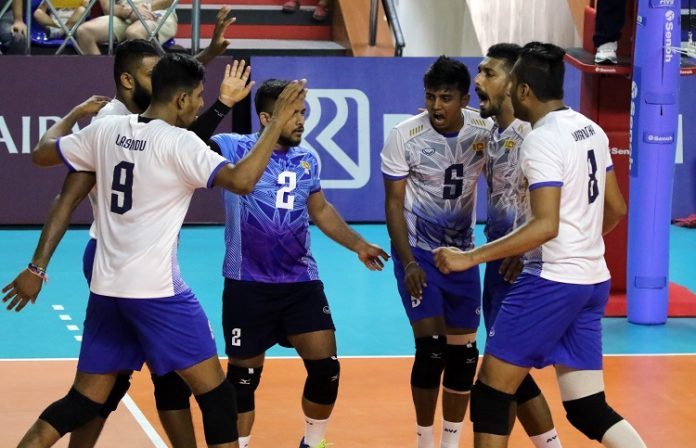 Sri Lanka came from a set down to defeat Maldives 3-1 in the Men's Volleyball competition at the 18th Asian Games, Jakarta-Palembang 2018.

Sri Lanka missed out on making the top 12 after they were defeated 3-1 by China in the Men's…
Sri Lanka lost the 1st set by 9-points, but won the 2nd and 4th sets comfortably. With this win Sri Lanka moved into the 13th – 16th place play-off semi-final.
In the 1st set Maldives were leading 4-8 at the first technical timeout and extended it to 4-13. Sri Lanka was in trouble as Maldives led by 11-points at 7-18, and went on to win the 1st set 16-25.
After a stern talk from Head Coach Dejan Vulicevic, Sri Lanka took an 11-9 lead in the 2nd set. A 5-0 run saw them take a healthy 16-9 lead. At 24-15 Maldives fought hard scoring the next three points, but the Lankans wrapped up the set 25-18.
With the game at balance, Sri Lanka raced to a 6-1 lead early in the 3rd set, but Maldives equalized the set at 15 all. Thereafter the Maldivians built a three-point lead at 20-17. Sri Lanka battled hard and got back into the set at 22 all before securing the 3rd set in sudden death, 27-25.
Sri Lanka's Asanka Pradeep Kumara and Malintha Yapa finished 3rd in Pool B in the Men's Beach Volleyball competition at the 18th Asian Games Jakarta-Palembang 2018.
Both sides matched each other point for point in the early stages of the 4th set. However, midway through the set, a 3-0, 4-0 & 4-0 run saw the Lankans take a 21-11 lead to win the set and the match at 25-15.
>>For more Volleyball News Click Here<