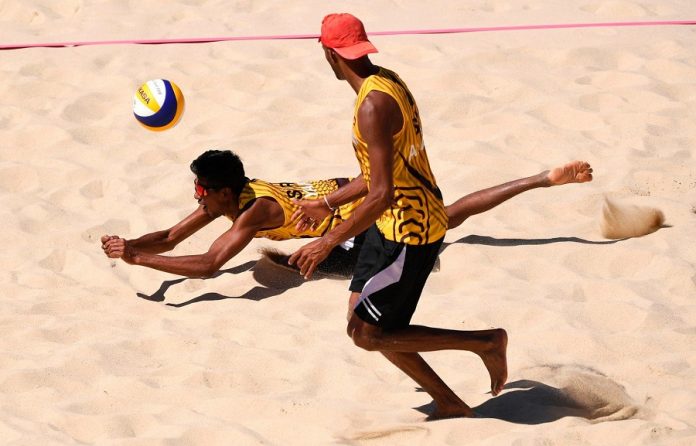 Sri Lanka's Asanka Pradeep Kumara and Malintha Yapa finished 3rd in Pool B in the Men's Beach Volleyball competition at the 18th Asian Games Jakarta-Palembang 2018.
Sri Lanka suffered a 2-0 loss against Sierra Leone in their final pool B encounter in Men's Beach
Sri Lanka bounced back from the opening day loss to secure a dominant win over South Korea but lost to Qatar to finish in 3rd place and miss out on the Round of 16.  
Sri Lanka v Qatar
Asanka Kumara and Malintha Yapa lost to Janko Ahmed and Samba Cherif 2-0 in their final Pool B encounter. In the match where both sets lasted 15 minutes each, Sri Lanka lost the 1st set 21-12 and the 2nd set 21-11.
Sri Lanka v South Korea
Asanka and Yapa defeated South Korea's Junyoung Kim and Hongchan Kim 2-0 in a Pool B encounter on day 2.
Sri Lanka lost to Thailand 3-1 in a thrilling encounter in the Men's Volleyball
The Lankan duo held their own in the 1st set and took a 6-point lead to win 21-15. In the 2nd set Asanka and Yapa dominated play to win comfortably 21-10.  
Sri Lanka v Kazakhstan
Sri Lanka lost their opening match on day 1 to Kazakhstan 2-0 after a close 1st set.
Sri Lanka's Malintha Yapa and Asanka Pradeep Kumara lost 2-0 against the Kazakhstan pair of Sergey Bogatu and Dimitriy Yakovlev at the Beach Volleyball stadium in Palembang, South Sumatra.
The 1st set was a close one where both pairs matches each other point for point. It went to sudden death at 21 all. It was the Kazakhs who came out on top 23-21. After playing well in the 1st set, the Asanka and Malintha faded rapidly in the 2nd set and lost 21-11.
>>For more Volleyball News Click Here<