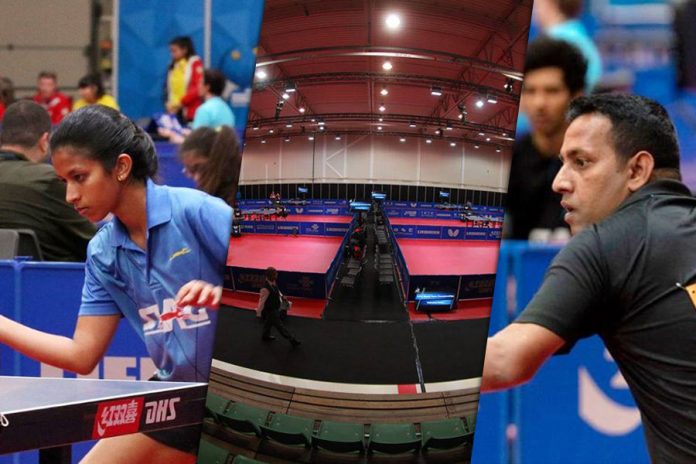 Liebherr 2018 World Team Table Tennis Championship
The Sri Lankan paddlers are in tough competition in Halstad Arena, Sweden at the Liebherr 2018 World Team Table Tennis Championship.
The Sri Lankan junior Table Tennis contingent who took flight to Male, Maldives earlier this week (20th – 23rd April)….
Sri Lanka was represented in both the Men's and Women's categories, grouped in Division III. The Men's Team consisted of current National Champion Imesh Ranasingha, Former Champion Rohan Sirisena, Jayasanka De Silva, Nirmala Jayasinghe and Rashmika Wikkramarathna. The Women's team was formed with Hansani Kapugeekiyana, Ishara Madurangi, Bandara Rajaguru and Jithara Warnakulasuriya.
Men's Team Performance
Out of the 5 matches in their group Sri Lanka's only win came through in the tie against New Zealand. Unfortunate losses to Mexico, South Africa, Uzbekistan, Congo Brazzaville saw Sri Lanka finish 5th out of the 6 countries in the group standings; this did not prove enough for an entry to the knockouts.
Playing for standings, they competed against Guatemala first and secured a 3-1 tie victory. A close tie against Jordan stretched out for all 5 rubbers in the tie saw all things squared at 2-2. The second reverse singles saw Sri Lanka's most experienced campaigner Rohan Sirisena down a set against Khaled Khader. Years of maturity in the sport helped Sirisena pull himself out of the ditch to secure the next three sets straight to close out the match and tie.
Sri Lanka will play Tonga in their final battle for the 61-64th positions on Saturday (5th May).
Sri Lankan paddlers only managed to clinch one win as their ride in the team event of the 21st …
Women's Team Performance
The Sri Lankan women's team suffered a similar fate as the Men's team in their journey, finishing 4th in their group. They received a W/O from Bangladesh and beat Maldives in a 3-0 whitewash. Hansani Kapugeekiyana came through in a magnificent 5 setter after being 2 sets to 0 down.
Playing for standings, Team Sri Lanka thrashed Morocco 3-0 with no time spared. They were also blessed with a bye in play-offs for the 61st-72nd positions. They await a team to play for the 61st-64th positions on Saturday (5th May).
Stay logged on to ThePapare.com for all Table Tennis news.