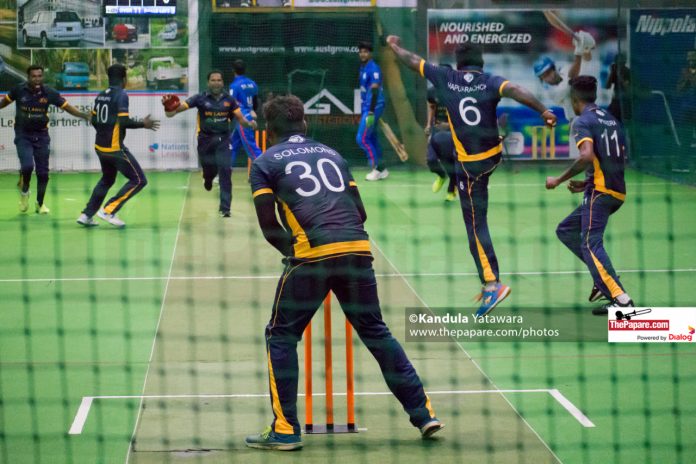 The Sri Lanka Indoor Cricket team for the New Zealand – Asia Cup will leave the country this Sunday, 31st March.
The six-nation (7 teams) tournament will be played in Singapore and will include teams from the host-nation Singapore (including Singapore A and the national team), Sri Lanka, India, Malaysia, United Arab Emirates and New Zealand. The tournament will be held from the 3rd to the 6th of April.
Read: Australia dominates Australasia Cup 2018
The Sri Lankan contingent will be led by Kolitha Hapuarachchi who is backed by over 10 years of indoor cricket experience. The squad comprises of first-class cricketers like Andy Solomans and Tharindu Mendis.
Sri Lanka squad – Kolitha Hapuarachchi (C), Rumesh Perera (Joint VC), Salman Faris (Joint VC), Tharindu Mendis, Malshan Rodrigo, Andy Solomons, Heshal Silva, Sheehan Wijetunge, Kamal Kuruppu, Kanishka Jayasumane, Nalaka de Silva, Gihan Gunatilleke, Angelo Samuels, Thivanka Dabare, Asela Pathirana (Coach), Dilshan Perumal (Asst. Coach), Asitha Dewpura (Manager), Hiran de Mel (WICF – Delegate)
The squad has been practicing for three months for this tournament which is going to be the biggest in World Indoor Cricket apart from the World Cup.
"The Indians will be tough and will give a fight, they are a good team, however, it will be a game by game approach to the tournament as no team can be taken lightly", head coach of the team, Asela Pathirana said to ThePapare.com.
Photos: Sri Lanka Indoor Cricket Team Practices ahead of New Zealand – Asia Cup 2019
New Zealand are one of the strongest teams in World Indoor Cricket as, barring 3 occasions, they have qualified for the finals of the World Cup, only to be undone by Australia every time.
Sri Lanka, India and Singapore will be hoping to use their experience from the recently concluded Australasia Cup where they competed against World Champions Australia.
Las year, the quadrangular was won by India.
Fixtures for Sri Lanka team will be as follows.
3-April
Sri Lanka Vs New Zealand

Sri Lanka Vs UAE
4-April
Sri Lanka Vs India
Sri Lanka Vs Malaysia
5-April
Sri Lanka Vs Singapore A

Sri Lanka Vs Singapore
6-April