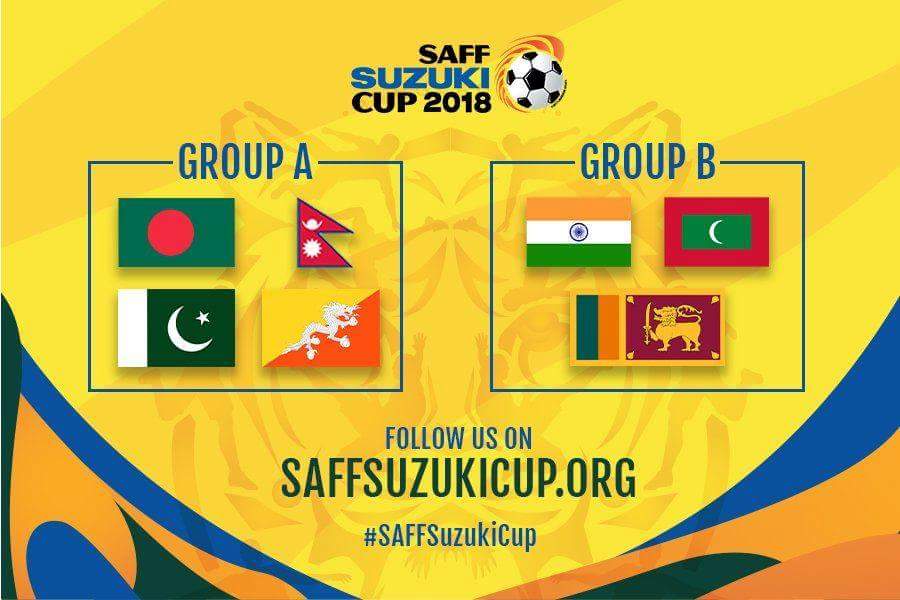 Sri Lanka was drawn in a tough Group B at the Official Group Stage Draw for the 2018 SAFF Suzuki Cup held today (18th April) in Dhaka, Bangladesh.
1995 champions Sri Lanka was drawn alongside defending and seven-time champions India & 2007 champions Maldives in Group B. Group A has hosts and 2003 champions Bangladesh, Bhutan, Nepal & Pakistan. The top-two teams from each group qualify for the semis-finals.
Reigning world champions Germany have retained their…
India are 97th in the world rankings while Maldives rank 147th, while Sri Lanka are all the way down in 200th out of 211.
Sri Lanka won the South Asian Football Federation (SAFF) Championship back in 1995 when they beat India 1-0 in the final while managing to reach the semi-final stage on four other occasions in 1997, 2008, 2009 & 2015. Sri Lanka were runners-up in the inaugural competition in 1993.  
The tournament, will be played from 4th-15th September and the Bangabandhu National Stadium will host all the matches.
Bangladesh, will be hosting the tournament for the third occasion while Afghanistan who were champions in 2013 and runners-up in 2011 & 2015, has withdrawn from the SAFF, as they have become a member of the Central Asian Football Association (CAFA) formed in 2015.
The Football Federation of Sri Lanka (FFSL) announced..
Pakistan return to the competition after a time of great turmoil for football in Pakistan where most of the action was taking place in courts rather than out on the field. In June of 2015, Faisal Hayat was suspended as the President of the Pakistan Football Federation (PFF) due to financial fraud.
However, Hayat contested for the PFF election that month and won which FIFA recognized. However, the Lahore High Court appointed Asad Munir to run the PFF, leading FIFA to impose a suspension on the PFF for what they saw as the government interfering in the sport, which saw them drop out of the 2015 SAFF Championship.
The General Secretary of the Bangladesh Football Federation (BFF) in his opening speech stated,
"It is a huge honor to host this prestigious tournament for the third time and we give a big thank you to all seven nations who took the decision to allow us to host this edition in the meeting held last year in Colombo."
For the draw, the teams were ranked based on their performances in the last 2 editions of the tournament, while the hosts and the defending champions were placed in separate groups thereby Bangladesh automatically put into Group A and India put into Group B.
>>For more Football News Click Here<<