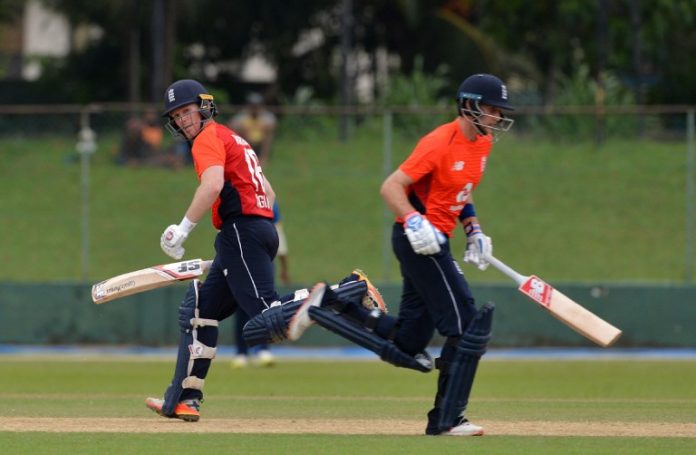 England warmed-up well for the five-match ODI series beating Sri Lanka Board XI by 43 runs (D/L method) in their first warm-up match on Friday at P. Sara Oval Grounds.
After Dinesh Chandimal, Kamindu Mendis fifties carried the hosts to 287, skipper Eoin Morgan and Joe Root compiled a match-winning, unbroken 174-run partnership for the 3rd wicket before bad light brought a premature end to the game when England were 215 for 2 in the 37th over.
Morgan and Root, the most experienced pair for England had no problems whatsoever in facing the Lankan bowlers. Left-handed Morgan smashed 3 sixes and 9 fours to accumulate 91 off 84 balls while Test skipper Root too remained unbeaten on 90 off 92 balls with 8 strokes to the rope.
Read: Sri Lanka vs England ODI Series 2018 – Let's talk Numbers
Opening batsman Jonny Bairstow was caught LBW for 3 runs by Udana in the 4th over of the England innings. Jason Roy made five elegant boundaries but was sent back courtesy a brilliant one-hand take by Udana at mid-off to the bowling of Kasun Rajitha in the 9th over, restricting England to 41 for 2.
Earlier, on a true surface Chandimal won the toss and opted to bat. Experienced campaigners, Dimuth Karunarathne and Lahiru Thirimanne got the Board XI off to a solid start adding 53 before the latter was castled by the off-spin of Moeen Ali in the 10th over. Two balls later, Karunarathne perished as well as Ali removed both the left-handers in only his 2nd over.
Chandimal, who last played an ODI in January but was appointed as Sri Lanka's ODI captain for the ICC Cricket World Cup next year, following the sacking of Angelo Mathews last week anchored the innings well. He looked in good touch despite missing the Asia Cup due to injury, scoring 7 fours and 1 six during his 85-ball 77.
He was well complimented by Kusal Mendis for the 3rd wicket as they constructed a 53-run stand before Ali took his 3rd scalp, trapping Mendis plumb in front for 22.
Read: When Sri Lanka brought England to their knees
Sadeera Samarawickrama, who is also in the ODI squad to face the visitors was cleverly bounced out by Ben Stokes for just 4.
Young 20-year old Kamindu Mendis showed immense maturity batting at number six, working the singles comfortably and putting away the bad ball. Chandimal departed when the score was 185 in the 36th over which put the hosts in a spot of bother to even reach 250.
T20 specialist, Isuru Udana joined former Richmondite, Mendis as they chipped in with a fine 43-ball stand worth 60 runs to take Sri Lanka Board XI to 287 for 9 wickets from their allotted 50 overs.
Mendis collected only 5 boundaries during his 72-ball 61 while Udana was dismissed in the penultimate ball of the innings after thumping 3 sixes and 3 fours on his way to 40 off 26 balls.
Read: Sri Lanka Board XI squads named for England warm-up clashes
Apart of Moeen Ali's three-wicket haul, Stokes and seamer Mark Wood took two wickets apiece.
The second warm-up match will be played at the same venue on 6th October (tomorrow).
// var socket=io('http://localhost:8080'); var socket=io('http://202.124.184.250:8080');
jQuery( document ).ready(function() { console.log( "ready" ); var prev_bat_team = 0;
socket.on('message',function (message) { message = JSON.parse(message); console.log(message); if( message.data.cric.commentary){ jQuery('#cmt_wrap').prepend('
'+message.data.cric.commentary.event+'
'+message.data.cric.commentary.comment+'
'); } if(message.data.cric.match){ console.log(message.data.cric.match.teams_1_inn2_r[0]); function ove(balls) { var overs = 0; if(balls %6 == 0){ overs = balls/6; }else{ overs = parseInt(balls/6)+"."+(+balls - +parseInt(balls/6)*6); } console.log(overs); return overs; }
if(!message.data.cric.match.teams_1_inn2_r[0]){
jQuery('#score_1_'+message.data.cric.match.teams_1_r[0]['id']).html(message.data.cric.match.teams_1_r[0]['score'] + " / " + message.data.cric.match.teams_1_r[0]['wkts']); jQuery('#over_1_'+message.data.cric.match.teams_1_r[0]['id']).html("("+ove(message.data.cric.match.teams_1_r[0]['balls'])+" overs)"); }else { jQuery('#score_1_'+message.data.cric.match.teams_1_r[0]['id']).html(message.data.cric.match.teams_1_r[0]['score'] + " / " + message.data.cric.match.teams_1_r[0]['wkts']+" & "+message.data.cric.match.teams_1_inn2_r[0]['score']+" / "+message.data.cric.match.teams_1_inn2_r[0]['wkts']); jQuery('#over_1_'+message.data.cric.match.teams_1_r[0]['id']).html("("+ove(message.data.cric.match.teams_1_inn2_r[0]['balls'])+" overs)"); } if(!message.data.cric.match.teams_2_inn2_r[0]){
jQuery('#score_2_'+message.data.cric.match.teams_2_r[0]['id']).html(message.data.cric.match.teams_2_r[0]['score'] + " / " + message.data.cric.match.teams_2_r[0]['wkts']); jQuery('#over_2_'+message.data.cric.match.teams_2_r[0]['id']).html("("+ove(message.data.cric.match.teams_2_r[0]['balls'])+" overs)"); }else { jQuery('#score_2_'+message.data.cric.match.teams_2_r[0]['id']).html(message.data.cric.match.teams_2_r[0]['score'] + " / " + message.data.cric.match.teams_2_r[0]['wkts']+" & "+message.data.cric.match.teams_2_inn2_r[0]['score']+" / "+message.data.cric.match.teams_2_inn2_r[0]['wkts']); jQuery('#over_2_'+message.data.cric.match.teams_2_r[0]['id']).html("("+ove(message.data.cric.match.teams_2_inn2_r[0]['balls'])+" overs)"); }
if(message.data.cric.match.teams_1_r[0]['extras']!=null){ jQuery('#extras_1_r_'+message.data.cric.match.teams_1_r[0]['id']).html("("+ove(message.data.cric.match.teams_1_r[0]['extras'])); } if(message.data.cric.match.teams_2_r[0]['extras']!=null){ jQuery('#extras_2_r_'+message.data.cric.match.teams_1_r[0]['id']).html("("+ove(message.data.cric.match.teams_2_r[0]['extras'])); } if(message.data.cric.match.teams_1_inn2_r[0]['extras']!=null){ jQuery('#extras_1_r_2_'+message.data.cric.match.teams_1_inn2_r[0]['id']).html("("+ove(message.data.cric.match.teams_1_inn2_r[0]['extras'])); } if(message.data.cric.match.teams_2_inn2_r[0]['extras']!=null){ jQuery('#extras_1_r_2_'+message.data.cric.match.teams_2_inn2_r[0]['id']).html("("+ove(message.data.cric.match.teams_2_inn2_r[0]['extras'])); }
//extras_1_r_2_ // if(prev_bat_team != message.data.cric.team_id){ jQuery('#widget_wrapper').load(document.URL + ' #widget_wrapper'); // } // prev_bat_team = message.data.cric.team_id // }
}); });
England won by 43 runs (D/L)
SL board XI's Innings
Batting
R
B
Dimuth Karunarathne
b M Ali
25
23
Lahiru Thirimanne
b M Ali
23
36
Dinesh Chandimal
c C Woakes b J Root
77
85
Kusal Mendis
lbw by M Ali
22
28
Sadeera Samarawickrama
c J Bairstow b B Stokes
4
11
Kamindu Mendis
c B Stokes b A Rashid
61
72
Shehan Madushanka
b B Stokes
10
17
Isuru Udana
c J Roy b M Wood
40
26
Jeffrey Vandersay
b M Wood
1
2
Nishan Peiris
not out
0
0
Extras
24 (b 1, lb 7, w 16)
Fall of Wickets:
1-53 (L Thirimanne, 9.4 ov), 2-54 (D Karunarathne, 9.6 ov), 3-107 (Kusal Mendis, 21.1 ov), 4-128 (S Samarawickrama, 24.6 ov), 5-184 (D Chandimal, 35.5 ov), 6-216 (S Madushanka, 41.5 ov), 7-276 (K Mendis, 48.6 ov), 8-287 (I Udana, 49.5 ov), 9-287 (J Vandersay, 49.6 ov)
| Bowling | O | M | R | W | E |
| --- | --- | --- | --- | --- | --- |
| Chris Woakes | 6 | 0 | 55 | 0 | 9.17 |
| Mark Wood | 6 | 0 | 38 | 2 | 6.33 |
| Moeen Ali | 10 | 0 | 42 | 3 | 4.20 |
| Olly Stone | 6 | 0 | 32 | 0 | 5.33 |
| Adil Rashid | 10 | 0 | 46 | 1 | 4.60 |
| Ben Stokes | 5 | 0 | 33 | 2 | 6.60 |
| Joe Root | 7 | 0 | 33 | 1 | 4.71 |
England 's Innings
Batting
R
B
Jason Roy
c I Udana b K Rajitha
27
29
Jonny Bairstow
lbw by I Udana
3
8
Joe Root
not out
90
92
Eoin Morgan
not out
91
84
Fall of Wickets:
1-15 (J Bairstow, 3.3 ov), 2-41 (J Roy, 8.1 ov)
| Bowling | O | M | R | W | E |
| --- | --- | --- | --- | --- | --- |
| Kasun Rajitha | 6 | 0 | 26 | 1 | 4.33 |
| Isuru Udana | 4.3 | 0 | 27 | 1 | 6.28 |
| Nishan Peiris | 8 | 0 | 59 | 0 | 7.38 |
| Shehan Madushanka | 4 | 0 | 30 | 0 | 7.50 |
| Kamindu Mendis | 8 | 0 | 37 | 0 | 4.63 |
| Jeffrey Vandersay | 5 | 0 | 34 | 0 | 6.80 |