53-56, HSC Blues were leading against Colombo BC in the finals of Colombo Super League (CSL), 2015. Anushka Jayalath passes on to Praneeth Udumalagala. The six-foot-tall Udumalagoda slots a 03 from the perimeter. Scores squared. Colombo BC goes on to win the CSL 16 in extra time. A buzzer-beater in the final four seconds; this, is his story.

"It was in the fourth grade, I remember senior (U19) players coming into my class and telling that they are recruiting new players. I went back home and told my parents. I was a good swimmer back then as well. My father told that basketball is a good sport that goes along with swimming, so you should do it. My father was the reason behind me taking up basketball".  Praneeth commenced the conversation.
Basketball was not his first love; he was already a top-notch swimmer for St. Joseph`s College – Colombo 10. But when the time came to decide which sport, young Udumalagala, decided to make basketball his 'forever'.
"I think I just liked basketball more, as they say ball is life. I was really good at swimming but there was something special towards basketball and I felt it from the get-go. I was representing national level on both sports and it was not easy for me to continue two sports in that level".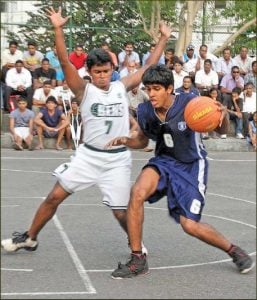 Even though Praneeth chose basketball, swimming helped him to elevate his game in basketball.
"I used to train in swimming every morning and it helped me to expand my lungs. I was more in shape. That made basketball easier for me. I think even in injuries, water-therapy helped me to stay away from them".
Praneeth was not only proficient in sport, studies took precedence as well. While juggling two sports, he was also the Deputy Head Prefect and achieved 2As and 1B in his G.C.E Advanced Level Examination.
"It was about prioritizing your goals and knowing what needs to be done. Ever since I started playing basketball  I knew that I was good at it, mine and my father`s dream was for me to go and engage in the sport in the USA. So I had a goal and an aim.

I knew I couldn`t just fly to USA even though I was good in my sport, so I had to make sure while I am getting better at the sport and also have to cover my school studies. It was nothing but hard work day in and day out. Basketball and studies were on the top two in my list, so it all came down to prioritizing". 
It was during his span of captaincy, that St. Joseph`s was crowned as the All-island Champions in 2012 and he was judged the Most Valuable Player. In the same year, Sri Lanka Schools' Boys' Team triumphed the Senior Nationals, once again under his leadership.
Praneeth`s coronation to club basketball came very early in his life. He allied himself with the Colombo Basketball Club, along-side his coach Roshan Randima, at age of 17. The young lad was exposed to the best of domestic basketball which paid valuable dividends to enhance his playing career.
"2012 was my last year at college. It was my goal to win all my games in my last year. I think it would rank on top five of my achievements.

Praneeth Udumalagala reprenseting Sri Lanka Schools Boys' Team at Senior Nationals

Winning Senior Nationals, Sri Lanka`s premier tournament was another big achievement. I must give a huge shout-out to all my team-mates that year, especially, Sudesh, Clinton, Tharindu, Khanishka, who played together with me as the starting five.

Playing alongside with my coach Roshan Randima, when I was 17 years old in the Colombo Basketball Club was a memorable experience. Then you come back to your regular U17 and U19 practices and it definitely gives you an edge. The club scene is more physical and more intense. So blessed to have had that experience".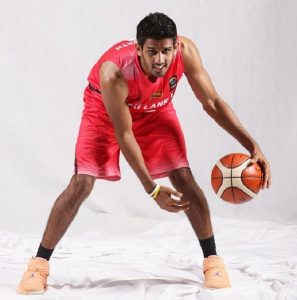 Club basketball at 17, national jersey was just around the corner. Praneeth started representing the paradise island, when Sri Lanka toured Maccau for the Schools' Asian Championships. Sri Lanka went on to beat India scoring 100 plus points and lost to Asian giants China by a mere 05 points, still a great feat for Sri Lanka Basketball.
"It was an unforgettable tour; we were stuck in the airport for a few days since there was an issue with the visas. We were sleeping at the airport, also the wins, I will never forget"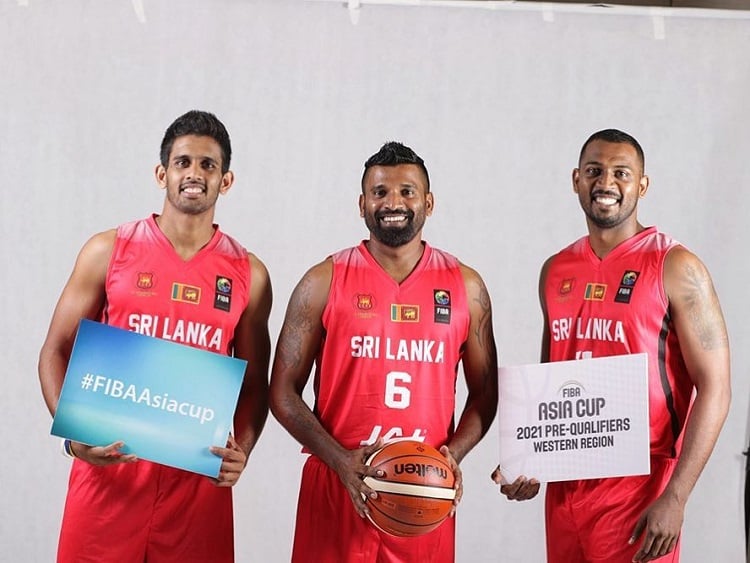 Praneeth was doing well, winning championships in basketball, winning grades in academics.  Representing Colombo BC in club basketball, Commercial Credit in mercantile basketball, Sri Lanka in international basketball, molding himself to be one of the best basketballers Sri Lanka has ever produced, when suddenly it all came tumbling down.
"It was probably the darkest time of my life. I was still playing for Commercial Credit and my father was at my critical moments of his life. I got injured in a match and had to stop playing for some time, two days later my father passed away. 

 After the funeral, I was informed by the doctors that I have torn one of my meniscus in my right leg. Response from the doctors were not positive in getting back on to the game. At that moment I felt like that I have lost the two most important things in my life, my dad and the game I love so much"
Stay logged for next week's Swishing the Nets: Praneeth`s recovery and transition to USA Basketball