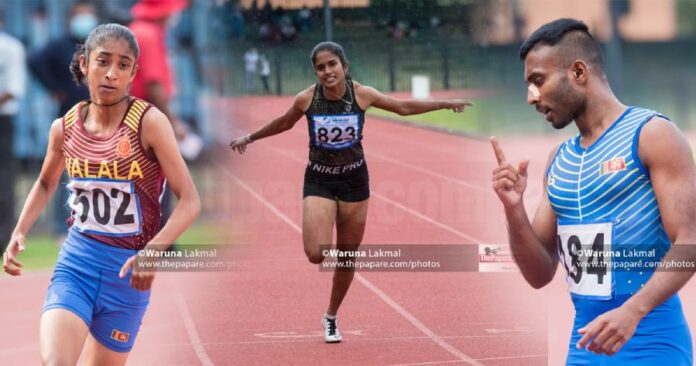 The Athletics Association of Sri Lanka has finalized and put forth 22 names to the National Selection Committee, for the upcoming Birmingham Commonwealth Games and 19th Asian Games, following the 100th National Athletics meet concluded earlier this month (April).
The National meet this year served as the final trial for both team selections and was concluded after three editions across three months.
This years' Commonwealth Games will take place in Birmingham, England from the 28th of July – 8th August. Earlier, the National Olympic Committee confirmed that at least a contingent with 17 sporting teams, both Men and Women, will be going to Birmingham from Sri Lanka.
Commonwealth Games 2022
Unsurprisingly, Olympians Yupun Abeykoon and Sumedha Ranasinghe have been included in the Commonwealth list along with the current Texas state champion in the Men's High Jump, Ushan Thiwanka. All three athletes qualified by achieving the given qualification standards by the Birmingham Commonwealth Committee.
Men's 400m National champion, Kalinga Kumarage has been included in the Men's squad for the Commonwealth Games with his 45.88sec at the Nationals was in line with the asking Qualification standard of 45.70sec.
Among the four women proposed for the Commonwealth Games is Long Jumper Sarangi Silva who has had a stellar year so far with a National Meet record earlier this month. Likewise, new record holders, middle-distance runner Gayanthika Abeyratne and 3000m Steeplechase winner Nilani Ratnayake will join Silva.
US based marathoner Hiruni Wijeratne's name has also been proposed for the Games. This will be Wijeratne's first meet representing Sri Lanka after the 2019 South Asian Games in Kathmandu, Nepal. With that, the 8-member squad for Commonwealth Games have been finalized and sent for approval to the National Selection Committee.
Asian Games 2022
7 of the 8 athletes picked for the Birmingham Games have also been included in the Asian Games contingent. The Asian Games 2022 is where Sri Lanka Athletics are eyeing a number of medals.
This time, three Relay teams have been included, the 4x400m Mixed Relay, the Men's 4x400m and the 4x100m Women's teams. The women's team includes Amasha De Silva and Rumeshika Rathnayake who performed exceptionally well in the past few meets and have kept their timings below 11.60 seconds.
Dilshi Kumarasinghe, a clear favorite for the Mixed Relay will unfortunately be left out of the contingent due to a leg injury. The new shining star in the Women's 400m, Tharushi Karunaratne has been performing above par this season, which is exactly why the selectors have opted to include the youngster and experienced campaigner Nadeesha Ramanayake as the second female lead in the 4x400m Mixed relay.
Proposed teams for Asian Games and Commonwealth Games 2022
| | |
| --- | --- |
| Asian Games 2022 | Commonwealth Games 2022 |
| | |
| Sumedha Ranasinghe (Javelin Throw) | Sumedha Ranasinghe (Men's Javelin Throw) |
| Kalinga Kumarage (400m, 4x400m Mixed Relay) | Kalinga Kumarage (Men's 400m) |
| Yupun Abeykoon (100m) | Yupun Abeykoon (Men's 100m) |
| Ushan Thiwanka (High Jump) | Ushan Thiwanka (Men's High Jump) |
| Roshan Ranathunga (110m Hurdles) | Nilani Ratnayake (Women's 3000m Steeplechase) |
| Chamal Kumarasiri (Triple Jump) | Hiruni Wijeratne (Women's Marathon) |
| Danushka Sandaruwan (Long Jump) | Sarangi Silva (Women's Long Jump) |
| Aruna Darshana (4x400m, 4x400m Mixed Relay) | Gayanthika Abeyratne (Women's 800m, 1500m) |
| Isuru Lakshan (4x400m) | |
| Pabasara Niku (4x400m) | |
| V Deshan (4x400m) | |
| Nilani Ratnayake (3000m Steeplechase) | |
| Gayanthika Abeyratne (800m, 1500m) | |
| Sarangi Silva (Long Jump) | |
| Tharushi Karunaratne (4x400m Mixed Relay) | |
| Nadeesha Ramanayake (4x400m Mixed Relay) | |
| Amasha De Silva (100m 4x100m) | |
| Rumeshika Rathnayake (4x100m) | |
| Shelinda Jansen (4x100m) | |
| Medhani Jayamanne (4x100m) | |
| Lakshika Sugandi(4x100m) | |