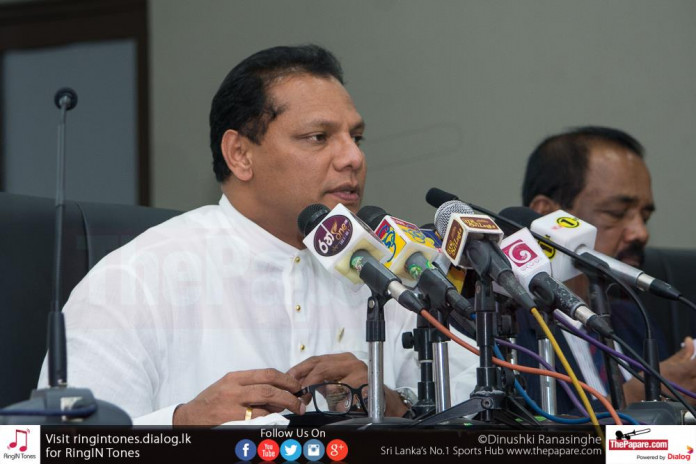 Sports Minister Dayasiri Jaysekara has requested that the 18 member pool selected for the 10th Asian Netball Championships be disbanded amidst accusations that the selection of the squad had not been conducted in an appropriate manner.
The Minister has reportedly asked the officials at the Sri Lanka Netball Federation to disband the squad and form a new one, at a special meeting held at the Sports Ministry.
Further, the Minister is said to have pointed out the fact that there seems to have been an age limit of Under 30 implemented when selecting players for this pool, meaning that some experienced players were not afforded the opportunity to be a part of the selections.
"There should not be an age limit when selecting a pool of this nature" – Sports Minister Dayasiri Jayasekara
 The Minister had also expressed his displeasure at the SLNF going ahead with the selections despite the fact that the Selection Committee itself hadn't been approved by the minister.
The pool was cut down to 18 players earlier this month by a selection committee headed by Wimala Jayaweera and consisting of Priyanka Peiris, Sandya Jayasuriya, Soma Illangakone and Deepthi Edirisinghe, in a trial held at the St. Joseph's College Indoor Stadium. The players were to receive in-house training at the Jayasinghe Indoor Stadium in Nawalapitiya, prior to the final trial that was scheduled for the 4th and 5th of June. It is unclear if this schedule will be followed now that the SLNF will have to redo certain processes.
Reports suggest that many heads of District Netball Associations had made complaints to the Sports Ministry regarding certain decisions taken by the SLNF, including the whole saga concerning the appointment of a new coach where the post was not advertised in the newspapers and the subsequent appointment of Deepthi Alwis was kept quiet for unknown reasons.
The Minister has extended the term of the old selection committee, whose term ended on the 15th of April, by two months in order that this mess may be sorted out.
According to sources, the SLNF has respected the request made by the Sports Minister and have disbanded the squad, promising to form a new pool once a venue for the trials are found.
The 10th Asian Netball Championship is scheduled to be held from the 30th of July to the 7th of August in Thailand and with just over 2 months to go Sri Lanka are yet again in a race against time finalize a 12 member squad. They faced a similar situation last year prior to the Netball World Cup too when the final squad was given very little time to train together because of the inefficiency of the administration.
*officials at the SLNF were unavailable for comment.