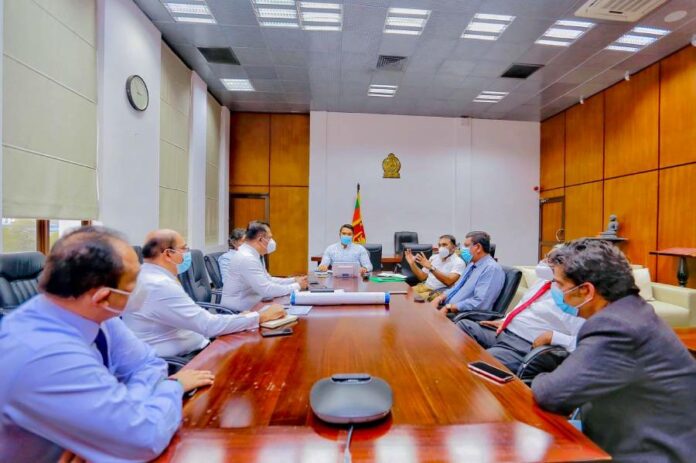 Hon. Sports Minister, Namal Rajapaksa announced several drastic changes to Sri Lankan Cricket following a meeting held with the National Sports Council, SLC officials and Head Coach Mickey Arthur on Wednesday.

Concluded meeting with officials of @OfficialSLC, @MoYS_SriLanka, NSC & National Coach.
▪️New selection committee
▪️Competitive domestic & provincial tournaments.
▪️Priority for Discipline&fitness
▪️Performance based contracts
▪️Director&Mentor to assist coach @Mickeyarthurcr1

— Namal Rajapaksa (@RajapaksaNamal) January 27, 2021
After suffering a humiliating 2-0 defeat at the hands of the visiting England team in Galle on Monday, all the stakeholders of Sri Lanka Cricket cried out for structural changes to uplift the performances of the national team.  
As per a tweet posted by the Sports Minister, Sri Lanka Cricket is set to have a new national selection committee following reports of the resignation of Asantha De Mel from the Chief Selector position.
Read More : Asantha De Mel resigns as Chairman of Selectors
The annual player contracts which were set to be signed next month between the national cricketers and SLC will have to be revised with the Sports Minister instructing to implement a 'Performance-Based Contract' system. Also, during the meeting, an idea of creating a new position for the national team – Director/Mentor to assist the national head coach Mickey Arthur has also been discussed.
The Sports Minister also reiterated the need for national cricketers to give priority to fitness and discipline. The probable squad for the tour of West Indies is set to undergo a fitness test on 3rd of February. Head Coach Mickey Arthur and new Physical Performance Manager Grant Luden have taken a firm decision that whoever fails the fitness test next week will not be considered for selection, The Papare learns.
The commencement of the 2020/2021 first-class competitions was also discussed during the meeting with the domestic tournament yet to begin due to the Covid-19 second-wave in the country.
>>Click Here For More Cricket News<<