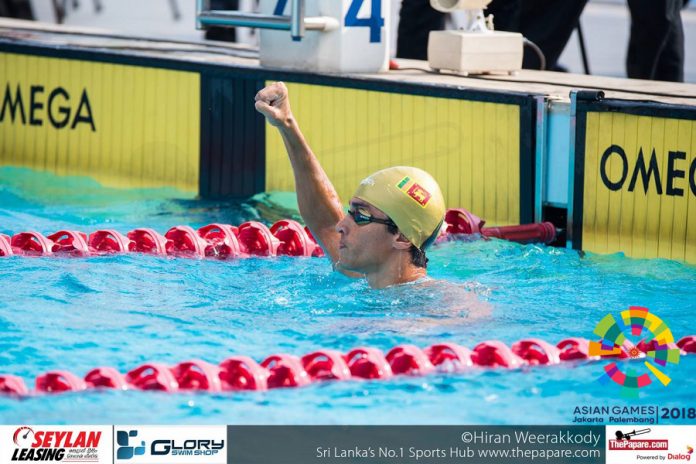 Mathew Abeysinghe led the way for Sri Lanka as the Swimming leg of the South Asian Games 2019 got underway in Kathmandu, Nepal.
Abeysinghe was expected to dominate at the Championship and he did just that, winning both the Men's 200m Freestyle (Timing 1:48.92) and the 100m Butterfly (Timing 53.65) events with ease. Abeysinghe, who broke the record for most Gold medals won at a South Asian Games back in 2016 when he brought back 7 Gold medals, 2 Silvers and 1 Bronze, looked set to lead the Lankan contingent in similar fashion as he teamed up with Akalanka Pieris, Kavinda Nugawela and Stephen Perera to clinch the 4x100m Freestyle Relay (Timing 3:19.07) title as well.
Apart from the quartet, none of the other swimmers were able to savour Golden success for Sri Lanka as Kiran Jasinghe (2:20.68), Ramudi Samarakoon (Timing 2:44.71) and Aqilah Gaffoor (Timing 1:04.85) managed Bronze medals while the Women's 4x100m Freestyle (4:00.08) relay team swam their hearts out to seize the Silver medal for themselves. 
Watch: South Asian Games 2019 | Live Blog | Day 4
Sri Lanka was the top swim team at the 2016 Championship as well as they managed a total of 39 medals, including 12 Gold, 16 Silver and 12 Bronze Medals. 
Performances on 05/12
Mathew Abeysinghe – 200m Freestyle, 100m Butterfly – GOLD

Mathew Abeysinghe, Akalanka Pieris, Kavinda Nugawela, Stephen Perera – 4x100m Freestyle – GOLD

Bhakthi Karunasena, Sandu Savindi, Ganga Senavirathne, Hiruki de Silva – 4x100m Freestyle – SILVER

Kiran Jasinghe – 200m Breast Stroke – BRONZE

Ramudi Smarakoon – 200m Breast Stroke – BRONZE

Aqilah Gaffoor – 100m Butterfly – BRONZE
There was much furor ahead of the kickoff of the Swimming competition, with none of the facilities reportedly ready for the events to commence. Even today, the swimmers were said to be unhappy with the facilities provided as the temperature in the pool too was below the required level. Amidst the competition, there was also a power outage, leading to a slight delay in proceedings. 
Stay logged on to ThePapare.com for all the real-time updates straight from Kathmandu!