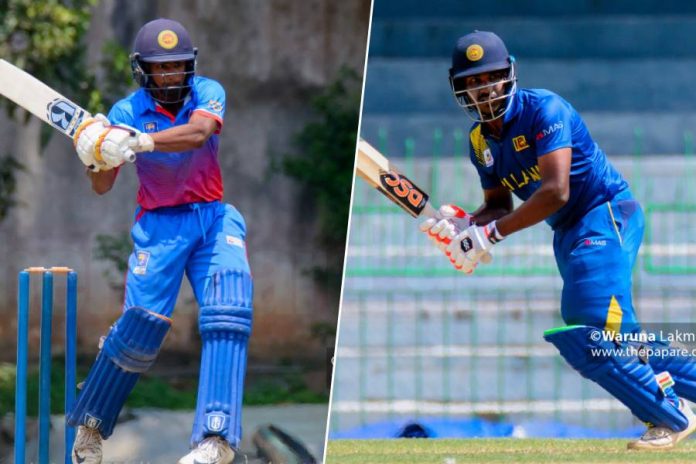 A brilliant rescue act by Sammu Ashan and Ashen Bandara helped the Sri Lanka Emerging team record a 4-wicket win over their South African counterparts in the first match of the One Day Tri-Series which also features a team representing University Sports South Africa (USSA). The match was played at the Groenkloof Oval in Pretoria.
Sri Lankan skipper Charith Asalanka elected to bowl first trusting his well-balanced bowling unit in dry African conditions. With a genuine pacer and a spinner each in Asitha Fernando and Amila Aponso, Asalanka also had three all-rounders to shuffle around in Chamika Karunaratne, Lahiru Madushanka and Kamindu Mendis. 
Read More : Sri Lanka Emerging team departs to South Africa
South Africa however got off to a solid start as their skipper Tony de Zorzi and Matthew Breetzke added 71 runs for the 1st wicket in 14 overs. It was the introduction of spin which halted the African surge as the tourists took complete control of the game then onwards.
It all started when national discard Aponso dismissed Breetzke to end the hosts' best partnership. South Africa managed just 114 more runs since their openers were separated as they were bundled out for a mere 185 in 46 overs. The only other pair who got going against the Lankan attack was Jason Smith and Wandile Makwetu as they added 46 runs for the 5th wicket.
The pick of the bowlers for the Sri Lanka Emerging team was Aponso as he grabbed 3 wickets giving away just 22 runs in his allotted 10 overs making a strong case to be considered for the national team. Pacer Fernando also picked up 3 wickets as the two genuine bowlers shared 6 wickets delivering exactly what was expected from them.
The ambidextrous spin of Mendis provided Sri Lanka two crucial wickets as he dismissed the two highest run-scorers for South Africa, de Zorzi (58) and Smith (33). Mendis ended on 2 for 41 as Karunaratne and Madushanka shared the remaining 2 wickets.
Sri Lanka once again started awfully as they lost their top 4 for just 39 runs in 7.3 overs chasing an easy target of 186. Apart from wicket-keeper, opener Sandun Weerakkody who scored 20 runs in 15 deliveries and got out in the 4th over as the 1st wicket, opener Sangeeth Cooray, Minod Bhanuka and skipper Asalanka failed to reach double figures.
Ever-reliable Mendis too was dismissed then to make the run-chase even tougher for the youngsters leaving them reeling at 43 for 5. Then began the great rescue act between two of the most promising Sri Lankan stars, Sammu Ashan and Ashen Bandara.
The duo added 132 runs as they steered Sri Lanka towards a convincing victory. Ashan who has been performing consistently with Sri Lanka development squads for a while once again proved that he deserves to be in the next level. However after doing all the hard work he was dismissed for 60 when Sri Lanka were just near the finishing line.
On the other end Ashen remained unbeaten on 76 as Sri Lanka got through to clinch the victory. This was his first notable outing with a Sri Lankan development squad since he last played the Youth World Cup for Sri Lanka U19 in 2018. Ashen who is also a brilliant fielder and could bowl some handy leggies will definitely be in the radar of the selectors for the post-world cup tours.
Out of the 6 Sri Lankan wickets which fell 5 were accounted by Thando Nitni, son of the great Protea fast bowler Makhaya Nitni. They will next play team USSA on the 30th of this month in the same venue as Sri Lanka will take on team USSA on the 1st of July also at the same venue.
South Africa Emerging Team
185/10 (46)


Batsmen
R
B
4s
6s
SR
Tony de Zorzi
st Sandun Weerakkody b Kamindu Mendis
58
79
7
0
73.42
Matthew Breetzke
b Amila Aponso
27
34
4
0
79.41
Raynard van Tonder
c Ashen Bandara b Chamika Karunarathne
3
8
0
0
37.50
Jason Smith
b Kamindu Mendis
33
52
1
0
63.46
Sinethemba Qeshile
c & b Asitha Fernando
9
25
1
0
36.00
Wandile Makwetu
c Sandun Weerakkody b Lahiru Madushanka
25
42
1
0
59.52
Sibonelo Makhanya
c Minod Bhanuka b Amila Aponso
11
14
1
0
78.57
Kyle Simmonds
c Sammu Ashan b Amila Aponso
2
6
0
0
33.33
Thando Ntini
not out
4
9
0
0
44.44
Nandre Burger
b Asitha Fernando
1
6
0
0
16.67
Tladi Bokako
b Asitha Fernando
0
2
0
0
0.00
| | |
| --- | --- |
| Extras | 12 (b 0 , lb 5 , nb 1, w 6, pen 0) |
| Total | 185/10 (46 Overs, RR: 4.02) |
| Fall of Wickets | 1-71 (13.6) Matthew Breetzke, 2-78 (16.1) Raynard van Tonder, 3-101 (22.3) Tony de Zorzi, 4-115 (27.2) Sinethemba Qeshile, 5-161 (37.6) Jason Smith, 6-176 (41.1) Wandile Makwetu, 7-179 (42.3) Kyle Simmonds, 8-182 (44.2) Sibonelo Makhanya, 9-185 (45.4) Nandre Burger, 10-185 (45.6) Tladi Bokako, |
| Bowling | O | M | R | W | Econ |
| --- | --- | --- | --- | --- | --- |
| Asitha Fernando | 8 | 0 | 33 | 3 | 4.12 |
| Lahiru Madushanka | 10 | 0 | 47 | 1 | 4.70 |
| Chamika Karunarathne | 8 | 0 | 37 | 1 | 4.62 |
| Amila Aponso | 10 | 1 | 22 | 3 | 2.20 |
| Kamindu Mendis | 10 | 0 | 41 | 2 | 4.10 |


Batsmen
R
B
4s
6s
SR
Sandun Weerakkody
c Sinethemba Qeshile b Thando Ntini
20
15
4
0
133.33
Sangeeth Cooray
c Sinethemba Qeshile b Thando Ntini
5
16
0
0
31.25
Minod Bhanuka
b Thando Ntini
0
1
0
0
0.00
Charith Asalanka
c Raynard van Tonder b Nandre Burger
7
12
1
0
58.33
Sammu Ashan
c Wandile Makwetu b Thando Ntini
60
104
8
1
57.69
Kamindu Mendis
lbw b Thando Ntini
4
4
1
0
100.00
Ashen Bandara
not out
76
78
12
0
97.44
Lahiru Madushanka
not out
2
4
0
0
50.00
| | |
| --- | --- |
| Extras | 13 (b 1 , lb 1 , nb 4, w 7, pen 0) |
| Total | 187/6 (38.2 Overs, RR: 4.88) |
| Fall of Wickets | 1-25 (3.4) Sandun Weerakkody, 2-25 (3.5) Minod Bhanuka, 3-35 (6.4) Charith Asalanka, 4-39 (7.3) Sangeeth Cooray, 5-43 (9.1) Kamindu Mendis, 6-175 (36.6) Sammu Ashan, |
| Bowling | O | M | R | W | Econ |
| --- | --- | --- | --- | --- | --- |
| Nandre Burger | 8 | 1 | 46 | 1 | 5.75 |
| Thando Ntini | 9 | 1 | 46 | 5 | 5.11 |
| Tladi Bokako | 7 | 1 | 20 | 0 | 2.86 |
| Jason Smith | 5.2 | 1 | 18 | 0 | 3.46 |
| Kyle Simmonds | 9 | 1 | 55 | 0 | 6.11 |