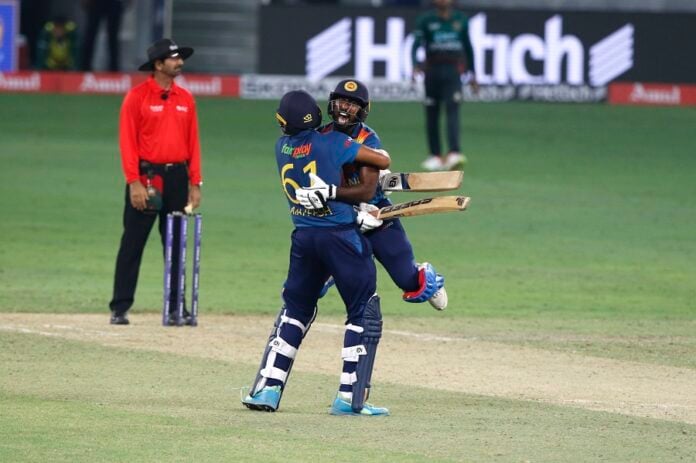 The do or die battle of Asia Cup 2022, Sri Lanka vs Bangladesh became a last over thriller as the Lions somehow found a way to get over the line. The two opponents have some bad blood between them since Nidahas Trophy in 2018 and the intensity of the battle was quite visible on off the field.
This match had a lot of pre-match banter especially in the press conferences and of course on Social Media. But it didn't stop there, the best part came after the match ended. So here are some of the interesting and humorous reactions on social media about the match.
Former Sri Lankan Cricketer and current commentator Russell Arnold tweeted the following after the match!
Phew… what a seesawing battle … Massive win for @OfficialSLC #AsiaCupT20 Well done guys 👏👏👏

— Russel Arnold (@RusselArnold69) September 1, 2022
ThePapare.com's very own Estelle Vasudevan had a little reply to the people who were searching for World Class players in Sri Lanka!
You don't need 'World Class' bowlers to win, as long as one of them can hit a couple of boundaries at the death 😅 #SLvBAN

— Estelle Vasudevan (@Estelle_Vasude1) September 1, 2022
Roushan Alam, who produces Vick & Jordan on BBC Radio 1, found a way to connect a phrase from Athar Ali Khan on today's match to an image of a turning point from the game!
Aathar Ali Khan: "Bangladesh just could not cross the line"

Bangladesh: pic.twitter.com/DecgRvolSG

— Roushan Alam (@roushanalam) September 1, 2022
Writer for ESPNCricinfo Siddhartha Vaidyanathan found the funny side of all the pre match banter
Team with no world class bowlers beat team with with only two world-class bowlers.

— Siddhartha Vaidyanathan (@sidvee) September 1, 2022
CricTracker found a similarity of today's game to the Nidahas Trophy encounter 4 years back!
𝗪𝗵𝗮𝘁 𝗴𝗼𝗲𝘀 𝗮𝗿𝗼𝘂𝗻𝗱 𝗰𝗼𝗺𝗲𝘀 𝗮𝗿𝗼𝘂𝗻𝗱#SLvBAN pic.twitter.com/JtS22i099w

— CricTracker (@Cricketracker) September 1, 2022
Renowned Cricket commentator Harsha Bhogle had the following to say on this encounter which had so many twists and turns
2 no-balls in the last 2 overs from Bangladesh?? A suicidal run-out to sacrifice the last remaining batter from Sri Lanka? A close match where both teams allowed the situation to get to them! #SLvsBD #Asiacup2022

— Harsha Bhogle (@bhogleharsha) September 1, 2022
The.Papare.com's Damith Weerasinghe tweeted the upcoming fixtures of Sri Lanka
Sri Lanka's Super 4 Round Fixtures in the Asia Cup 2022.

vs Afghanistan – 3rd September – Sharjah
vs India – 6th September – Dubai
vs Pakistan or Hong Kong – 9th September – Dubai

Sri Lanka will qualify as 'B1' since they're the hosts.@ThePapareSports

— Damith Weerasinghe (@Damith1994) September 1, 2022
Former Indian Cricketer Sanjay Manjrekar who was on commentary during the match showed appreciation to Bangladesh on a closely contested encounter
SL was the stronger side but loved the way Bangladesh's youth made a real match of it. Mehidy Hasan Miraz,Afif, Ebadot, Taskin & Mosaddek take a bow!

— Sanjay Manjrekar (@sanjaymanjrekar) September 1, 2022
Former Sri Luankan all format skipper Angelo Mathews congratulated the boys on the thrilling win
What a game @OfficialSLC brilliant chase @KusalMendis13 @dasunshanaka1 #asitha what a finish! Keep going boys 👏👏

— Angelo Mathews (@Angelo69Mathews) September 1, 2022
Sri Lankan test skipper Dimuth Karunaratne lauded pacer Asitha Fernando who did the job with the bat at the end!
Well Done Asitha Fernando…….👏🏼👏🏼#SLvsBan

— Dimuth Karunarathna (@IamDimuth) September 1, 2022
Former Sri Lankan cricketer and current international commentator Farveez Maharoof congratulated both the teams for a phenomenal game.
That was a superb game of cricket! Both teams played there heart out & eventually @OfficialSLC holding there nerve & coming out victorious! Very well played @BCBtigers no shame in loosing a game in this way! Phew i need to get my adrenaline under control😆 #AsiaCupT20

— Farveez Maharoof (@farveezmaharoof) September 1, 2022
Former Sri Lankan skipper Upul Tharanga also took time to congratulate Sri Lanka
What a match boys !! Well Done @dasunshanaka1 and the team. @KusalMendis13 brilliant inning. Let's win the next one 👏👏 #AsiaCupT20 #SLvBAN

— Upul Tharanga (@upultharanga44) September 1, 2022
Sri Lanka's lead analyst Prad Navaratnam didn't forget to rub salt on some wounds
That winning feeling was 𝗪𝗢𝗥𝗟𝗗 𝗖𝗟𝗔𝗦𝗦! 🇱🇰 🙌😜 @dasunshanaka1 @OfficialSLC #SLvBAN #AsiaCupT20 #CheerForLions #SnakeCharmers pic.twitter.com/lzDTlh4bPN

— Prad Navaratnam (@prad_nava) September 1, 2022
This will be a night which Sri Lankan cricket fans would remember for a very long time. With this win, Sri Lanka booked their tickets to the Super 4 phase of the tournament and have a shot at redemption against Afghanistan as their Super 4 phase opener on the 3rd of September . After that it will be against the pretournament favorites India on the 6th and Pakistan or Hong Kong on the 9th.
Stay with ThePapare.Com for more social media reactions on the Asia Cup !