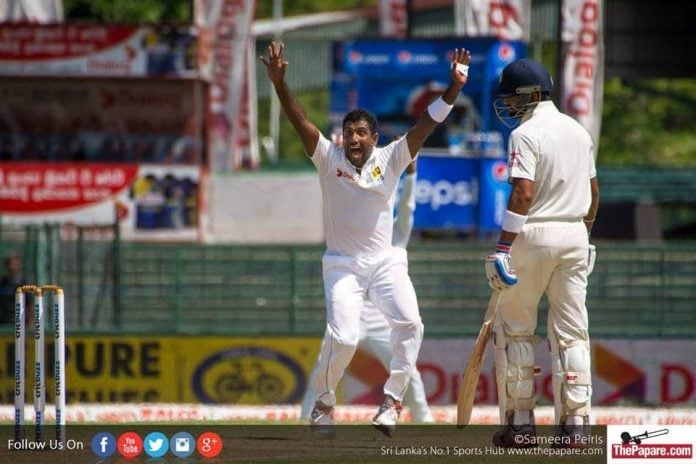 When you have big hearted fast bowlers, your cricket is in safe hands. Dhammika Prasad is one such player. The lion hearted Mazenodian, very much like his predecessor Chaminda Vaas, bowled untiring spells through pain and hardships. He achieved career best figures – five for 50 – here at Headingley in what was a historic Test match, as Sri Lanka completed a series win for the first time in England five years ago.
What set up Dhammika's probing spell that day is a remarkable story. The Sri Lankan management knew how to bring the best out of their strike bowler.
The first Test of the two-match series at Lord's had ended in a thrilling draw. England came agonizingly close to winning the game but Sri Lanka's last man Nuwan Pradeep was unbowed, battling it out against  Stuart Broad, who bowled the last over.
Read More : The Oval – a special place for Sri Lankans 
The Headingley Test was fought tooth and nail. England had gained a 108-run first innings lead and Sri Lanka had wiped that off in their second essay but were looking to get a decent lead. When Dinesh Chandimal was dismissed with the total on 277 for six, Sri Lanka had a 169-run lead. But they needed more. Angelo Mathews was still in the middle and the tail was required to hang in there. In walked Prasad and without any hesitation, he attempted to send the first ball he faced to Manchester, going for an upper cut. He was caught at third man and you couldn't find a single Sri Lankan who hadn't cursed Prasad's ill-advised attempt that day.
The dressing room obviously wasn't pleased. Someone suggested that Prasad should be given the cold shoulder. For the remainder of the day's play, not a single player interacted with Prasad. They snubbed him as if he had committed a crime and Prasad was under the pump. The team management and the coaching staff too gave him the silent treatment. The message had been delivered. Not loud and clear but silently.
Sri Lanka ended up getting 457 thanks to a 149-run stand between Mathews and Rangana Herath for the eighth wicket. That set England a target of 350 and the tourists were confident that they could create history with three and half sessions left in the game.
Despite Sri Lanka ending up with a healthy lead, Prasad was being treated as an untouchable. The team knew that this would trigger him. Trigger him up it did, as Prasad sent down a hostile piece of fast bowling, one of the best efforts seen by a Sri Lankan seamer for a long time.
His unplayable opening spell produced four wickets. Prasad accounted for the top four English batsmen – Alastair Cook, Gary Ballance, Joe Root and Sam Robson. England were in total shambles at 52 for four and with Rangana Herath claiming another one, they slumped to 57 for five at stumps on day four. Prasad suddenly had gone from zero to hero as his team mates celebrated a fine spell of fast bowling.
Read More : Injuries, how badly they have affected Sri Lanka 
On day five, Prasad dismissed Mat Prior as well to claim career best figures and to earn the respect of the dressing room.
Coaching is all about identifying your players and what methods work for them. The Sri Lankan team management knew exactly how to fire up Prasad and he did the job for the team with the new ball. England did fight back through a Moeen Ali hundred. But Sri Lanka hung in there. Once you lose your top five cheaply, against the lower order, over three sessions, the bowlers were going to create chances. The game went to the wire though with Sri Lanka winning in the penultimate delivery.
Prasad went from strength to strength, emerging as Sri Lanka's lead fast bowler. The next year, he finished amongst the top ten wicket takers in the world. His 41 wickets came at an average of 24, pretty impressive for a fast bowler from the sub-continent. Then disaster struck. Prasad damaged his shoulder and underwent surgery in Australia.
He was expected to return to international cricket in June 2016. However, he hurt his shoulder again as rehabilitation went wrong. Since then he has made a comeback in domestic cricket but finds it hard to break into the senior side.
Read More : Dhammika Prasad – Of struggles, scars and a selfless spirit
Prasad is amongst the long list of Sri Lankan cricketers whose careers have been hampered by recurring injuries. As a result, the team has always struggled to put their best side out on the park and the below par performance of the team over the last four years have been chiefly a result of this.
This reiterates the need to have a vibrant medical team to look after the players' well-being and more importantly when injuries take place to ensure their rehabilitation is done properly. Let no other player suffer the fate of Dhammika Prasad.