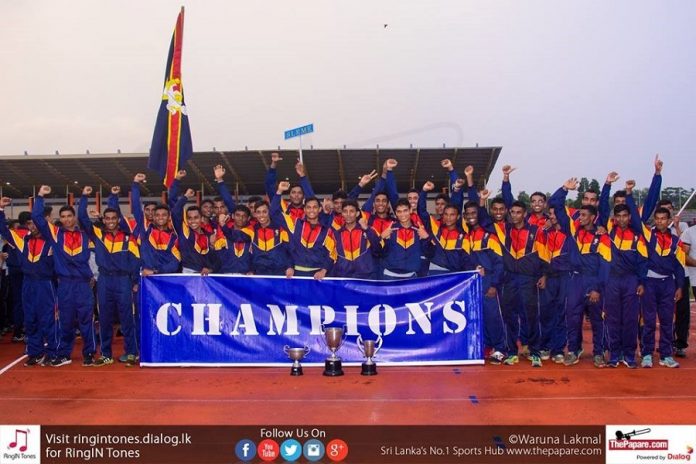 The Sri Lanka Army Volunteer Force Inter Regiment Athletic Championship 2018 which was held at the Diyagama Mahinda Rajapakse Stadium was concluded yesterday (22nd).  Over 600 athletes representing 20 Men's teams and 5 Women's teams, belonging to more than 100 volunteer battalions, competed in the championship. 
Sri Lanka Electrical and Mechanical Engineers (SLEME) were adjudged the overall champions of the Men's Category, amassing 284 points, while Sri Lanka Army Women's Corps (SLAWC) 6(V) was adjudged the overall champions in the women's category accumulating a total of 264 points. The competition yielded a total of 13 new meet records throughout the three days.
REC L G Dhananjaya of SLEME was adjudged the best male athlete of the tournament for his New meet record performance in the Men's Long Jump where he leapt a distance of 7.78(w-1.1) while L/CPL M U Rathnakumari of SLAWC 5(V) was adjudged the best Women's athlete for her new meet record performance of 54.72 secs in the women's 400m.
Eastern province athlete CPL A L M Ashraff of SLEME was the fastest male athlete of the competition winning the 100m dash clocking a time of 10.72secs while the national record holder in the heptathlon L/CPL Lakshika Sugandi of SLAWC 2 (V) was the first to the finish line in the finals clocking a time of 12.31secs it was REC M G R S Fardinandas who earned the accolade as the fastest female as she managed to establish a new meet record in the heats of the 100m clocking 12.23secs despite coming second to Sugandi in the final, a fraction of a second behind clocking 12.32secs.