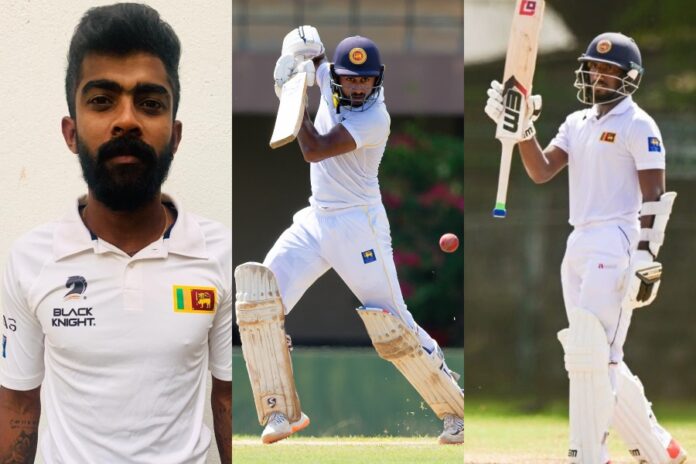 The second week's matches of the SLC Major League Tournament continued for day two today (27th August), at several venues across the island.
The 22-year old Nishan Madushka of Ragama Cricket Club continued his rich form with the bat scoring a triple century today against Sebastianites C & AC. Madushka scored an unbeaten 300 runs off 415 balls with 26 fours and a six. This was Madushka's third consecutive century of the tournament, and his highest score in first-class Cricket as he surpassed his previous best of 269.
Kamindu Mendis of Colombo Cricket Club and Dilan Jayalath of Burgher Recreation Club also starred with the bat, scoring double centuries against Kalutara Town Club and Kandy Customs Sports Club respectively. Mendis, who scored an unbeaten 200 runs off 233 balls with 18 fours and 6 sixes, and Jayalath, who made unbeaten 203 runs off 353 balls including 20 fours, scored their maiden double tons in first-class Cricket.
Apart from them, Janith Liyanage (Ragama CC), Nuwanidu Fernando (SSC), Sammu Ashan (SSC), Vishad Randika (Colts CC), Lasith Croospulle (Ace Capital CC) and Sadeera Samarawickrama (Tamil Union C & AC) lit up the day with brilliant centuries.
The encounter between Saracens SC and Bloomfield C & AC ended within two days, as the former registered a comprehensive 8-wicket win today. Isitha Dew Wijesundara, who picked up a match bag of 9 wickets for 83 runs, was the chief architect of Saracen's victory.
Brief Scores
Ragama Cricket Club 591/3d (152.3) Nishan Madushka 300*, Janith Liyanage 140, Saminda Fernando 83, Avishka Tharindu 62*, Tharindu Rathnayake 2/171

Sebastianites Cricket and Athletic Club 53/2 (22.1) Sacha Seneviratne 25, Sandun Fernando 23*

Stumps – Day 2

Sinhalese Sports Club 518/4d (107.4) Nipun Dhananjaya 152, Nuwanidu Fernando 140, Sammu Ashan 100*, Krishan Sanjula 77, Manoj Sarathchandra 41, Miranga Wickramage 2/133

Lankan Cricket Club 136 (60.4) Deshan Dias 43, Rajeewa Weerasinghe 29, Lakruwan Abeyarathna 20, Prabath Jayasuriya 3/29, Kavindu Nadeeshan 2/18, Kalana Perera 2/20, Nisala Tharaka 2/34 & 17/0 (7)

Stumps – Day 2

Colombo Colts Cricket Club 463/5d (100) Vishad Randika 114*, Ravindu Rashantha 95, Avishka Perera 79, Shalin De Mel 75, Hashan Dumindu 47, Dhananjaya Lakshan 26, Sandaken Pathirana 2/93

Galle Cricket Club 173/9 (71.1) Dilshan Kanchana 78, Sameen Kandanearachchi 43, Dunith Wellalage 4/46, Dhananjaya Lakshan 3/40

Stumps – Day 2

Moors Sports Club 273 (71.2) Dinuka Dilshan 72, Pabasara Waduge 51, Mohammed Shamaaz 51, Risira Weerasuriya 26, Pasindu Sooriyabandara 23, Ramesh Mendis 20, Charith Sudaraka 4/62, Lahiru Diyantha 4/68 & 151/2 (41) Pabasara Waduge 73, Dinuka Dilshan 47, Lahiru Diyantha 2/55

Police Sports Club 203 (57.5) Nadeera Balasooriya 70, Heshan Fernando 44, Chamara Silva 38, Chathuranga Kumara 25, Ramesh Mendis 3/35, Theesan Vithushan 2/19, Tilanga Udeshana 2/53, Chanuka Dilshan 2/66

Stumps – Day 2 

Bloomfield Cricket and Athletic Club 67 (28) Mineth Premarathne 15, Isitha Dew Wijesundara 6/23, Mohamed Dilshad 3/20 & 196 (47) Maduka Liyanapathiranage 34*, Mineth Premaratne 34, Ashan Fernando 32, Ranmith Jayasena 26, Sandun Mendis 3/37, Isitha Dew Wijesundara 3/60, Kavika Dilshan 2/49

Saracens Sports Club 204 (66.3) Sandun Mendis 50, Thaveesha Abhishek 42, Sithara Gimhana 35, Navindu Nirmal 32, Muhammad Waqas 21, Lahiru Madushanka 5/91, Chanaka Komasaru 3/60 & 60/2 (26.4) Navindu Nirmal 37 

Result – Saracens SC won by 8 wickets

Colombo Cricket Club 454/4d (101.3) Kamindu Mendis 200*, Lasith Abeyrathna 93, Nimesh Gunasinghe 78, Pawantha Weerasinghe 37, Ashan Priyanjan 23 Inshaka Siriwardena 3/113

Kalutara Town Club 142 (57.2) Sadeesh Jayawardena 45, Bawantha Jayasinghe 38, Sukitha Manoj 24, Ashan Priyanjan 5/29, Malinda Pushpakumara 4/74 & 42/4 (12) Vishwa Fernando 2/15, Malinda Pushpakumara 2/25

Stumps – Day 2

Nondescripts Cricket Club 307 (72.3) Asel Sigera 74, Niroshan Dickwella 51, Ahan Wickramasinghe 48, Lasith Embuldeniya 47, Lahiru Udara 33, Sahan Arachchige 27, Dulanjala Mendis 5/83, Gayan Sirisoma 2/64 Lasanda Rukmal 2/78

Air Force Sports Club 259 (88.4) Deshan Fernando 41, Adithya Siriwardhana 41, Sithija Chamod 30, Dulanjala Mendis 28, Kemira Wijenayake 24, Lasith Embuldeniya 3/73 Amshi De Silva 3/91, Asel Sigera 2/15

Stumps – Day 2

Kandy Customs Sports Club 113 (38.1) Rashmika Madusanka 30, T M Sampath 5/39, Duvindu Tillakaratne 3/13, Dushan Hemantha 2/30 & 103/3 (35) Chanaka Wijesinghe 35*, Ruveen Fonseka 34, Paras Sharma 22*, T M Sampath 2/16

Burgher Recreation Club 446/4d (110) Dilan Jayalath 203*, Leo Fransisco 55, Moditha Ranathunga 52, Dushan Hemantha 50*, T M Sampath 41, Lahiru Samarakoon 38, Methushan Thilina 2/87, Nisala Akash 2/89

Stumps – Day 2

Ace Capital Cricket Club 223 (50.4) Ninad Kadam 60, Pramud Hettiwatte 43, Thanuka Dabare 32, Oshada Fernando 28, Lasith Croospulle 21, Danushka Sandaruwan 4/65, Chanura Fernando 3/38, Jatin Saxena 2/45 & 234/4 (40) Lasith Croospulle 106, Ninad Kadam 47, Sakuna Liyanage 22*, Pramud Hettiwatte 22* Oshada Fernando 21, Dilshan Munaweera 2/65

Negombo Cricket Club 231 (84.1) Dimuth Sandaruwan 67, Jatin Saxena 42, Amoda Widanapathirana 39, Jeewaka Rashmitha 32, Nimsara Atharagalla 4/55, Lasith Croospulle 2/32

Stumps – Day 2

Badureliya Cricket Club 207 (87.1) Alankara Asanka 65, Ranesh Silva 40, Gihan Rupasinghe 22, Malindu Maduranga 22, Navod Paranavithana 5/27, Dilruwan Perera 2/62

Tamil Union Cricket and Athletic Club 314/5 (82) Sadeera Samarawickrama 172, Santhush Gunathilake 91*, Ron Chandraguptha 21, Chalana De Silva 3/128

Stumps – Day 2

Army Cricket Club 452/4d (114.1) Thulina Dilshan 166, Lakshan Edirisinghe 120, Asela Gunaratne 87, Pathum Boteju 50*

Panadura Sports Club 140/4 (49) Lakshan Rodrigo 68, Umesh Kasun 43, Kaumal Nanayakkara 2/41

Stumps – Day 2

Chilaw Marians Cricket Club 419 (129.1) Anuj Jotin 152, Jathar 77, Raveen Yasas 75, Pulina Tharanga 27, Naveen Fernando 3/76, Qaisar Ashraf 2/105

Nugegoda Sports & Welfare Club 127/5 (43.3) Nayana Fernando 50*, Kevin Perera 29, Shabbir Trunkwala 23

Stumps – Day 2