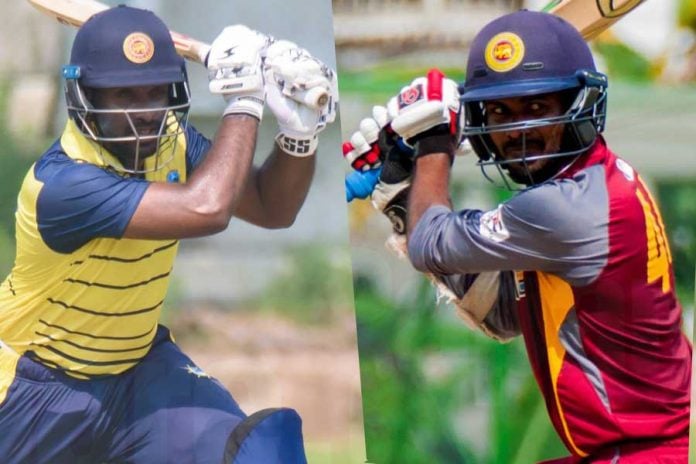 The second day of the SLC Invitation Limited-Over tournament saw 12 games being worked off successfully amidst minor weather interruptions for some games. Former National Skipper Upul Tharanga and Adeesha Nanayakkara scored centuries for opposite teams in the NCC-SL Ports encounter while Angelo Perera, Malindu Maduranga and Sangeeth Cooray fell short of centuries being dismissed on 90s for NCC, CCC and Colts respectively. Several bowlers too ended with 4-wicket hauls.
Group A
All 6 teams of the group took part in their second respective game after competing yesterday also. SSC and Army SC remained unbeaten as they beat Badureliya CC and Negombo CC respectively while Lankan CC registered their first victory defeating BRC.
The SSC-Badureliya CC game was a closely faugh one as the visitors Badureliya CC fell short of SSC's 246 by just 6 runs. Dushan Hemantha starred in the run-chase scoring the only half-ton of the game despite their loss. For SSC, apart from Danushka Gunathilaka, Sammu Ashan and CharithAsalanka, who scored useful 40s, Tharindu Ratnayake once again proved his all-round skills contributing with the bat with a crucial 32 before he claimed 2 wickets with his ambidextrous spin.
Army SC's win over Negombo CC at Dombagoda was mainly based on all-rounder Dushan Vimukthi'sperformances, as he steered the run-chase with an unbeaten 71 after picking up 2 wickets to restrict the Negombo boys for 182. For the visitors the only positive out of the game was their former skipper Angelo Jayasinghe's unbeaten knock of 68.
BRC hosting Lankan CC were handed their second loss in two games as the visitors won the game easily by 8 wickets. Primosh Perera and Geeth Kumara remained unbeaten on 69 and 47 as they chased down BRC's 148 in 38.3 overs after their spinners led by Chanaka Ruwansirirestricted the opposition with their tight bowling. LisulaLakshan top-scored the hosts with 67.
Badureliya CC vs SSC
Toss – Badureliya CC
Venue – Surrey Village Ground, Maggona
SSC – 246 (49.1) Danushka Gunathilaka 48, Sammu Ashan46, Charith Asalanka 40, Tharindu Rathnayaka 32, SandunWeerakkody 27, Lahiru Samarakoon 3/51, DhanoshRanoadith 2/30
Badureliya CC – 240/9 (50) Dushan Hemantha 67, LahiruSamarakoon 31, Alankara Asanka 26*, Dhammika Prasad 3/40, Tharindu Ratnayake 2/33
SSC won by 6 runs
…………………………………………………………………………………………………………………………………………
Army SC vs Negombo CC
Toss – Army SC
Venue – SL Army Ordnance Corps International Cricket Stadium, Dombagoda
Negombo CC – 182/8 (50) Angelo Jayasinghe 68*, Sheshan Fernando 33, Dushan Vimukthi 2/25, HeshanHettiarachchi 2/37, Sanjeewa Kumaraswamy 2/39
Army SC – 185/4 (45.2) Dushan Vimukthi 71*, AselaGunarathna 37, Mahesh Kumara 35*, Himasha Liyanage26, Dilshan Munaweera 1/18
Army SC won by 6 wickets
…………………………………………………………………………………………………………………………………………
BRC vs Lankan CC
Toss – Lankan CC
Venue – BRC Cricket Ground, Colombo
BRC – 148 (42.3) Lisula Lakshan 67, Hashen Ramanayaka20, Chanaka Ruwansiri 3/15, Dunith Wellalage 2/14, SahanNanayakkara 2/31
Lankan CC – 152/2 (38.3) Primosh Perera 69*, GeethKumar 47*, Sawan Prabash 27, Kevin Koththigoda 2/25
Lankan CC won by 8 wickets
…………………………………………………………………………………………………………………………………………
Group B
Chilaw Marians CC and Kandy Customs CC started off their campaign today with contrasting results while the 7thteam of Group B, Galle CC is yet to play their first game.
NCC taking SL Ports Authority at their own backyard beat the visitors comprehensively after a century from veteran Upul Tharanga. Tharanga was well supported by skipper Angelo Perera, who was unfortunately dismissed on 99, in posting their total of 293/8. Dilesh Gunaratne and ChamikaKarunaratne picked up 3 wickets each with their pace to make SL Ports Authority fall short of the required target despite a fighting century from Adeesha Nanayakkara.
Chilaw Marians CC comfortably beat Police SC at Police Park as their national stars, Thikshila de Silva and ShehanJayasuriya guided the run-chase of 155 with half-centuries.
Kandy Customs CC were whipped away by CCC as they were bundled out for 70 while chasing the 249 made by CCC. The spin of Cambrian Suwath Mendis and skipper Ashan Priyanjan proved to be too much to the visitors as the duo shared 8 wickets among them. In batting for CCC, Mahanamians Malindu Maduranga and PawanthaWeerasinghe starred scoring 98 and 50 respectively.
NCC vs SL Ports Authority CC
Toss – SL Ports Authority CC
Venue – NCC Cricket Ground, Colombo
NCC – 293/8 (50) Upul Tharanga 100, Angelo Perera 99, Lahiru Udara 29, Yashira Chanuka 2/52, HashanVimarshana 2/62
SL Ports Authority CC – 203/6 (50) AdeeshaNanayakkara 103*, Gayan Maneeshan 45, DileshGunaratne 3/25, Chamika Karunaratne 3/32
NCC won by 90 runs
…………………………………………………………………………………………………………………………………………
Police SC vs Chilaw Marians CC
Toss – Police SC
Venue – Police Park Ground, Colombo
Police SC – 155 (42.5) Supun Madushanka 32, DulashUdayanga 23, Asel Sigera 22, Pulina Tharanga 2/19, Kamindu Mendis 2/26, Arun Melayil 2/29
Chilaw Marians CC – 160/3 (20.4) Thikshila De Silva 55*, Shehan Jayasuriya 55, Rumesh Buddhika 21*, Lasande Silva 1/25
Chilaw Marians CC won by 7 wickets
…………………………………………………………………………………………………………………………………………
CCC vs Kandy Customs CC
Toss – Kandy Customs CC
Venue – CCC Cricket Ground, Colombo
CCC – 249/9 (50) Malindu Maduranga 98, PawanthaWeerasinghe 50, Pawan Rathnayaka 23, Suwath Mendis20*, Nimnaka Rathnayaka 2/31, Sampath Perera 2/45, Umega Chaturanga 2/52
Kandy Customs CC – 70 (26.1) Ian Dev Singh 27, SuwathMendis 4/21, Ashan Priyanjan 4/08
CCC won by 179 runs
…………………………………………………………………………………………………………………………………………
Group C
Colts CC and Panadura SC extended their winning streaks beating Bloomfield C & AC and Navy SC respectively while Saracens SC defeated Kurunegala Youth CC to record their first win of the tournament.
Colts CC once again posted a big score, this time thanks to Sangeeth Cooray's 92. Their spinners, Parabath Jayasuriyaand Akila Dananjaya, then led their charge with the ball restricting the Bloomfield boys for 209 to hand Colts CC a 63-run win.
Minhaj Jaleel starred for Panadura SC picking up 2 wickets and scoring 84 in their successful run-chase. Apart from Jaleel Dilshan Abeysinghe with his 3-wicket haul, HarshaCooray with his 44 and Raju Gayashan with his unbeaten knock ensured Panadura SC another win. Despite playing in their home ground the sailors found that the 198 they made was not enough to tame Panadura SC.
Saracens SC hosting Kurunegala Youth CC in Moratuwachased down the target of 143 set by the visitors with no threats at all as they reached victory in the 33rd over with 6 wickets in hand. Raveen Sayer's half-century was the stand out performance of the match.
Colts CC vs Bloomfield C & AC
Toss – Bloomfield C & AC
Venue – Colts Cricket Ground, Colombo
Colts CC – 272/7 (47) Sangeeth Cooray 92, SadeeraSamarawickrama 34, Santhush Gunathilaka 33, PriyamalPerera 27, Nisala Tharaka 25*, Dileepa Jayalath 2/31, Madushan Ravichandrakumar 2/64
Bloomfield C & AC – 209 (43.1) Nimantha Perera 41, Sachin Jayawardena 39, Revan Kelly 27, PrabathJayasuriya 3/46, Akila Dananjaya 2/45
Colts CC won by 63 runs
…………………………………………………………………………………………………………………………………………
Navy SC vs Panadura SC
Toss – Navy SC
Venue – Navy Cricket Ground, Welisara
Navy SC – 198/9 (50) Savindu Peiris 39, BuddikaMadushan 38, Tharusha Fernando 34, Dilshan Abeysinghe3/18, Minhaj Jaleel 2/25, Umesh Karunarathna 2/31, Sithum Dissanayaka 2/60
Panadura SC – 200/4 (42.2) Minhaj Jaleel 84, HarshaCooray 44, Raju Gayashan 33*, Sathik Nimalsha 3/41
Panadura SC won by 6 wickets
…………………………………………………………………………………………………………………………………………
Saracens SC vs Kurunegala Youth CC
Toss – Saracens SC
Venue – De Soysa Stadium, Moratuwa
Kurunegala Youth CC – 143 (44.1) Aravinda Akurugoda43, Keshan Wanniarachchi 22, Saliya Saman 2/14, IsithaWijesundara 2/19, Mohomed Dilshad 2/35
Saracens SC – 144/4 (32.4) Raveen Sayer 58, Ashen Bandara 35*, Navin Kavikara 2/30
Saracens SC won by 6 wickets
…………………………………………………………………………………………………………………………………………
Group D
Air Force SC won their second consecutive game beating a much fancied Ragama CC to go up in the points table. Tamil Union C & AC, who were beaten by the Airmen yesterday registered their first win beating Nugegoda S & WC as Moors SC after their washout against Nugegoda S & WC yesterday kicked-off their campaign beating Kalutara TC.
Ragama CC found it very difficult to put away the Air Force SC bowlers as they were bundled out for a mere 134 within 40 overs. Ravindu Sanjana and Nimesha Mendisshared 8 wickets while Udayawansha Parakrama led their run-chase with an unbeaten 76 handing them an easy 7-wicket win.
Moors SC defeated Kalutara TC in a 32-over game by the DLS method after Kalutara TC's run-chase was affected by rain. They were struggling on 95/7 by then and were short of the DLS par score by 65 runs. Nipun Karunanayake top-scored for Moors SC early in the day with 55 runs as Kalutara TC skipper Eranga Rathnayake's all-round efforts stood out for the home team despite their loss.
Tamil Union C & AC got their campaign going beating Nugegoda S & WC after their shock defeat to Air Force SC yesterday. However, they lost 8 wickets to chase down the 114 that was set by the visitors. Maduka Liyanapathiranageand Pasindu Madushan were the star performers for the home and visiting teams respectively shining with both bat and ball.
Air Force SC vs Ragama CC
Toss – Air Force SC
Venue – Air Force Ground, Katunayake
Ragama CC – 134 (39.5) Janith Liyanage 40, ChathuraPeiris 25*, Amila Aponso 21, Ravindu Sanjana 4/19, Nimesha Mendis 4/26
Air Force SC – 138/3 (27.5) Udayawansha Parakrama 76*, Suminda Lakshan 31*
Air Force SC won by 7 wickets
…………………………………………………………………………………………………………………………………………
Kalutara TC vs Moors SC
Toss – Moors SC
Venue – Panadura Esplanade
Moors SC – 202/9 (32) Nipun Karunanayaka 55, Ramesh Mendis 47, Lahiru Attanayaka 30, Pabasara Waduge 20, Eranga Rathnayake 3/28, Rajinda Punchihewa 2/37, DinukHettiarachchi 2/45
Kalutara TC – 95/7 (24.3) Eranga Rathnayake 25*, ShiranFernando 2/11, Praveen Jayawickrama 2/12
Moors SC won by 66 runs (DLS Method)
…………………………………………………………………………………………………………………………………………
Tamil Union C & AC vs Nugegoda S & WC
Toss – Tamil Union C & AC
Venue – P. Sara Oval, Colombo
Nugegoda S & WC – 114 (37.4) Irosh Samarasuriya 44, Pasindu Madushan 26, Vimukthi Perera 4/24, SadishPathiranage 3/24, Maduka Liyanapathiranage 2/20
Tamil Union C & AC – 117/8 (37.4) MadukaLiyanapathiranage 30, Kasun Madushanka 22, PasinduMadushan 4/25
Tamil Union C & AC won by 2 wickets