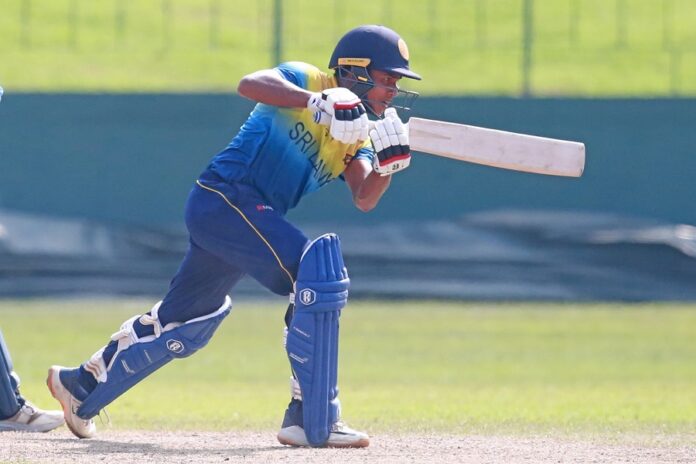 The third Youth ODI of England U19s tour of Sri Lanka ended as a low-scoring thriller in favour of Sri Lanka.
Following the thumping defeat in the last game, the Englishmen came out determined to put up a better show this time. It indeed was a way better performance from the English bowlers but the batters did not comply.
Opting to bat first, England U19s struggled at the hands of the Sri Lankan spinners on a tricky SSC surface.
Sri Lanka played 4 spinners in the game and they shared 8 wickets between them. Skipper, Dunith Wellalage, was the star with the ball for Sri Lanka as the left-arm spinner strangled the English batters in his highly economical spell of 6 overs, picking up 3 wickets for just 13 runs.
Raveen de Silva, Trevin Mathew and Yasiru Rodrigo picked up 2 wickets each in a combined assault of the visitors as England U19s fell for just 114 runs.
None of the young Englishmen were able to cross the 20-run mark with the top-scorer being the all-rounder Rehan Ahmed (19).
It was a very tough surface to bat on as it didn't just take a lot of turn but was also incredibly slow.
The Sri Lankan batters too had their share of terror at the centre as the English bowlers did not give them any space to escape.
Only Anjala Bandara, the Sri Lankan opener managed to score over 25 runs in the entire match. The left-hander scored a well-made 29 runs.
At one stage, Sri Lanka was stranded at 46 for 5 in the 19th over. It was when the skipper took control of the chase and put up a sensible partnership with his in-form batsman, Pawan Pathiraja.
Wella was painstakingly patient in his innings, scoring 18 runs off 55 deliveries to make Sri Lanka inched their way close to the victory.
Although Wellalage departed with the target within sight, he had damaged the English beyond repair. Sri Lanka won the game by 2 wickets and took a 2-1 lead in the series.


Batsmen
R
B
4s
6s
SR
Jacob Bethell
c Ranuda Somarathne b Yasiru Rodrigo
0
1
0
0
0.00
Tom Prest
lbw b Treveen Mathews
13
23
0
0
56.52
George Bell
lbw b Yasiru Rodrigo
6
8
0
0
75.00
Harry Crawshaw
c Anjala Bandara b Treveen Mathews
9
24
0
0
37.50
Rehan Ahmed
st Anjala Bandara b Dulith Wellalage
19
37
0
0
51.35
James Coles
c Anjala Bandara b Dulith Wellalage
16
24
0
0
66.67
Alex Horton
b Wanuja Sahan
18
29
0
0
62.07
James Sales
b Raveen De Silva
13
23
0
0
56.52
Thomas Aspinwall
b Dulith Wellalage
4
21
0
0
19.05
Josh Baker
c Ranuda Somarathne b Raveen De Silva
6
13
0
0
46.15
Nathan Barnwell
not out
4
4
0
0
100.00
| | |
| --- | --- |
| Extras | 6 (b 0 , lb 2 , nb 0, w 4, pen 0) |
| Total | 114/10 (34.3 Overs, RR: 3.3) |
| Bowling | O | M | R | W | Econ |
| --- | --- | --- | --- | --- | --- |
| Yasiru Rodrigo | 6 | 0 | 29 | 2 | 4.83 |
| Wanuja Sahan | 7 | 1 | 22 | 1 | 3.14 |
| Treveen Mathews | 4 | 1 | 10 | 2 | 2.50 |
| Chamindu Wickramasinghe | 4 | 1 | 14 | 0 | 3.50 |
| Dunith Wellalage | 6 | 1 | 13 | 3 | 2.17 |
| Matheesha Pathirana | 1 | 0 | 6 | 0 | 6.00 |
| Raveen De Silva | 6.3 | 1 | 18 | 2 | 2.86 |


Batsmen
R
B
4s
6s
SR
Chamindu Wickramasinghe
c & b Nathan Barnwell
4
12
0
0
33.33
Anjala Bandara
lbw b Rehan Ahmed
29
58
0
0
50.00
Raveen De Silva
c George Bell b Tom Prest
0
9
0
0
0.00
Shevon Daniel
run out ()
0
6
0
0
0.00
Pawan Pathiraja
run out ()
17
47
0
0
36.17
Ranuda Somarathne
c Alex Horton b Rehan Ahmed
2
9
0
0
22.22
Dunith Wellalage
c James Coles b Thomas Aspinwall
18
55
0
0
32.73
Wanuja Sahan
b Thomas Aspinwall
8
31
0
0
25.81
Yasiru Rodrigo
not out
12
28
0
0
42.86
Matheesha Pathirana
not out
6
13
0
0
46.15
| | |
| --- | --- |
| Extras | 19 (b 1 , lb 9 , nb 3, w 6, pen 0) |
| Total | 115/8 (44 Overs, RR: 2.61) |
| Bowling | O | M | R | W | Econ |
| --- | --- | --- | --- | --- | --- |
| Tom Prest | 10 | 5 | 13 | 1 | 1.30 |
| Nathan Barnwell | 6 | 1 | 13 | 1 | 2.17 |
| James Sales | 2 | 0 | 15 | 0 | 7.50 |
| Rehan Ahmed | 10 | 2 | 20 | 2 | 2.00 |
| Josh Baker | 2 | 0 | 12 | 0 | 6.00 |
| James Coles | 10 | 1 | 22 | 0 | 2.20 |
| Thomas Aspinwall | 4 | 1 | 10 | 2 | 2.50 |