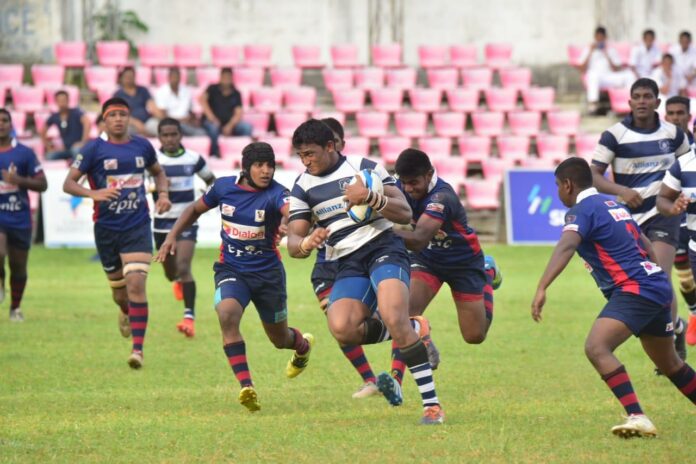 St. Joseph's College convincingly defeated Kingswood College 34-03 in the season opener of the Dialog Schools' Rugby League to kick off the 2022 Season at Havelock Sports Club grounds.
Both teams headed into the game as unknown entities as Schools Rugby XV's began after a two-year hiatus.
The visitors kicked off proceedings on a sunny evening at the Park grounds as both sides were eager to get off to a winning start.
It was the home team who won the first penalty of the season which yielded the first try of the season through skipper Teran Karunanayake. Vihanga Randeepa spotted the short side gap, shifting the point of attack to set up his captain for the first try. First-five Dilhara Subash knocked off the conversion as the Josephians got off to the perfect start. (SJC 07-00 KCK)
The home team punished the visiting Kingswood team through two further tries in the first half.
The Joesphian pack turned on the Razzle-Dazzle as fly-half, Dilhara Subash made an initial break which was finished off by giant no. 08, Naveen Marasinghe who scored under the post.
Moments later, fullback Isuru Kanchana scored the hosts' third of the game before going off the field, clutching onto his hamstring. Dilhara Subash failed to add the extras of the second try, even though he nudged over the 3rd. (SJC 19-00 KCK)
The Josephians were reduced to 13 men as the Flanker Sachinthana Vidana and flyhalf Dilhara Subash were both sent to the bin on the stroke of half-time.
Kingswood pounced on the opportunity for points as Ishara knocked over the penalty to get the visitors on the board.
Half Time: St. Joseph's College 19 (3T 2C) lead Kingswood College 03 (1P)
Neither team managed to stamp their authority in the first quarter of the second half as both teams ran out of steam.
Kingswood College's Dissanayake saw yellow for a high shot. This opened the flood gates in favour of the home team as three further tries in the second half sealed the fate of the visitors.
From the backs to the forwards, a complete performance from the Joesphians saw Sachinthana Vidana score the first try in the second half as the game was pretty much sealed in favour of the home team.
The next was scored through nippy halfback Vihanga Randeepa as the No.9 found another gap on the short-side, showing his way through the defence to score and cap off a perfect start to the season.
The Josephians sixth and final try of the game was scored through substitute hooker Shithija Sanjeewa to round off a winning start to the season, holding off the visitors to just 3 points and a scoreless second half.
Full time: St. Joseph's College 34 (6T 2C) beat Kingswood 03 (1P)
NDB Player of the Match – Teran Karunanayake (SJC Centre)