The sprint champion Shehan Ambepitiya, retired from the track on the second day of the 97th National Championships 2019. Named the fastest Junior Athlete in South Asia back in 2007, Shehan ended his athletic career with a timing of 21.52 seconds in the fourth heat of the Men's 200m event. 

Beginning his career 16 years ago, Shehan emerged from Janadipathi Vidyalaya, Rajagiriya. However, it was during his tenure at Gateway College, Colombo that he started he began his illustrious journey in the National arena.
Ambepitiya spoke on some of his achievements to ThePapare.com, "I competed in track and field for 16 years, out of which 13 years I competed at the international level. When I was competing in the Junior category, I was named the Fastest Athlete in South Asia. I was I was also Asia's second fastest Junior Athlete and the seventh fastest Junior Athlete in the World."
Up to date Ambepitiya stands as the only Sri Lankan Triple Gold Medallist at the Commonwealth Youth Games as he achieved the feat at the 2008 championships held in New Delhi, India, recording three New Meet records in the 100m, 200m and 4 x 100m event.
Ambepitiya's stellar performances have been seen throughout the international arena from the South Asian Junior Athletics Championship to the Brunei Open Athletics Championship, Asian Junior Athletics Championship, Asian Grand Prix, Asian All Star Athletics Championship, Military World Games where he has managed to secure a place on the podium. 
"Apart from the Olympics I have taken part in all other track and field championships and brought some victories to Sri Lanka, I think I did something for my country. Everyone remembers how I brought three Gold Medals for Sri Lanka in the Commonwealth Games. No one has beaten that record until today"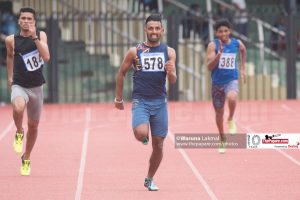 Captaining the Sri Lankan Men's relay team in the past few years, Ambepitiya was able to steer his team in to another impressive at the Commonwealth Games held in Gold Coast, Australia. The 4x100m team, comprised of Himasha Eshan (Sri Lanka's fastest athlete currently), Vinoj Suranjaya, Ashraf Latiff and himself. This dream team recorded a time of 39.38 seconds to surpass a National Record established by the same team back in 2015. This final international run for Ambepitiya allowed the team to finish in 6th position overall.
"First and foremost, I would like to thank my parents. I would also like to thank the person who taught me to take my first steps in running, Nalin Witharana Sir from Janadhipathi Vidyalaya Kotte. After that I was lucky to train with Sunil Gunathilaka Sir. With him I was able to change history. I did my last years of training with Vimukthi Soyza."
"I wish to remember R. I. T. Allas sir, who taught me how to balance both my studies along with athletics. I thank everyone who has helped me along my journey. Everything has an end, but this is not an end. This is only a beginning. I hope to give back to the sport by joining the administration in the future."
 Photos: 97th National Athletics Championship – Day 2
The final time Ambepitiya graced the track, he held the entire crowd's attention as they stood to salute him. His coach Mr. Vimukthi Soyza stood proudly in the stands, smiling with tears in his eyes, at the fruit of his efforts that were on display at the Sugathadasa Stadium.
>>Stay Tuned for more Track and Field<<