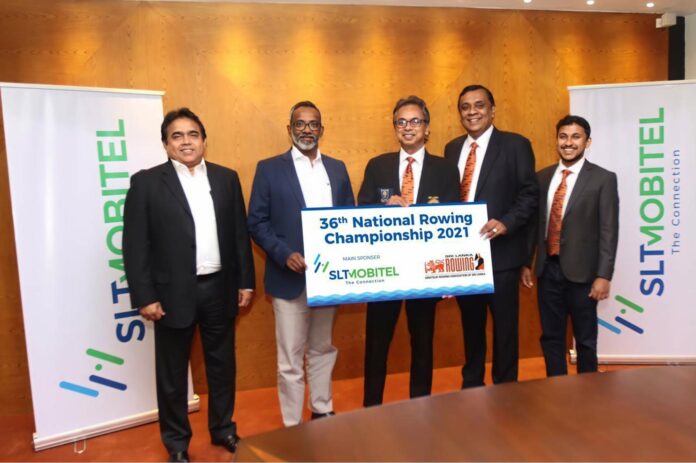 With all non-contact sports commencing events, the boats will also ease into the Diawanna on the 12th and 13th of March 2021 for the Senior & International Rowing Nationals 2021.
In line with the goal of supporting and uplifting sporting endeavours in Sri Lanka, SLT-MOBITEL, the National ICT and Telecommunications Service Provider has come on board to power the National Rowing Championships 2021 as the Principal sponsor. The Championship is being held in collaboration with the Amateur Rowing Association of Sri Lanka (ARASL).
Over the years, rowing has rapidly grown into a well-established sporting activity which is already being held through regattas conducted both nationally and at school levels. Most rowing enthusiasts and participants hail from schools, universities, sports clubs and the armed forces. Rowing heats usually are held under categories of Under-14, Under-16, Under-18, Intermediate and Open categories. The Open championship is one of the most anticipated segments, for seniors who take part. SLT-MOBITEL is committed to empowering young athletes from across a range of categories such as schools, clubs and at national level initiatives
Rowing has been known as amongst the oldest water sport activities in Sri Lanka, and which is usually confined to a number of leading institutions in the Western Province. However, growing enthusiasm for the sport and a committed focus by the organisers to elevate the sport even more and integrate it into more schools across the country, is enabling more young people to embrace the sport.
The ARASL was established in 1964 and is regarded as a National Sports Association for rowing in Sri Lanka. The Association is the only sports body that regulates, promotes and develops rowing in Sri Lanka. ARASL has the main goal of uplifting the sport in the country, to help foster and develop the sport in every form, where rowers from across the country would be able to experience the sport, train and get selected to represent Sri Lanka at local and international rowing championships.