After having spent most of her childhood across the sea in Australia, Leia Hamza set foot on the paradise island a couple of years ago. From the day she arrived in Sri Lanka, she has been exceptional, breaking boundaries and ultimately managing to make it into the Junior National team.
Playing in both the 3×3 and 5-on-5 formats, she is without doubt an investment for the future of Sri Lanka Basketball. This week on Swishing the Nets: Basketball in 05 mins, we bring you the story of young Leia.
Below are the excerpts.  
Q: How did you get into the sport?
I started playing when I was about 11 years old. At the time, I had this growth spurt where I was quite tall for a kid of my age. One day my sports teacher needed an extra player for our team and she just picked me because I was tall, I guess (Laughs). I started because I was tall and then I was fitting to that stereo-type but then (Laughs again) the growth spurt ended and I am not tall now!
Q: How was the support from your family?
They`ve always been supportive. Even if I have played horribly they would say that I tried hard. My mother is one of my biggest fans. She doesn't sugarcoat anything. If I played badly, she would give me advice and tell me how to improve. My family is very honest in that way.
Q: Let`s talk about the balance between studies and sports. How do you do it?
There are a lot of sacrifices, If my friends meet up, I must say no because I must study. Basically, I am a morning person so sometimes if we have practices at 5.30 am I wake up around 3.00 am and finish all my home-work and I sleep a lot at night. You must be disciplined but in the end, you realize it`s all worth it.
Q: How is your practice schedule?
When a tournament is near, we have practices every day of the week, we might get a break on Sunday. We have morning practices which focus on shooting and offense and then follow it up with an evening practice session.
Q: Before a match and during a match what are the steps you follow to handle pressure and keep your focus in the game?
Before a match I love to watch videos of basketball players and I listen to motivational music.  
During a match, spectators do shout but you got to know that they don't` know the game as much as you or your coach does, its excitement for them. So, you got to make sure that you listen to you coach and not be intimidated by what's happening around you.
Q: Who are the toughest teams and players you have competed against?
It changes from 3×3 to 5-on-5. For 3×3 I must say its St. Joseph`s College, Nugegoda. For 5-on-5 I`d say Lyceum International School. Every year they put up a tough fight and I cannot leave Gateway College out of the equation as well.
In terms of players from Lyceum International School – Wattala, Lubna Morseth and Hazeena Abdul, every time we play against them they put up such a good fight. For 3×3 Nihari Perera from St. Joseph`s College.
Read : Most Valuable Player for Basketball, Netball Queen – Hazeena Abdul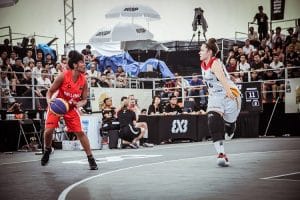 Q: What`s your most unforgettable memory in the game?
I can't pick one. The first one was playing in the 3×3 U18 World Cup which was amazing, the experience and the exposure was great. The second tournament was a training camp that I was a part of in Mongolia, Ulanbaatar. We got to learn skills for two days and how to think and got to play against Japan, one of my favorite teams.
Q: What are your future-plans in basketball?
I have a few more years to play for my school so I`d like to maximize on that opportunity and play in all the tournaments. Also, I have not played in an Asia Cup before so yes that sounds fun.
Q: Who is your role model in the game, both locally and internationally?
I guess I don't have a role model. I look at every one because I believe everyone has something different to bring to the game.  
Q: Apart from basketball, what other interests do you have?
I enjoy studying and school. I love learning new things. For hobbies, it`s music. I listen to a lot of music and I play the piano sometimes to keep the stress off.
Q: Where does Sri Lanka basketball stand as you see it, what should improve?
I have been playing basketball in Sri Lanka for about two years and I have seen a massive improvement and everyday it seems to get better, there is so much effort put in from a lot of coaches and the players are also taking it seriously.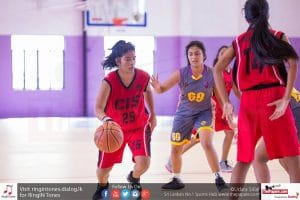 Q: You were selected to represent the Sri Lanka Youth Basketball team. How did that feel?
Well, it came as a surprise to me. I am grateful for the opportunity and I think it`s been a life changing experience. My perspective towards basketball has changed a lot to see how much work is going in and I have enjoyed it. I have made a lot of friends and I have also learnt to appreciate things and how to prioritize things.  
Q: If not for basketball, what other sport would you play?
I wouldn`t know! I tried a bit of every sport when I was young. My mother put me into swimming, tennis so I could have been a promising swimmer but I think basketball is the best sport so far.
Q: Anyone to thank for? 
I must thank my parents & my family. My coach, Tuan Murad Amath and coaches Sivashakthi Selvaraja, Ajith Kuruppu. My school CIS, there is so much support that comes in and my friends and couldn't forget my little sister – who supports me a lot in all and she also plays basketball.