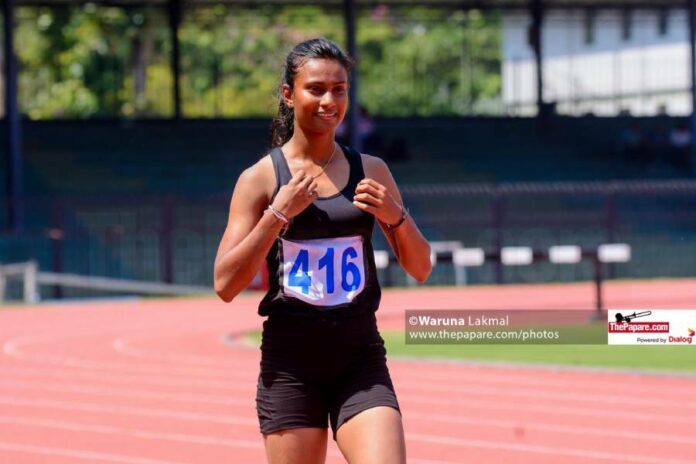 Sarangi de Silva, the national and South Asian champion in the women's long jump event, is set to showcase her athletic prowess at the highly anticipated Seiko Golden Grand Prix 2023 in Japan this weekend.
As a gold category tournament organized under the continental tour by the World Athletics Association, this event holds immense significance for Sarangi's qualification for the World Athletics Championship as the gold category tournaments offers substantial points, making it a vital stepping stone for Sarangi's aspirations of competing at the highest level.
In the meantime, the Seiko Golden Grand Prix attracts elite athletes from various countries, establishing itself as one of Japan's premier Grand Prix tournaments. The participation of athletes from nations renowned for their athletic prowess, such as India, Australia, and Germany, intensifies the competition and raises the bar for performances.
Sarangi de Silva has established herself as a high-performing athlete in the long jump event, setting an impressive benchmark for herself and her competitors. Her personal best of 6.65 meters not only represents a national record but also showcases her exceptional talent and dedication.
It is also noteworthy that Sarangi made a tough call to forgo the World Athletics Championship in 2022, despite qualifying through the rankings. Her decision came in as a strategic choice to prioritize preparation for the Commonwealth Games.
Should Sarangi succeed in securing qualification for the World Athletics Championship through her performance at the Seiko Golden Grand Prix 2023, it will open doors to even greater opportunities for her. Competing on the global stage will not only enable her to test her skills against the best athletes in the world but also provide a platform to inspire young aspiring athletes in Sri Lanka.
The Seiko Golden Grand Prix 2023 is scheduled to take place on Sunday (21) and stay tuned to ThePapare.com for further updates on the tournament.
Related Articles: