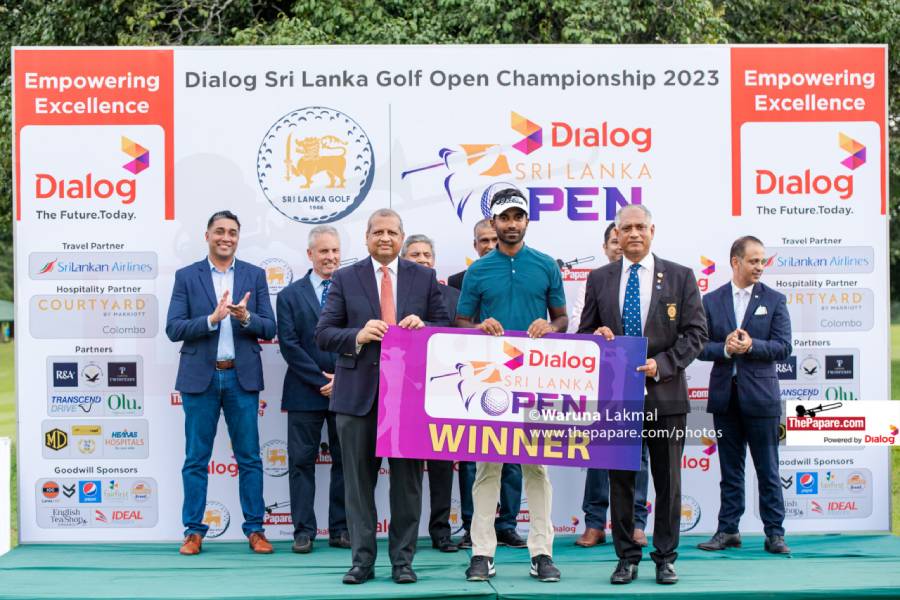 Samarath Dwivedi from India won the Dialog Sri Lanka Open Golf Tournament 2023 which concluded on the 2nd of June at Royal Colombo Golf Club.
With a total of 136 golfers teeing-off in Round 1, the cut-off was implemented after round 2 and 36 golfers made the cut at 153, eleven over par for 2 rounds.
Dwivedi from India based with his family in Bangkok, Thailand since 1993, plays in the PGTI having turned Pro-Golfer eight years ago. Samarth is currently ranked 34th in the current PGTI rankings and during the off-season of the PGTI, plays in the Thailand Pro-tournaments.
Samarth said "After eight years of hard work, injuries, training and playing with passion and love for Golf finally brought victory in the Dialog Sri Lanka Open 2023. I have come close many times, I have shot 9 under 3 times, but I was able to shoot 10 under and capture my first win in a Pro – Tournament for the first time and I believe it will be the first of many more in the future".
Dwivedi led the field from round 2 where he climbed to the top of the leaderboard with a stunning 10 under par and maintained his lead to the end. Samarth's achievement is most creditable as he was paired-off with Chouhan Om Prakash the number 1 ranked and Jamal Hossain number 5 ranked currently, having won the final PGTI event played in the first half of the PGTI 2023 season.
The final round was a tense battle of skill, temperament and ability closely followed by a substantial crowd and live coverage provided by ThePapare.com and Dialog Television.
Samarth 2 strokes ahead of Jamal held on to the same lead at the end with a final round 2 under par to be 13 under par on 271. Chouhan Om Prakash fired a 3 under par to tie for second place with Jamal Hossain who was one stroke ahead of Om Prakash.
Anura Rohana the seven-time champion of the Sri Lanka Open also shot a 3 under par 68 to clinch 4th place ahead of Udayan Mane, Saptak Talvar, Rashid Khan, Mithun Perera and M. Dharma of India.
The elegant Prize Giving covered LIVE by ThePapare.com and Dialog Television was an opportunity for Mr. Michael Magala, President Sri Lanka Golf (SLG) to appreciate the Title Sponsor Dialog Axiata PLC, the Travel Partner SriLankan Airlines who brought-in international golfers from India, Bangladesh, Pakistan, Singapore, Malaysia, Japan, the Hospitality Partner Courtyard By Marriott Colombo who hosted the international players, TRANSCEND DRIVE the Transport Partner, OLU water the Hydration Partner, Capitol Twin Peaks the 4th Hole-in-One partner, MD Nectar the fruit-drinks partner, Hemas Hospitals the Medi-Care Partner, 9th Hole-in-One sponsor SriLankan Airlines, the GOODWILL Sponsors Lanka IOC, GFLock, Devi Jewelers, Ideal Motors – Mahendra, Prima Ceylon, Pepsi, Fair First Insurance, English Tea Shop, DYNACOM  Engineering, Omegaline and well-wishers.
DIALOG SRI LANKA OPEN GOLF CHAMPIONSHIP 2023 LEADER BOARD AT A GLANCE
-13 WINNER – DWIVEDI SAMARTH [IND] 271 (72,61,69,69)
-11 Runners-up Jt – CHOUHAN OM PRAKASH [IND] 273 (69,65,71, 68) JAMAL HOSSAIN [BAN] (68,67, 69,69)
– 8 Placed 4th – R. A. ANURA ROHANA [SRI] 276 (67,70, 71,68)
– 7 Placed 5th – UDAYAN MANE [IND] 277 (67, 72, 69, 69)
– 5 Placed 6th – SAPTAK TALWAR (IND) 279 (70,69,69,71)
– 4 Placed 7th – MOHAMMED RASHID KHAN [IND] 280 (72,70, 65, 73)
– 2 Placed 8th Jt- M. DHARMA [IND] 282 (71,69, 72, 70) MITHUN PERERA [IND]72, 71, 67, 72)
– 1 Placed 10th – N. THANGARAJA (SRI) 283 (71,74,67, 71)
+1 Placed 11th Jt – JAIBIR SINGH [IND] 285 (71,72,71,71) M.H. CHALITHA PUSHPIKA [SLNAVY] 68, 75, 71,71)
+4 Placed 13th -YEVIN SAMARARATNE [AUS] 288 (75,72, 68,73)
+6 Placed 14th – RESHAN ALGAMA[SRI] 290 (68, 75, 75, 72)
+8 Placed 15TH Jt – 292 SASIDARAN MUTTIAH [MAL] (76,73,71,72) IWASAKI MAKOTO [JPN] (72,76,72,72) K. PRABAGARAN [SRI] (68,71,75,78)