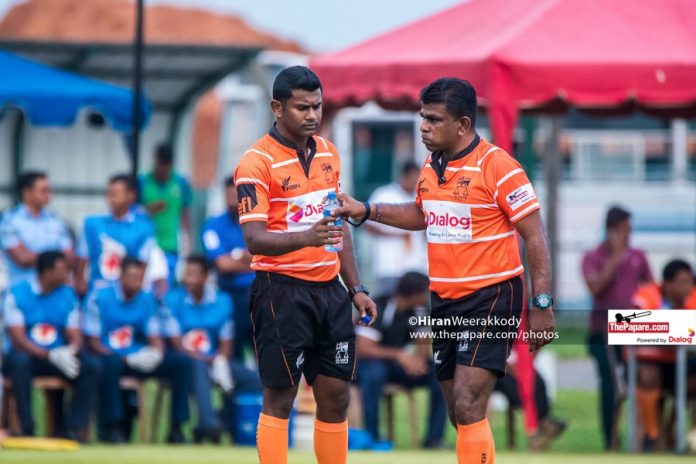 Following the conclusion of the Dialog Rugby League 2018/19 clash between Air Force and Navy SC at Ratmalana on the 2nd of December, the assistant referee assigned for the game has been assaulted in the Air Force premises.
According to the Sri Lanka Rugby Referees Society (SLRRS) President Nizam Jamaldeen, the referee Anila Mangala was returning home following the social held in the evening following the game when he was mobbed within the premises,
"(He) Anil Mangala was returning after the social that was held after the game at the Air Force premises and when he was returning, a set of individuals have assaulted him and left. This was late in the night after the social" he added.
"He (Anil Mangala) was admitted to the Kalubowila Hospital for treatment and was later discharged"
ThePapare Match Centre – Air Force SC v Navy SC
It was Air Force Sports Club that hosted Navy Sports Club in match week 4 of the Dialog Rugby League and it was a heated game in the first 60 minutes of play where both teams were contesting head to head for the win. Navy Sports Club won the game eventually with scores reading 43-25.
"We have written to Sri Lanka Rugby (SLR) on the incident officially and I have urged them to take up the matter with the host team" added Jamaldeen on the outcome of the incident.
"Until then, the Sri Lanka Rugby Referees Society will not blow any of the Air Force Sports Club games"
The SLRRS have stated their stance that until the security of their referees and the safety of their officials are assured by Air Force, no game of Air Force will be officiated.
Earlier this year, the entire Schools Rugby League was halted due to a series of events that saw the rugby referees assaulted and verbally abused.
Read More: Referees will not blow at Wesley, Zahira and Maliyadeva games

Air Force SC is set to play Police SC away this week.