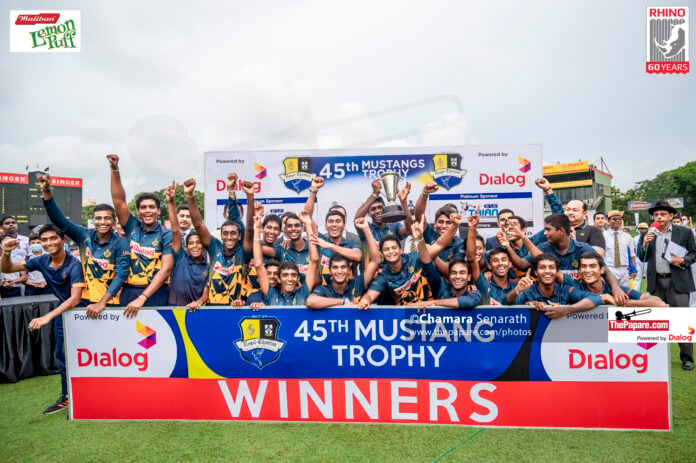 Royal College registered a convincing 8-wicket win over S. Thomas' College in their 45th annual limited-overs Cricket encounter played for the Mustangs Trophy on Saturday at SSC Grounds.

After opting to bat first, S. Thomas' College managed to post a below-par score of 190 for 8 wickets from their allotted 50 overs. Royal College reached the target losing only 2 wickets, with more than seven overs to spare.
With the 143rd Battle of the Blues ending in a tame draw last weekend, both teams made several changes to their playing XIs for this 50-over game. Royal seamer Bulan Weeratunga struck early to remove Aneesh Kamalachandra for a duck. Both Dineth Gunawardene and Thisen Eheliyagoda got off to slow starts, but failed to convert those into substantial scores as Royal pegged them back with regular wickets.
Fresher Damith Kappagoda took a wicket off his first ball, which was followed up with another dismissal as S. Thomas' College were 5 down for 76 runs at the end of 27 overs. Muiz Naushan and Mahith Perera revived the Thomian innings with fighting half-centuries in the middle order. They added a crucial 80 runs for the 6th wicket to give some respect to their final score.
Royal Skipper Gishan Balasooriya removed Naushan for 50, while Perera batted with the rest of the tail to take the Thomian total to 190. Perera top-scored with an unbeaten 52*. All the Royal bowlers had impressive Economy Rates as they maintained a solid stranglehold on the Thomian batting. The off-spin duo of Kappagoda and Sadisha Rajapaksa picked up 2 wickets apiece for Royal.
Chasing 191 runs to win, Royal College got off to a solid start as the two openers Sineth Jayawardene and Ovina Ambanpola added 53 runs in 13 overs, with the former scoring the bulk of the runs. However, S. Thomas' Skipper Ryan Fernando got the key wicket of Jayawardene for 39, to bring Sri Lanka U19 cap Sadisha Rajapaksa to the middle.
Ambanpola and Rajapaksa constructed a vital 2nd wicket partnership worth 72 runs for the 2nd wicket. Right-handed Ambanpola was dismissed for 35 courtesy a run-out. However, Rajapaksa was unfazed along with Uvindu Weerasekara as the pair cruised to victory in the 44th over. The 3rd wicket partnership was worth 66 unbroken runs for Royal. S. Thomas' dropped at least 5 chances in the field, which proved to be costly in the end for the School from Mount Lavinia.
Rajapaksa scored 4 fours during his elegant 77-ball 69, as Royal retained the Mustangs Trophy for another year. After 45 encounters, Royal lead the tally with 22 wins against 21 wins for S. Thomas'.
Individual Awards
Best Fresher – Muiz Naushan (STC)
Best Batter (Royal) – Sineth Jayawardene
Best Batter (S. Thomas') – Mahith Perera
Best Bowler (Royal) – Damith Kappagoda
Best Bowler (S. Thomas') – Ryan Fernando
Player of the Match – Sadisha Rajapaksa (RC)
Brief Scores
S. Thomas' – 190/8 (50): Mahith Perera 52*, Muiz Naushan 50, Ryan Fernando 30, Damith Kappagoda 2/19, Sadisha Rajapaksa 2/45.

Royal – 191/2 (43.2): Sadisha Rajapaksa 69*, Sineth Jayawardene 39, Ovina Ambanpola 35, Uvindu Weerasekara 35*.


Batsmen
R
B
4s
6s
SR
Thishen Ehaliyagoda
run out (Ramiru Perera)
13
35
1
0
37.14
ANEESH KAMALCHANDRA
lbw b Bulan Weerathunga
0
10
0
0
0.00
Dineth Gunawardena
c & b Sadisha Rajapaksha
16
37
1
0
43.24
Ryan Fernando
c Sineth Jayawardena b Damith Kappagoda
30
37
1
0
81.08
MUIZZ NAUSHAN
b Gishan Balasuriya
50
83
2
0
60.24
Charuka Peiris
st Nethil Panapitiya b Damith Kappagoda
5
16
0
0
31.25
Mahith Perera
not out
52
70
1
0
74.29
Caniston Gunathan
run out (Bulan Weerathunga)
3
5
0
0
60.00
Senesh Hettiarachchi
b Sadisha Rajapaksha
9
6
1
0
150.00
Kavindu Dais
not out
1
1
0
0
100.00
| | |
| --- | --- |
| Extras | 11 (b 3 , lb 0 , nb 0, w 8, pen 0) |
| Total | 190/8 (50 Overs, RR: 3.8) |
| Bowling | O | M | R | W | Econ |
| --- | --- | --- | --- | --- | --- |
| Bulan Weerathunga | 8 | 1 | 28 | 1 | 3.50 |
| Venusha Akash | 5 | 1 | 15 | 0 | 3.00 |
| Sadisha Rajapaksha | 10 | 0 | 45 | 2 | 4.50 |
| Dasis Manchanayake | 10 | 0 | 45 | 0 | 4.50 |
| Gishan Balasuriya | 10 | 1 | 34 | 1 | 3.40 |
| Damith Kappagoda | 7 | 1 | 19 | 2 | 2.71 |


Batsmen
R
B
4s
6s
SR
OVINA AMBANPOLA
run out (Charuka Peiris)
35
85
2
0
41.18
Sineth Jayawardena
c Senesh Hettiarachchi b RAYAN FERNANDO
39
50
4
1
78.00
Sadisha Rajapaksha
not out
69
76
4
0
90.79
Uvindu Weerasekara
not out
35
44
4
0
79.55
| | |
| --- | --- |
| Extras | 13 (b 0 , lb 0 , nb 0, w 13, pen 0) |
| Total | 191/2 (42.3 Overs, RR: 4.49) |
| Bowling | O | M | R | W | Econ |
| --- | --- | --- | --- | --- | --- |
| Charuka Peiris | 7.3 | 0 | 32 | 0 | 4.38 |
| Caniston Gunathan | 9 | 1 | 31 | 0 | 3.44 |
| Dineth Gunawardena | 5 | 1 | 21 | 0 | 4.20 |
| Kavindu Dais | 7 | 0 | 45 | 0 | 6.43 |
| RAYAN FERNANDO | 8 | 0 | 30 | 1 | 3.75 |
| Dhiren De SIlva | 4 | 0 | 24 | 0 | 6.00 |
| Mahith Perera | 2 | 0 | 8 | 0 | 4.00 |