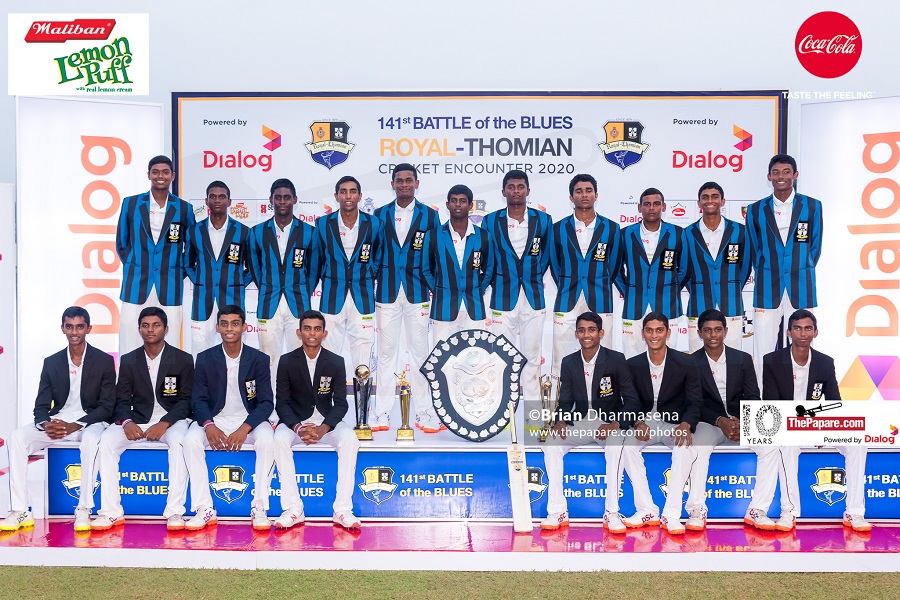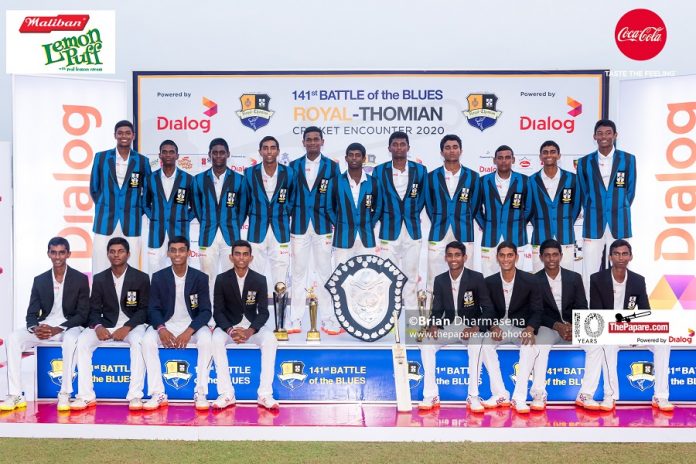 Dasis Manchanayake made an unbeaten 53 to pull Royal College out of deep trouble on day 3 of the 141st Battle of the Blues encounter at the Sinhalese Sports Club grounds. After seeing Royal declare on 282, S Thomas' finished on 127/5 as the game drew to a close. 
Manchanayake, playing in his 1st Royal-Thomian, showed absolutely no nerves in the middle, playing a controlled knock, after coming in to bat with the score on 177/6 – Royal still 43 runs away from avoiding the follow-on. The elegant left-hander put on 24 alongside Isiwara Dissanayake before taking the lead in his partnership with Lahiru Madusanka which was worth 67. Manchanayake and Madusanka weathered the Thomian storm and eventually went past the follow-on mark to post 282/8 before the declaration came from the Royal camp.
Shalin de Mel (85) and Ryan Fernando (70) propped S. Thomas' College up on day
Left-arm pacie Yasiru Rodrigo was the most impressive bowler in a good overall performance from the Thomians on a dead surface. The battle between Rodrigo and Dissanayake was particularly good to watch with the left-armer getting Dissanayake to play and miss outside the off stump on several occasions. He eventually had his man as he snuck one through straight to wrap Dissanayake on the pads. Umayanga Suwaris was another who stood out with the ball, picking up the crucial wickets of Kavindu Pathirathne and Thevindu Senaratne to kick off proceedings while Rodrigo picked up the final wicket to fall in the Royal innings when he had Madushanka, who had restrained himself well during his stay at the crease, caught behind for 29.
Photos: Royal College vs S. Thomas' College | 141st Battle of the Blues – Day 03
Coming in to bat for their 2nd innings with 87 runs in the bank, S Thomas' surprisingly looked far more aggressive with the bat, with Dilmin Rathnayake and Shalin de Mel using their feet and taking on the bowlers. Their approach brought the 'School by the Sea' just 26 runs as Kamil Mishara picked up de Mel for 5.
Gishan Balasooriya, the man who had been Royal's star performer with the ball during the regular season, was disappointing in the 1st innings but came back to pick up 4/50 in the 2nd, claiming the scalps of Dilmin Rathnayake, Ravindu de Silva, Ryan Fernando and Umayanga Suwaris.
S Thomas' College picked up 4 crucial wickets in the final session of play on day 2 of the 141st
Fresher Gavin Botheju, who made a half century in the 1st innings, and Kishan Munasinghe saw S Thomas' through to the end of the day's play to finish off the 141st Battle of the Blues.
Having won the encounter in 2019, S Thomas' retained the D S Senanayake Memorial Shield as the game ended in a draw.
Special Awards
Player of the Match – Shalin de Mel | 90 runs & 2 catches (S Thomas' College)
Best Batsman – Ryan Fernando | 104 runs (S Thomas' College)
Best Bowler – Gishan Balasooriya | 6/110 (Royal College)
Best Fielder – Ahan Wickramasinghe | 2 runouts (Royal College)
369/10 (128.2) & 127/5 (48)


Batsmen
R
B
4s
6s
SR
Dilmin Rathnayake
lbw b Kavindu Pathirathna
23
36
2
0
63.89
Shalin De Mel
c Kaushan Kulasooriya b Thevindu Senarathna
85
135
7
2
62.96
R de Silva
st Kavindu Madarasinghe b Gishan Balasuriya
6
9
1
0
66.67
Ryan Fernando
lbw b Dasis Manchanayake
70
145
9
0
48.28
Kishan Munasinghe
b Kamil Mishara
0
1
0
0
0.00
G Botheju
run out ()
54
176
1
0
30.68
U Suwaris
c Kavindu Pathirathna b L Madusanka
21
42
2
0
50.00
Maneesha Perera Rupasinghe
run out ()
25
80
1
0
31.25
Yasiru Rodrigo
lbw b Kavindu Pathirathna
5
4
1
0
125.00
Thevin Bimsara Eriyagama
st b Kamil Mishara
47
91
4
0
51.65
Caniston
not out
10
52
0
0
19.23
| | |
| --- | --- |
| Extras | 23 (b 15 , lb 2 , nb 1, w 5, pen 0) |
| Total | 369/10 (128.2 Overs, RR: 2.88) |
| Fall of Wickets | 1-49 (14.2) Dilmin Rathnayake, 2-56 (17.1) R de Silva, 3-156 (42.6) Shalin De Mel, 4-156 (43.1) Kishan Munasinghe, 5-208 (62.1) Ryan Fernando, 6-244 (74.4) U Suwaris, 7-294 (100.3) Maneesha Perera Rupasinghe, 8-301 (102.1) Yasiru Rodrigo, 9-310 (106.4) G Botheju, 10-369 (128.2) Thevin Bimsara Eriyagama, |
| Bowling | O | M | R | W | Econ |
| --- | --- | --- | --- | --- | --- |
| Kavindu Pathirathna | 32 | 6 | 85 | 1 | 2.66 |
| L Madusanka | 13.2 | 0 | 31 | 1 | 2.35 |
| Thevindu Senarathna | 14.4 | 1 | 52 | 1 | 3.61 |
| Gishan Balasuriya | 23.2 | 3 | 68 | 2 | 2.93 |
| Prashan kalhara | 16 | 4 | 34 | 0 | 2.12 |
| Kamil Mishara | 21 | 4 | 55 | 1 | 2.62 |
| Dasis Manchanayake | 8 | 0 | 27 | 1 | 3.38 |


Batsmen
R
B
4s
6s
SR
Kaushan Kulasooriya
c Shalin De Mel b Kishan Munasinghe
31
110
3
0
28.18
Kamil Mishara
c Shalin De Mel b Kishan Munasinghe
32
106
2
0
30.19
Kavindu Madarasinghe
c G Botheju b Thevin Bimsara Eriyagama
23
43
2
0
53.49
Ahan Wickramasinghe
c Dilmin Rathnayake b Caniston
24
40
3
0
60.00
Isiwara Dissanayake
lbw b Yasiru Rodrigo
42
118
4
0
35.59
Kavindu Pathirathna
b U Suwaris
8
37
0
0
21.62
Thevindu Senarathna
c Yasiru Rodrigo b U Suwaris
8
9
2
0
88.89
Dasis Manchanayake
not out
53
103
6
0
51.46
L Madusanka
c G Botheju b Yasiru Rodrigo
29
57
5
0
50.88
Prashan kalhara
not out
5
9
0
0
55.56
| | |
| --- | --- |
| Extras | 27 (b 10 , lb 0 , nb 8, w 4, pen 5) |
| Total | 282/8 (104.3 Overs, RR: 2.7) |
| Fall of Wickets | 1-61 (32.3) Kaushan Kulasooriya, 2-81 (40.3) Kamil Mishara, 3-104 (45.1) Kavindu Madarasinghe, 4-123 (53.3) Ahan Wickramasinghe, 5-169 (68.5) Kavindu Pathirathna, 6-177 (72.2) Thevindu Senarathna, 7-201 (80.4) Isiwara Dissanayake, 8-268 (102) L Madusanka, |
| Bowling | O | M | R | W | Econ |
| --- | --- | --- | --- | --- | --- |
| Yasiru Rodrigo | 26 | 8 | 52 | 2 | 2.00 |
| Caniston | 15 | 3 | 35 | 1 | 2.33 |
| Thevin Bimsara Eriyagama | 13.3 | 4 | 44 | 1 | 3.31 |
| Kishan Munasinghe | 19 | 6 | 38 | 2 | 2.00 |
| Dilmin Rathnayake | 9 | 0 | 32 | 0 | 3.56 |
| U Suwaris | 18 | 4 | 55 | 2 | 3.06 |
| Shalin De Mel | 4 | 0 | 11 | 0 | 2.75 |


Batsmen
R
B
4s
6s
SR
Dilmin Rathnayake
st Kavindu Madarasinghe b Gishan Balasuriya
22
36
2
1
61.11
Shalin De Mel
c L Madusanka b Kamil Mishara
5
23
0
0
21.74
R de Silva
lbw b Gishan Balasuriya
4
9
0
0
44.44
Ryan Fernando
c L Madusanka b Gishan Balasuriya
34
66
5
0
51.52
G Botheju
not out
36
77
5
0
46.75
U Suwaris
c Prashan kalhara b Gishan Balasuriya
5
18
1
0
27.78
Kishan Munasinghe
not out
16
60
1
0
26.67
| | |
| --- | --- |
| Extras | 5 (b 2 , lb 2 , nb 1, w 0, pen 0) |
| Total | 127/5 (48 Overs, RR: 2.65) |
| Fall of Wickets | 1-26 (9.1) Shalin De Mel, 2-10 (10.4) Dilmin Rathnayake, 3-31 (12.1) R de Silva, 4-76 (28.2) Ryan Fernando, 5-83 (32.5) U Suwaris, |
| Bowling | O | M | R | W | Econ |
| --- | --- | --- | --- | --- | --- |
| Kavindu Pathirathna | 6 | 0 | 22 | 0 | 3.67 |
| Kamil Mishara | 13 | 2 | 23 | 1 | 1.77 |
| Gishan Balasuriya | 18 | 5 | 50 | 4 | 2.78 |
| Prashan kalhara | 3 | 0 | 7 | 0 | 2.33 |
| L Madusanka | 3 | 1 | 6 | 0 | 2.00 |
| Dasis Manchanayake | 4 | 1 | 11 | 0 | 2.75 |
| Thevindu Senarathna | 1 | 0 | 4 | 0 | 4.00 |