Royal rumble to defend their school's rugby league title.
If these were times of a Jurassic age where Dinosaurs roamed the earth, they would surely pick the Royal complex to be its epicenter. For on Saturday we witnessed the rise and the slip of two larger than life rugby legacies. Royal on the back of their winning form and St Peter's battling for credibility against the top team, as was the case for their coaches.
You might also like: A Right-Royal league
Prior to this title-deciding game, there were all sorts of mathematical scenarios floated and being swirled around by respective supporters of both St Joseph's and St Peter's. Joes entered the fray as they rolled Peter's last week. This caused the win and "lose by" this and that coming into play.
See more Photos from the Royal-Peter's clash: Royal College v St.Peter's College | Schools Rugby 2018
It was a tad complex. A win by two hundred and score thirty-one and a half tries to deny Royal one hundred and forty, something like that. In the end, it was all academic and temporary crumbs for comfort. Royal, did what Royal does best. They march on and chew the opposition from ear to ear and win. Simply put.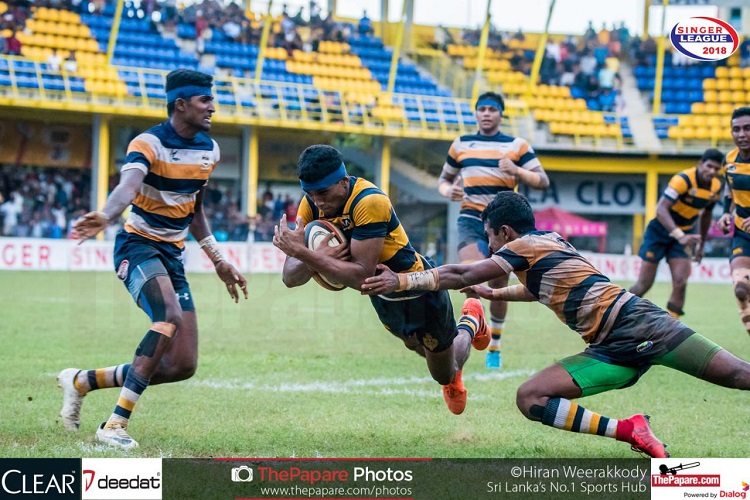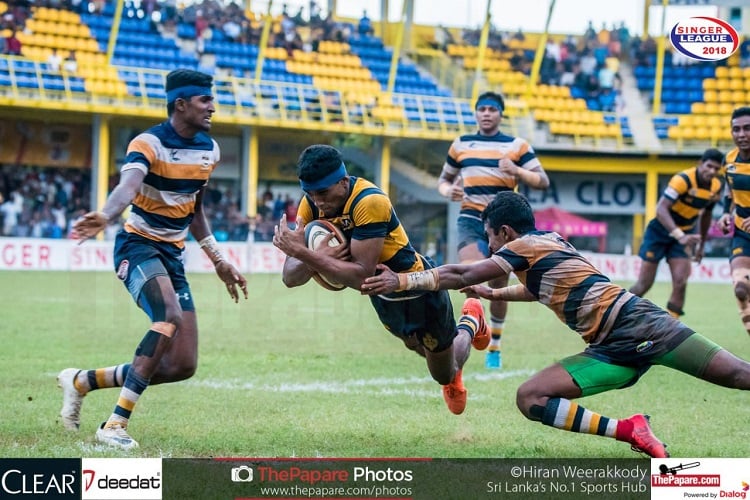 In times where knowing your place in the food chain is critical, Royal understood the importance of an alpha male like dominance, acquiring and honing your skills as you progress, as all good dinosaurs did in their time for survival, especially the big bad T-Rex. It was a progressive evolution by a constant Hybrid, eventually morphing into a juggernaut which on demand, raised hell.
St Peter's on the other hand, two weeks running, fell to the opposition who both, combined, played with fourteen men for sixty-five or so minutes. You would think that at the business end of the season it would be good night Irene. Instead, a team which lacked direction and tactical nous succumbed like an aged bull, a sitting prey for a hungry T-Rex.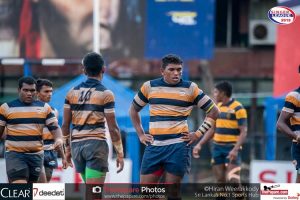 Royal, simply lapped up the servings and without a second invitation, utilized their tactical fortitude to great measure. Recycling a red and black, 205 Gilbert- rugby ball with consummate ease, almost as if it was a relic of a bygone era and scored points when it mattered most.
Playing the possession to territory game as a relative theory, it was Einstein like accuracy against a rather scattergun, Peterite approach. Again, for a second week running, they continued to pile on hit after hit against the league's most organized defensive unit by a Jurassic mile. For their opposition, this was a walk in the park. All they ended up doing was eventually and inevitably, turning it over. All that effort for very little return.
Shehan Liyanapathirana was given an opportunity to shoot at goal after declining a shot earlier in the piece. Thankfully they had got my memo from last week's "The Empire strikes back" and opted for the points. He landed a brilliant penalty goal from almost fifty out on the angle. For schoolboy level, this young man is way ahead of his time.  That being said, if Peter's were going to roll the favorite over, they needed to score tries. The first half gave them plenty of ball but they just could not convert that dominance into scoreboard pressure. This was yet another glaring lack of tactical or coaching oversight. Moral of the story– "Feed the backs!".
Most of the half, if not all, was being played by the Bambalapitiya team in the Reid Avenue side of the park.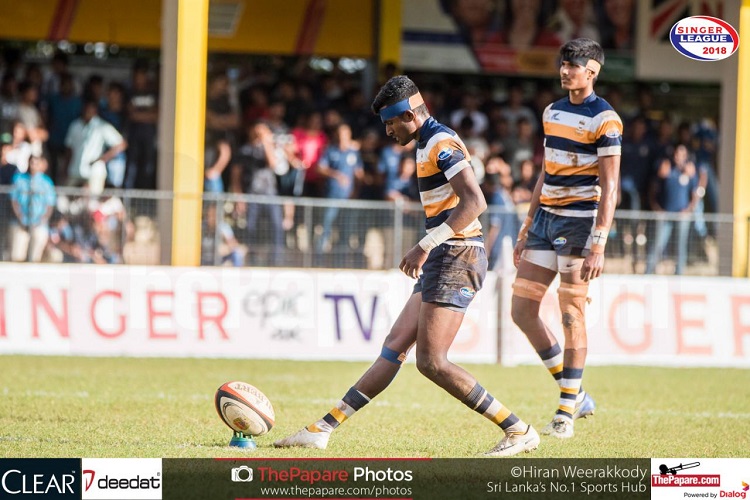 Royal has a knack, when poked, they strike back and do so with real ferocity. If scoring a penalty against them was that poke– of having a fly trapped in your house, rather than use a fly swat they opt to drop a nuclear bomb. That is– their driving maul. After being beautifully nullified and driven out by St Peter's to their bread and butter, the second man throw, keeping their faith and in a well-rehearsed set piece, shifted the throw to the back of the lineout and rolled over like a Rex's tooth ripping into a Triceratops. Again, ample evidence of a well-drilled outfit. All SPC could garner, was a feeble attempt to lay all over the advancing track and collapse it. For the record, it didn't work. It was never going to.
Absorbing pressure and not conceding has been one facet how Royal has built their season. Peterite front rower Charles was very prominent, moving around the park and using his incredible bulk in enforcing his will. The issue was that Royal on occasion chose not to contest the breakdown and effectively formed no ruck, allowing them to pick and choose which "ruck" they targeted for a turnover.
Meaning, that they chose which breakdown they created a ruck with. St. Peter's, instead of forcing and opting out of this set pattern of phase play, looking for unstructured, broken play to open up a compressed and narrow defensive line, stuck to this battering ram mode, instead of pushing them wide and at depth to break the deadlock. This starved their threatening back division. Strange, to say the least.
To their credit, they hung on to it and moved the ball for long periods of play but almost inevitably gave away a turnover. That was all Royal had to do. They were doing this all season long.
Also, by choosing not to contest, Royal reduced the risk of infringing. Although, in parts of the game, including an incredible yellow card for arguably a perfect low tackle, it was a lopsided count against the defending champions. This translated to (apart from the periods brought to attention) effectively taking the ref out of the equation in critical structured plays later in the game. Fortunately, Royal was good enough not to let that yellow card set them back, in fact, it worked the other way as the floodgates opened.
As if a prizefighter who went for the knockout and didn't leave it in the hands of the judges, Janidu Dilshan, with a man of the match performance, and skipper Feroze who sliced open the defense with snaking runs, looked a threat on every occasion with the ball in hand. Defensively, there wasn't much on offer when they did decide to run after a number of recycled phases. The key factor being breaking the gain line at will as their forward pack sucked in would be defenders five or so phases after. Suck them in and spin it wide.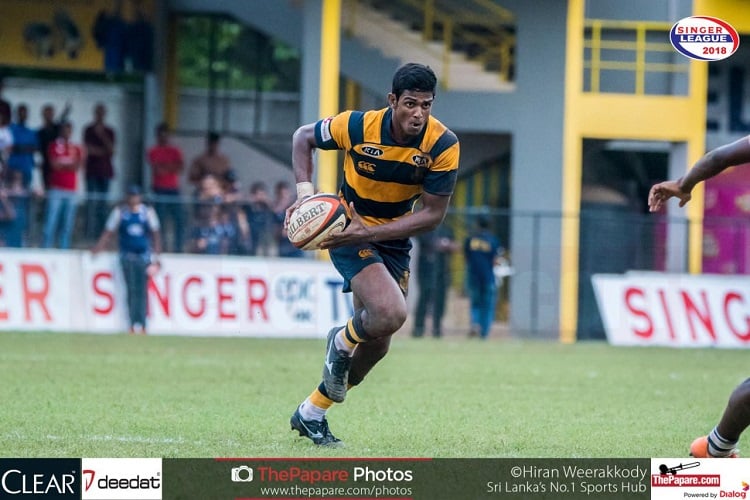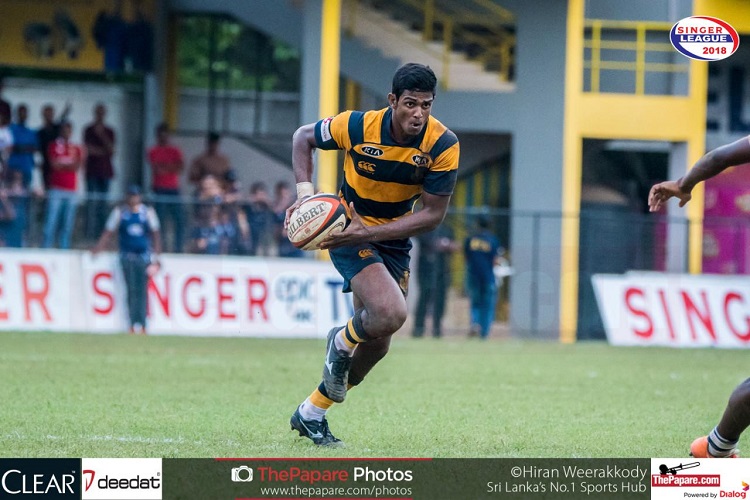 It was a forwards domination up front which controlled the outcome. Never did they give up easy gains to a forward pack which was heavier but clunky and one dimensional in execution.
Bend it like J. Dilshan
The real revelation and tactical adjustments were JD and his kicking prowess. Punting ahead and relieving pressure to play the territorial game as they got ahead on the scoreboard. A sublime cross kick, kick, and a chase was a couple of highlights which could have easily had two more scores all by himself.  Lady luck wasn't on his side, on those occasions.
Shehan Liyanapathirana had his moments but by far when it mattered he missed several, crucial touch finders on penalties. Furthermore, when he did find touch, Royal contested and stole the Peterite line out. Hence why kicking for goal was a clear, no-brainer.
SPC Lose to fourteen men, again!
Same tactics, phase after phase and looking for a set-piece when their strength was broken play. An inability to understand and interpret depth and width with strong running backs, instead choosing to keep it with their forward pack. Wimaladasa was mentioned maybe twice in this crucial encounter. This worked against lesser opposition but not against Royal (and Joes).  They simply anticipated this brunt and waited for the right moment, pounced for turnovers. A fatal mistake to think you would outplay them in this area.
Inability to take points on offer and opt for set plays which failed
Penalties are abundant in secondary school rugby. Given that you have the league's highest point scorer on board, you take your shots every time. In a strange mix of, no, yes, maybe, bungling valuable momentum and a chance to win. Simply inexcusable. You MUST learn from your mistakes.
A charmed run comes to a halt
On form against easier opposition, caught them out and they used the same tactics which failed as I earlier mentioned. Identifying your opposition is key and I can't help but think that there was a serious oversight in the analysis of who, what and how to play them. Lewke, got his troops to be flexible and shapeshift beautifully.  
Doing what it takes
Royal dogged it out against Wesley on the back of a flu and sore eyes epidemic sweeping through their camp. They took the penalties on offer and did what they had to do to win. As strange as it may seem that Royal, usually kicking to a corner and looking to maul off a lineout, instead took the three points from 15-17 down to win 18-17 against Wesley. A win is a win, no matter how dour and despite Wesley, deserving to win. Peters were 5-10 down and two sitters would have made it 11-10. Spilled milk I guess.
Adjustment Bureau and the art of it
Adjusting their game plan from post-Wesley and getting their game-breakers into both Pathana and this game alike was impeccable. Wesley forced plenty of errors from kick returns and targeted Full Back Dulan Gunawardena.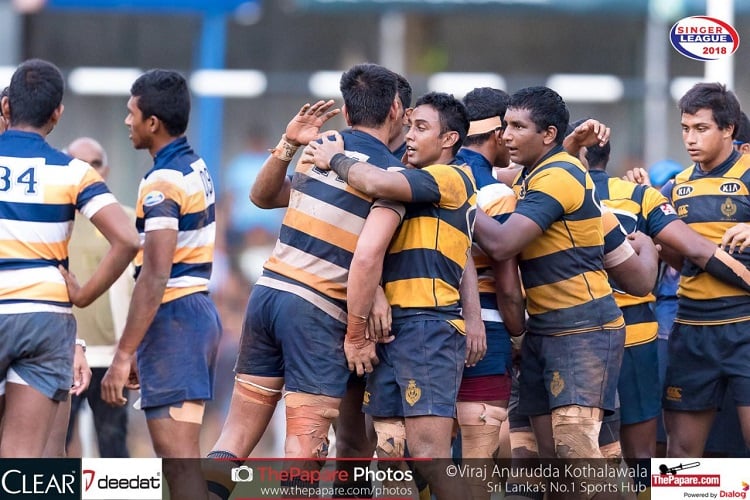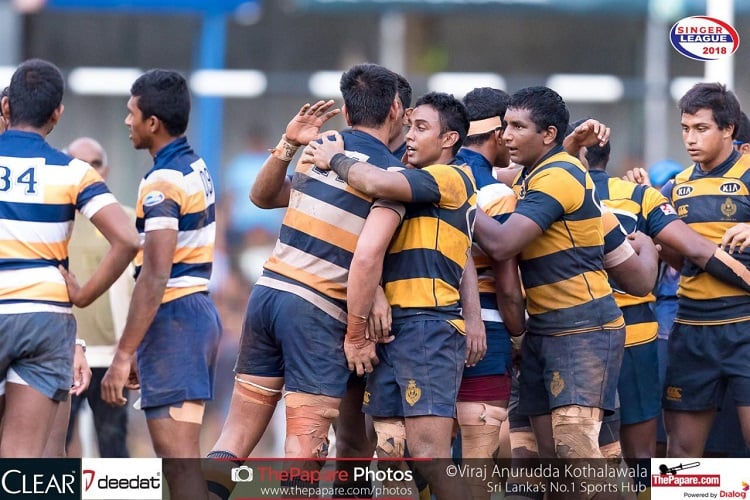 A week later, switching Dilshan to field the kick and kick return, getting all his game breakers into the thick of it was crucial. St Peter's on the other hand have Wimaladasa and his inside, outside backs left in cold storage.  Far too much pressure heaped on Liyanapathirana, expecting some magic and he was well covered. There was no adjustment. This was mirrored in their last two games, both losses.
The man down syndrome and siege mentality
Ability to score points when down to fourteen men and forcing SPC to their set-piece and contest, to turn over possession was a dagger to the heart.
Incredibly, as opposed to quickening and opening up the game, they looked to slow it down and opted for line outs. This was madness and ate up the sin bin clock. Playing right into the hands of Royal, having not learned from the week before. Royal then went on to make a mockery of it by scoring two tries! St Joseph's put up a Rocky Balboa-like defensive effort but Royal went further and did a John Rambo and dotted down. Twice.
Well coached and optioned teams resort to this siege mentality when under the pump. Likewise, when given the advantage, should drive it home. It's all about knowing when to strike with what weapons. Royal took the A9 highway route as opposed to Peters, a by road to absolutely nowhere.
Inside man and the outside men
Royal, on two clear occasions, one apiece against S Thomas' and then Trinity (Bradby first leg) used a wider, flat inside pass off their first receiver, scoring with a clear run of play. They did the same against Isipathana and came just short and also scored another. When it came to this game, they had their inside man running a straight line and multiple off the ball runners, taking positive support lines. Sure enough, it resulted in a try.  It's not just the inside but what your outsides are willing to do which counts. St. Peter's let their inside and outside men idle in park mode. Perhaps saving it for tomorrow. Unfortunately, there wasn't going to be one.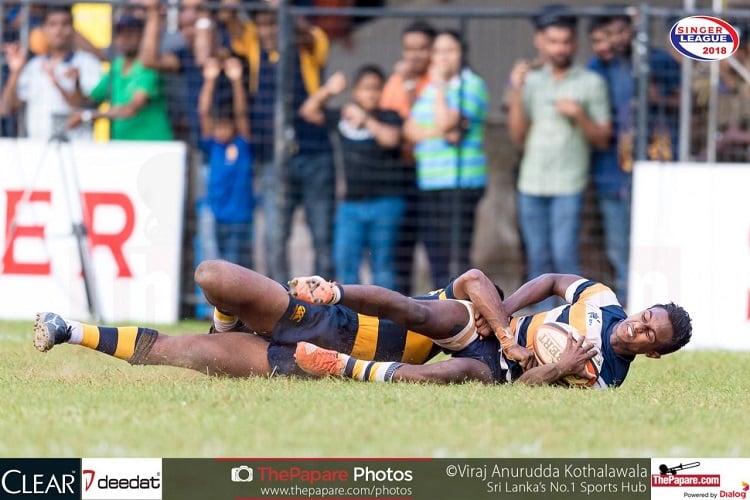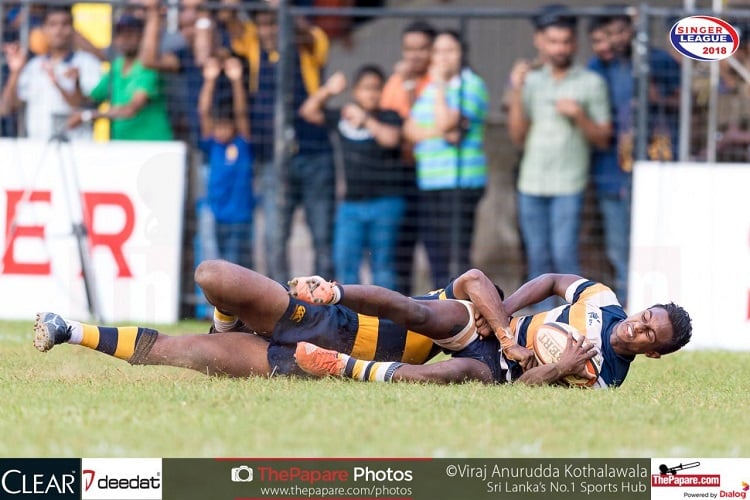 9.Left-hand corner shop- downtown
I am not entirely sure how but as if it was written in the stars, there arrived a moment where SPC exited in a hurry by kicking to touch. Problem being, it was to that favored left-hand corner going downfield towards Torrington square. No surprises, Royal set up their maul and rolled over, flattening the opposition like when dinosaurs went at each other. You'd think the SPC brains trust would know this but seemingly they forgot. Many a buried tailbone from all sorts of extinct forms lie beneath the turf out that way.
Playing patterns
Going back several seasons, Royal has basically built a template which is watertight which they took to a whole new level this year and this game. They kept honing and using it. Quite noticeably, since their valuable New Zealand tour.
St Peter's though, even with Martis at the helm, tried a similar approach but came woefully short against the top two teams. It's a very clear pattern and evolution, just like going through the ice ages.
"Furthermore, you can't appoint coaches on the belief that they will deliver miracles like those going to a place of worship during a major religious festival"
All of the above are hallmarks of champion sides and coaching patterns. It is universal and timeless.  Furthermore, you can't appoint coaches on the belief that they will deliver miracles like those going to a place of worship during a major religious festival. It doesn't work like that. Not anymore, as this result clearly indicates. It was a true coaching masterclass. The reason why I am being microscopic and critical is that both men, full-time professionals and paid the big bucks are wholly responsible for school kids to deliver on a game plan. There is no dodging or skirting around this accountability.
There you go, I rest my case.
Backstage drama
Coming into this game and as is the case whenever Royal play, there was some background noise about the ref. appointments. Given that Dinka Peris and his regular appointment to this fixture had been scrutinized (he was an Assistant ref. instead) and next in line, Rohan Fernando, declining to blow due to his sons being both Petes (avoiding perceived bias), the curious Mr. Veranga was the next choice.
Again, for a second week running the Ref. association got their appointments right. Without fear or favor he blew the game and in fact, I must point out that Pieris, quite rightly so, pointed out a foul play against St Peter's and asked Veranga to award a penalty, it could have easily been a yellow card. Instead, he used his common sense and experience to correctly advise for a penalty only. Seems like you just can't keep Dinka out of the action when Royal and Peters do battle.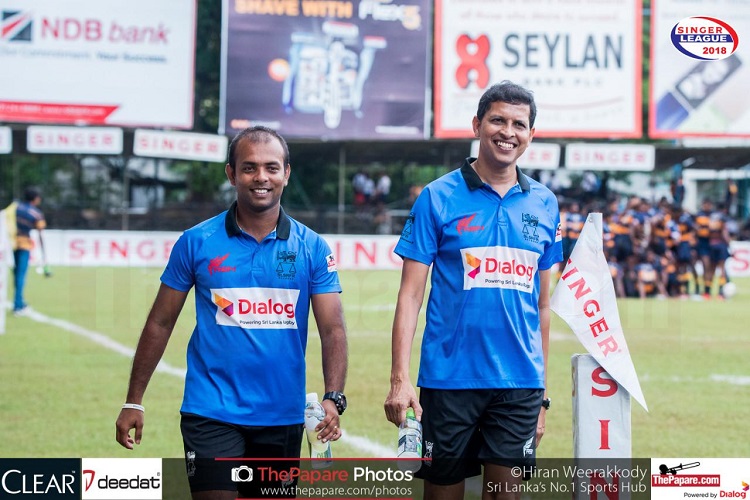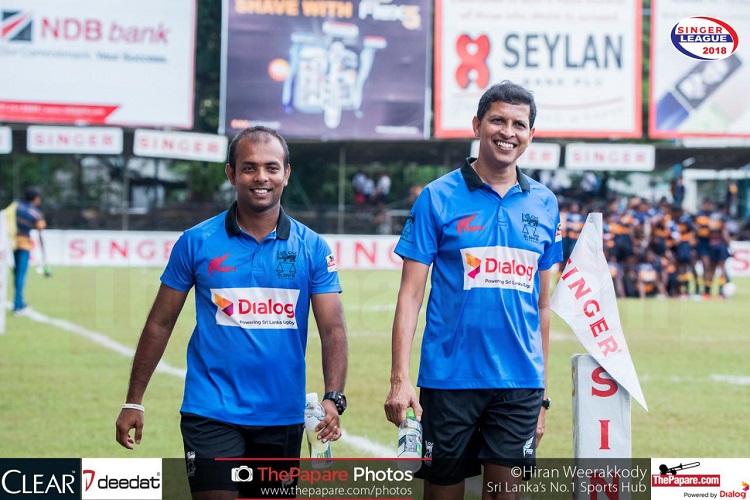 The only other decision, again which went against Royal, a yellow card on "Black Panther" Himantha Hirushan, for what I thought was a perfect- textbook, ankle high tackle– could have been a game changer. It sure was, just not against Royal on the receiving end. This MUST be pointed out as a TMO was on hand to review the merits of this and any potential foul play. It's crucial we use this modern tool and technology.
This effectively, once and for all put an end to the conspiracy theories and political jockeying in the hope of having any influence on the outcome, firmly to rest. Ridiculous as it may seem, it is time to move on and look for a better blueprint to win– than one from Machiavellian "The Prince".
Play of the day:
Royal's back of the lineout ploy and set up their driving maul, to open the trickle to what was a floodgate. Beautiful, well rehearsed, set-piece which set the platform for many more to come. The park shook as the big bad T-Rex rolled forward with every step. Shehan Liyanapathirana's masterful penalty goal, for me, is a good second. Such skill must always be commended.
Hero of the day:
Janidu Dilshan and his man of the match performance. Kicked, ran, tackled and bullied his opposites when required. The Royal forward pack, a worthy second, for their colossal effort with their star forward in the bin. Seizing control of the game and putting it beyond doubt.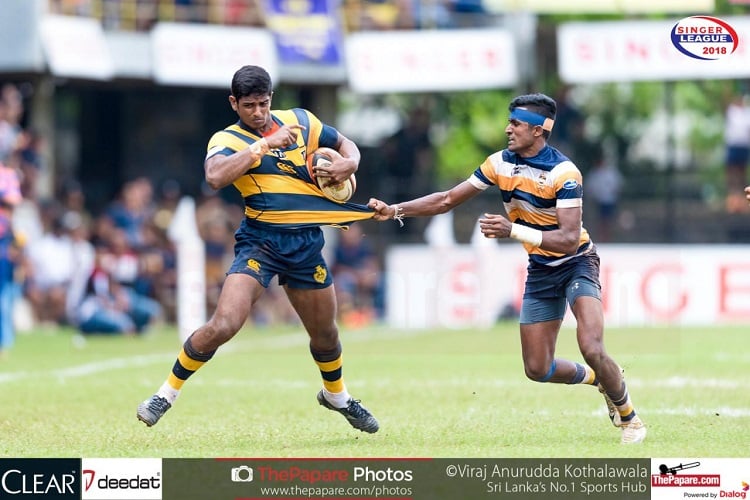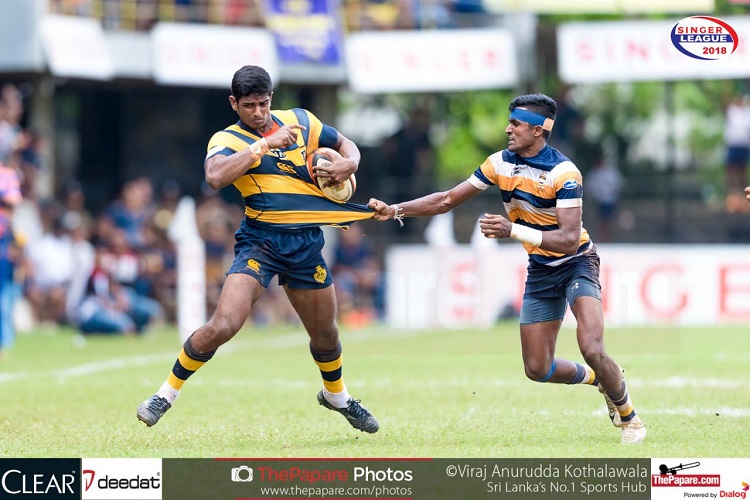 Moment of the day:
Undoubtedly, the yellow card. What could have been a moment which altered the destiny of season 2018.  As if it never did, normal service resumed and Royal went on to win back to back titles and remain undefeated for the season proper.
The afterthought:
Winning is a culture and a skill you acquire. Lewke and Royal have epitomized that. As for the vanquished, it is something they can surely emulate for they have enough talent to do so. They didn't win but competed in good spirit. A lesson to all the wannabe dinosaurs who until then, turned some games into war zones, especially after the game. Nothing lasts forever but for now, in a world where you're only good as your last game, the defending and reigning champions are simply the best. King of the park.
The verdict:
In an age of innovation and inventiveness, if you forget the following, you risk being eaten up just like in Jurassic Park. We all know what happened to those dinosaurs.
Royal and Dushanth Lewke bossed everyone like the Indominus-Tyrannosaurus Rex over St Peter's and Sanath Martis, who look every part the Triceratops who couldn't evolve. It wasn't even a contest. That true picture which was emerging all through the season is now complete.
So, just like Steven Spielberg and his monster movie which won several awards and trophies, Lewke and his Royal took home the B.C Anghie and 2018 league title by beating all comers.