Moratuwa was a town of cricket.  Home to the great Duleep Mendis and many others. It also bred a pair of youngsters that took the town by storm in their day.  The Wijesuriya brothers from St Sebastian's College ended up breaking quite a few records among them.
The elder, Roger went on to play for the Sri Lanka U 19 team and national sides and also to coach many schools' teams and the national U 19 sides.  Russel, younger by a year represented the Sri Lanka U19 team.
Now domiciled in England Russel retired prematurely from cricket and moved overseas.
Roger was born on the 18th February 1960 in Bandaragama. As his father who was with the Police force had to move around because of his job. "I  first attended Ingiriya Gamini Vidyalaya before moving to St. Sebastian's College, Moratuwa in 1966 for year 2".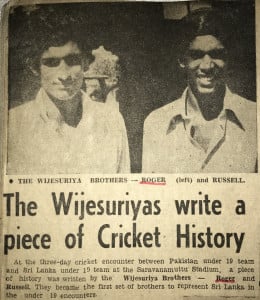 At St Sebastians, he started playing Basketball and Cricket simultaneously, captaining all age groups in both sports right throughout his years at school. From being a wicket keeper and a fast bowler in the lower age groups, he switched to spin bowling later-on which is what earned him the spotlight. Roger was part of his school's 1st XI team from 1975 to 1979, captaining in his last. That year was special he says, "the big match between Prince of Wales and St. Sebastian's was played at Tyronne Fernando Stadium Moratuwa for the first time. It was a big deal"
Russell played alongside Roger on the St. Sebastian cricket team and they went on to play together in the Sri Lanka U19 team in 1979. Roger first played for Sri Lanka U19 under the captaincy of Ranjan Madugalle against Australia. Russell later joined the U19 team in 1979 and the brothers played Pakistan together. Russellrepresented the team the following year too against India under Arjuna Ranathunga's captaincy.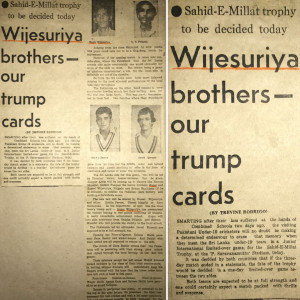 Roger was the runner up in both 1978 and 1979 Observer School Boy Cricketer of the Year, second to the great Ranjan Madugalle. He went on to win both the Observer All-Rounder of the year and Best Bowler in these same years. Roger took 100 wickets in his last year for college, adding that to his International wickets meant he had more than 120 wickets that year.
Russell was the leading run scorer at St. Sebastians reaching 1200 runs with an average of 80.00 in a single year, a record which Roger proudly says still stands at date. He also claims Russell was the better cricketer of the two, as he was an all-rounder playing in the middle order and was a fast bowler as well.
We asked him what it was like having his brother in the same team as himself, in school and in the u19 Sri Lanka team. "There were ups and downs, there was no brotherhood on the grounds, I used to fight with him.  Being the older brother and school captain gave me the authority to order him about" said the always good-humoured Roger. "I always wanted to get on with the game so I would push my team, brother or not there wasn't a difference."
[rev_slider dfcc728]
Roger was head prefect for 2 consecutive years at College and the Senior Athletic Champion two years running. He was a terrific all-round athlete who also has won the high jump event at the Public Schools meet. Speaking about the different eras he noted "I feel this generation sticks to only one sport mainly due to studies probably, but you could balance everything, sports and studies."
Were Roger and Russell the only brothers to play for the Sri Lanka U19 team, we asked him. He said "not very sure.  People of our generation didn't pay attention to records. There may have been others like the Wettimuny brothers perhaps."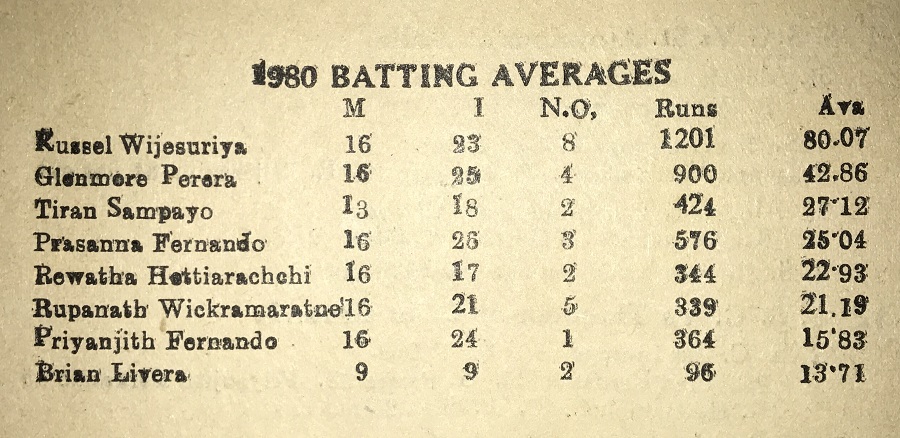 In 1979 he was chosen to play in a match for Sri Lanka against the Board President's XI of Pakistan. He captured 4 wickets in that game and that highlighted him to the selectors for the Sri Lanka team for the World Cup in 1979 along with Ranjan Madugalle(Royal)and Sudath Pasqual (Royal), all school boys at that time. We questioned him on his feelings playing in the big stage amongst so many international greats.  His answer was surprising. "More than the international cricketers playing besides the likes of Aruna Tennakoon, Bandula Warnapura, Duleep Mendis, Roy Dias and Ajith de Silva was an amazing experience". The joy he felt was clearly visible on his face when he described his experiences.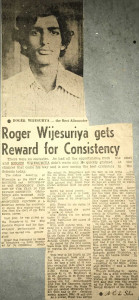 Roger moved on to work at Stafford Motors. He had already begun playing for the Catamarans and the Sebastianites during his school days but he was grabbed by the SSC after school, winning the U25 Club Championship that year which was called the Honda Trophy. He moved to CCC thereafter under Michael Tissera who was the captain at that time. Five championships were won by CCC so far and from that he has been involved in 3 of them.
"Normally a spinner matures at about 28 years. I played in an era where there were a number of great spinners in the Sri Lanka teams."
In the 1992/1993 season he started coaching at St. Benedicts and moved around to St. Peters, Royal and back to Peters and finally at St. Joseph's. He has also coached some mercantile firms during that time. From 2007 he took up coaching full time. He indicated that "it was special to watch people grow and go on to better things"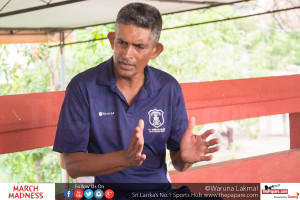 He advices young cricketers to find a job while playing cricket and balance both work and cricket. One cannot continue to play cricket forever. They need to have a good job to fall back on to. He has been an inspiration to many young cricketers not only with his coaching but by advice and stirring them to dream big and follow it. As a young cricketer, Pastor Jerome Fernanado was once one of Roger's students, who also captained St. Peter's College, Bambalapitiya. Now the student inspires the teacher for Roger is one of Pastor Jerome's faithful followers.
Roger joined the Cricket Board and coached the Sri Lanka U19 team in the 2008 World Cup. Says it was his best year in coaching. He speaks proudly of the number of cricketers from that U 19 team that moved on to play for the national side, namely Dinesh Chandimal, Lahiru Thirimane, Kushal Janith, Thisara Perera, Sachith Pathirana and Angelo Perera.
We asked the coach what it takes to make it up to the national arena, what qualities one needs to work on. Roger feels that once you realise that you have the potential to do well, you should be consistent and work hard. It's always about working hard at your dream.
The final testament of a coach is how his protégées have reacted to him. We got hold of one the many players that have gone through his coaching "Roger Wijesuriya coached me at St. Peter's as well in the Sri Lankan U19 team. I think he was one of the best coaches as he was able to motivate individuals and was able to bring out the best in us." This was Srimantha Wijeyeratne, a former Sri Lanka U19 and St. Peter's College opening batsman.